BMW X5 M & BMW X6 M revealed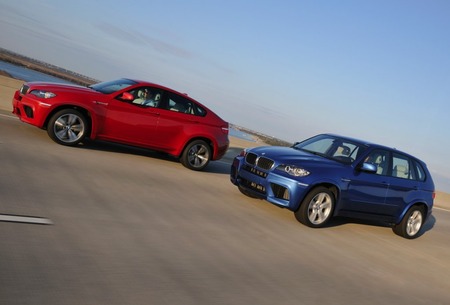 There was a time when BMW refused to develop M versions of the X5 or the 7-Series, because they considered them to be too big to be truly sporty. Of course, things have changed over the years, and the profit-chasing company is now revealing the BMW X5 M and the BMW X6 M in time for the 2009 New York Auto Show. It has to be said that BMW started developing these pointlessly-fast SUVs before the recession, although the Z4 M has been cancelled due to the recession itself.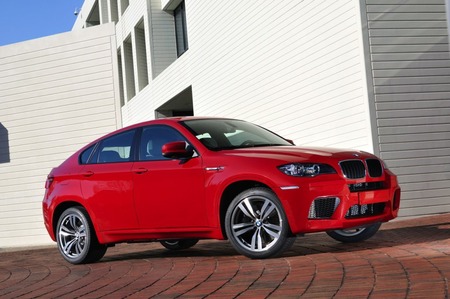 The BMW X5 M and the BMW X6 M, to be released as 2010 models, are the first all-wheel-drive BMW M products. The hood, front air dam, and headlights are virtually identical on the BMW X5 M and X6 M. Both models feature special gills in the front fenders, as well as model-specific 20-inch light-alloy wheels. The rear diffuser and quad tailpipes of the exhaust system complete the back-end, with skirts along the sides.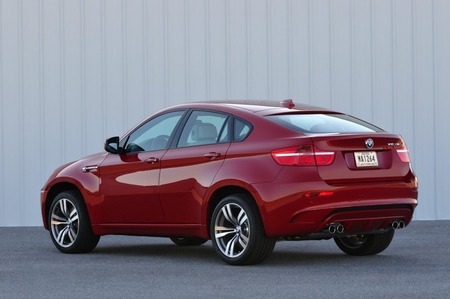 Both models are powered by a newly-developed 4.4-litre twin-turbo V8 "M" engine, good for 555 hp at 6000 rpm and 677 Nm of torque from 1500 rpm to 5650 rpm. This new M engine is the world's first with a "pulse-tuned" exhaust manifold for both rows of cylinders combined with twin-scroll twin turbo technology.
For the X5 M and X6 M, BMW's xDrive all-wheel-drive system and the Dynamic Performance Control system were modified. The special M suspension includes Adaptive Drive and newly-developed Servotronic power steering.
Both models accelerate to 96 kph from a standstill in 4.5 seconds, and both vehicles are touted as having "superb balance through careful tuning" of xDrive, Dynamic Performance Control, and Dynamic Stability Control with M Dynamic Mode for "linear buildup of cornering forces." Considering the excellent on-road capabilities of the existing X6 models, there are no doubts over these M versions.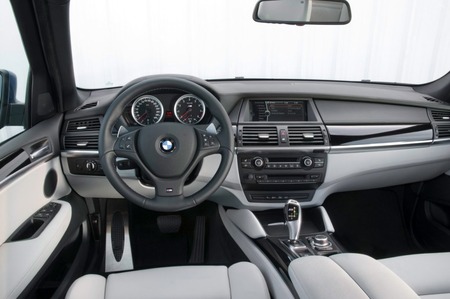 Featured for the first time on a BMW M model, the 6-speed M Sports Automatic transmission is commanded by an electronic selector, with Sport and M Manual modes, as well as aluminium pull-style paddles on the steering wheel. Upshifts occur significantly quicker than in the past thanks to new technology that reduces torque in the transmission through momentary deactivation of individual cylinders. In the M Manual mode, each chosen gear is held up to redline. A further option in the M Manual mode is to activate the Launch Control feature, which enables the driver to accelerate from a standstill with maximum performance.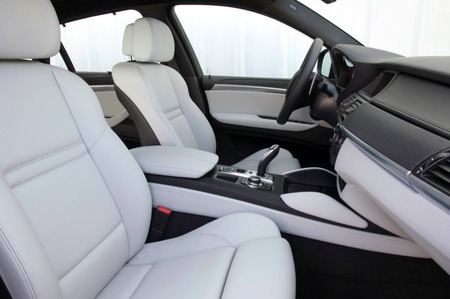 Beyond the stabilizing effects of Dynamic Stability Control provided by individual brake activation and engine power reduction under extreme conditions, DSC in the BMW X5 M and BMW X6 M includes a wide range of additional features tuned to BMW M standards. These include ABS, Trailer Stability Control, Hill Descent Control, Dynamic Brake Control which maximizes brake force when required, Cornering Brake Control for advanced trail-braking, Brake Fade Compensation for extreme driving conditions, automatic Brake Drying when the windshield wipers are activated, Start-Off Assistant for driving on steep hills, and a braking function for use by the standard cruise control. Both vehicles come with an electrohydraulic parking brake which features the Autohold function.
Both models feature standard self-leveling rear air suspension and Adaptive Drive with Electronic Damping Control (EDC) and Active Roll Stabilization (ARS). The special version of Adaptive Drive tailored to the requirements of BMW M lowers the entire vehicle by 10 millimeters or 0.4″ versus the standard BMW X5 and BMW X6.
Giant four-piston fixed calipers at the front with floating calipers at the rear, combined with large internally-vented brake discs, have rotors measuring 15.6″ in diameter at front and 15.2″ at rear.
The BMW X5 M and the BMW X6 M are the only vehicles of their type equipped with staggered-size tyres front and rear, running on 20-inch light-alloy wheels, with runflat tyres in sizes 275/40 R 20 at the front and 315/35 R 20 at the rear.
Both the BMW X5 M and the BMW X6 M feature power, heated front M sport seats, an M sport leather steering wheel, M door sills, and driver's footrest. Infotainment functions, standard on-board Navigation with Real-Time Traffic data and communication functions are all controlled by BMW's 4th-generation iDrive. The standard HiFi audio system features 12 loudspeakers and a 230W amplifier. In addition, both the BMW X5 M and the BMW X6 M may be equipped with a Head-Up Display programmed specifically by BMW M. This option enables the driver to customize the type and scope of data projected onto the windshield through settings available in the M Drive menu.
Driver assistance systems are fitted as well, with both models featuring standard Dynamic Cruise Control, Rain Sensor, Auto-Dimming Mirrors, Park Distance Control, and BMW's Xenon Adaptive Headlights. The list of optional features includes a Driver Assistance Package which includes High-Beam Assistant, Head-Up Display, and Rear View Camera with the spectacular new Top View feature. Top View provides the driver with an "birds-eye view" of the vehicle on the iDrive control screen, using input from a camera on each side of the vehicle and the traditional rear-view camera. Top View provides the driver with additional confidence for tight parking scenarios. All models come with frontal and hip/thorax airbags, as well as curtain head airbags.
These new models should reach UAE and GCC showrooms by the end of 2009, so expect these "things" to be tearing up the streets of Dubai and Abu Dhabi soon.