GM funds Bright Automotive for IDEA hybrid-electric van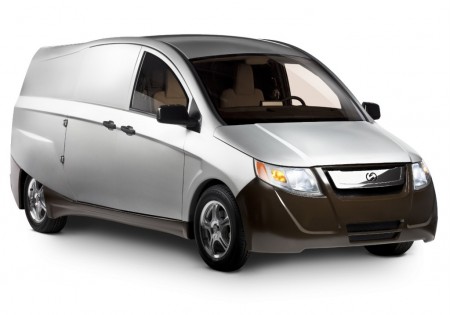 Relatively new company Bright Automotive has signed an agreement with General Motors whereby GM's new venture arm has provided funding to the Indiana automaker. This is the first funding action by General Motors Ventures, and will help accelerate Bright's production of the IDEA, a "revolutionary" plug-in hybrid commercial vehicle.
General Motors Ventures LLC provided funding to Bright this week, and the two companies intend to complete the formal agreements later this year. Upon completion of the agreements and other terms, General Motors Ventures would have a minority stake in Bright Automotive, and Bright would have access to GM technologies, and advanced engine and transmission systems, for its vehicle.
Bright approached various automakers, but GM was the one to take the leap of faith. In developing the IDEA, Bright "started with a clean sheet of paper, listened to customers, and took a novel approach to product development that focused on light-weighting, aerodynamics and a highly efficient drivetrain." The result is a multipurpose vehicle for business fleets, designed to provide a clear economic benefit for companies.
The IDEA delivers a positive total cost of ownership to fleet customers by providing significantly greater fuel efficiency than current fleet vehicles in its class. The IDEA operates in electric mode for 60 km before switching to an estimated 6.5 litres/100 km hybrid mode.
Funding through GM Ventures will allow Bright to begin ramping up the development for production of the IDEA by the third quarter of 2010.