Long-term update: 2005 Peugeot 307 2.0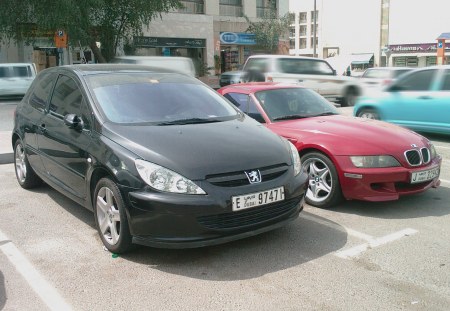 This is actually the first update on our 2005 Peugeot 307 2.0 XSI since we bought the black 3-door hatchback back in late 2008. Driven by a woman in its earlier life, some of the things that she did came back to haunt us over the past year, although the car did prove to be reasonably reliable. Oddly enough, my first update is also my last update. Largely driven by my college-going brother, I've now sold the car to Diego, my former PR guy.
Originally, we had reported that when we bought the car, it had a few dents and dings, a dying centre-console display and an "airbag fault" light. The previous owner had also told us of a minor ding in the front bumper, the need for new brake pads and engine mounts, as well as the fact that the car had hardly been driven during 2008.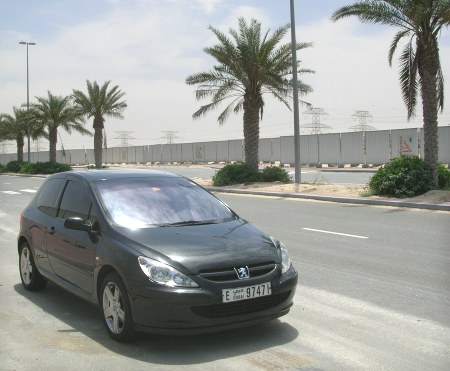 Purchased at 40,500 km for Dhs 26,000 all in, the oil was black due to age, even though the "50k" major service was already performed at 37,000 km. We promptly took it to a petrol-station facility for an oil change, costing Dhs 93 for non-synthetic oil and a new oil filter. At 43,650 km, we changed the oil there again for Dhs 68. During this period, the car shut off twice while rolling at low speeds and threw "catalytic converter fault" warnings, but the car fired back up at once at the turn of the key. Still, this was a cause for concern.
So at 47,500 km in May 2009, we took it to the Peugeot dealer and got the car looked at alongside the early "60k" service for Dhs 550, which included "10k" semi-synthetic oil and a bunch of filters. They told us an engine flush might help, so that added another Dhs 250. We mentioned the shut-off problem, and they said there might be carbon build-up, requiring fuel injector cleaning. By this time, almost all the headlight and taillight bulbs had decided to burn out a few days prior, so we asked to change those too. Soon the total cost ballooned to Dhs 1620, including 20 bucks charged for "petrol."
That service turned out to be worth it, as the car ran fine since then, with no new problems. We should also mention that we chose not to fix the pre-existing problems at that service, such as the airbag fault, the dead LCD, the engine mounts, the a/c blower shutting off sometimes in the summer, and the dead windshield washers. The dealer gave us an estimate reaching Dhs 5000 for parts alone, and none were vital to driving the car. The a/c issue was occasional, and the worn engine mounts only caused a mild steering-wheel vibration at certain speeds. The dealer claims the airbag fault is due to the minor ding on the front bumper, though I doubt that is accurate, considering the airbag never came out.
At 50,000 km, we changed the rear brake pads for Dhs 215, plus non-dealer labour of Dhs 50. One wheel bolt had seized, requiring a ghetto welder to cut it out, and we bought a new bolt for Dhs 15.
At 54,000 km, we changed the front brake pads for Dhs 275, plus non-dealer labour of Dhs 30.
We also bought a new "Zetex" maintenance-free battery for Dhs 300, because everyone else was asking for more.
During this time, my brother also managed to lose the single remote key. With no extras thanks to the inconsiderate previous owner, we had to leave the car unlocked for 3 weeks while the dealer shipped in a new one, and that too a non-remote key. That simple piece of metal and plastic cost us Dhs 465, including programming.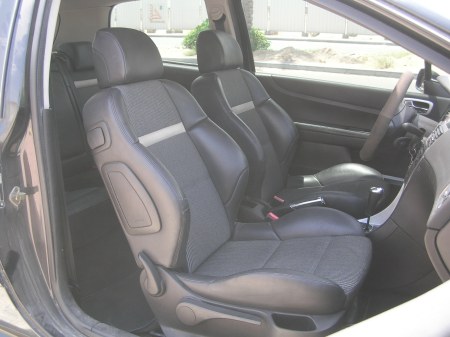 Otherwise, the car ran "trouble-free." We were never left stranded anywhere, the sporty interior has held up well, the rest of the electrics work, and some of the issues were caused due to neglect by the previous owner. Keeping in mind that regular service intervals are only every 10,000 km, the service costs come out to be cheaper than Japanese brands.
Still, the niggling non-major issues are a major annoyance and have shoved Peugeot's reputation down the toilet.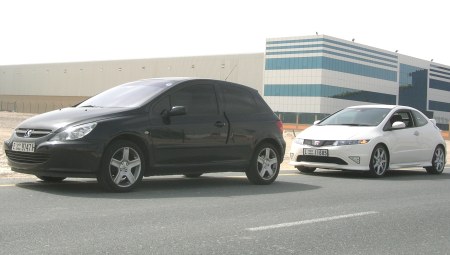 I'll do a few more reviews of this car as I complete the hand-over to my pal, to whom I've already revealed all the issues. Previously a Toyota Corolla owner, he bought the car for the same reasons I did. The car is cooler than any old-man Japanese compact in its price range, with superb handling, decent power, good features and it appears to be more premium than it is. It helps that parts aren't too expensive, service charges are reasonable, and reliability is still better than other European hatchbacks.
Original Mileage When Bought: 40,500 km
Latest Mileage To Date: 54,900 km
Latest Average Fuel Economy: 11.3 litres/100 km
Cost of Latest Problems: Dhs 1300
Cost of Latest Maintenance: Dhs 1831

Total Non-Fuel Running Cost Since Bought: Dhs 3131