127-car pileup in Dubai-Abu Dhabi highway crash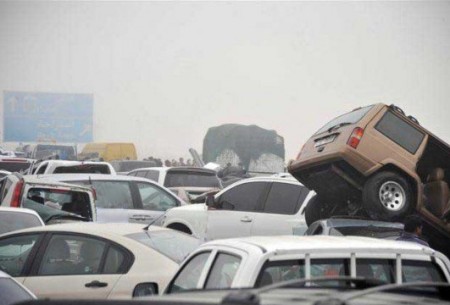 One man died and 61 people were injured when a multiple-car pile-up happened on the Dubai-Abu Dhabi highway on the 2nd of April. The huge crash involved 127 cars on the road heading into Dubai, early in the morning.
According to Gulf News, the pile-up took place between Sahama and Ghantoot areas at around 8 am, and it happened due to many speeding motorists not keeping safe distance between cars in foggy low-visibility conditions, as is normally the case with incompetent drivers in the UAE.
The Abu Dhabi police says 127 cars were involved in the crash. Police apparently arrived at the site in five minutes, with more than 100 police vehicles getting involved in clearing up the mess within two hours.
This is the latest major pile-up on the same road since the one on March 2008 that killed 8 people.