Long-term update: 2010 Mitsubishi Pajero off-road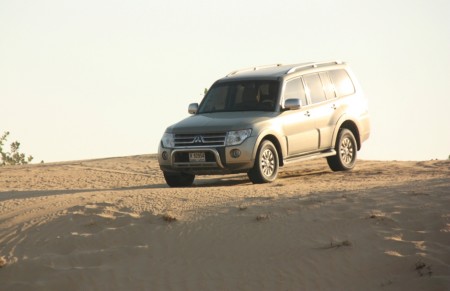 So the Mitsubishi Pajero has been with us for over 3 months now, racking up over 12,000 kms on the clock. A vast chunk of the mileage was amassed from a series of long drives and off-road excursions we had with the vehicle. We even had a cross-country trip to Oman, only a few couple of weeks after we bought it. Besides, it fulfills our requirement of daily office commutes too.
Our life with the Mitsubishi Pajero has been very good so far. Every long drive we have had in it, including the road-trip to Oman, was largely comfortable. Passengers in the second-row seats were at sheer comfort due to immense legroom and fully-reclining seatbacks. We intentionally did not experiment passenger comfort in the third-row seats with adults, and there were no kids either. Ride is generally smooth, though things do get a little jittery at high speeds on rough roads, even if negligible. Fuel efficiency during pure motorway driving at speeds hovering around 120 kph, is a respectable 12.8 litres/100 km.
We subjected the Mitsubishi Pajero to some off-road tests too, which involved good amounts of desert driving and wadi-bashing. We used four-wheel-drive mode with locked centre-differential and manual-mode shifting, all throughout our off-road ventures. Attempting steep dunes require downshifting to first gear and applying full-throttle, while mild and moderate dunes can be negotiated even in the second gear with careful application of throttle. Nevertheless, not even once did we feel that we were running out of juice. We had even chased a convoy of Land Cruisers belonging to a well-known desert safari outfit on one occasion, and the Pajero seemed surprisingly capable, as we could easily keep up with the purpose-built wagons without breaking a sweat, and perfectly imitate the dune-bash stunts performed by the experienced desert-safari drivers. Although we ultimately got stuck due to my novice error in judging a tricky dune, our Mitsubishi Pajero definitely proved to be a very capable off-roader.
With just 189 hp on tap, the 3.5-litre engine powering the Pajero is slow on the road. However, the 306 Nm of torque peaking out at 3,750 rpm, and an optimal power-to-weight ratio means the 3.5-litre Pajero can handle the rough stuff without any fuss. Out in the wadis of Hatta, we never really pushed the Pajero to its rock-crawling limits, due to toddlers being present in the vehicle. But to the extent where we took it, the SUV performed really well. The Pajero is rated for a fording depth of 70 cms; though we did not encounter water levels that high, we did attempt some water-splashing just for the sake of some cool snaps.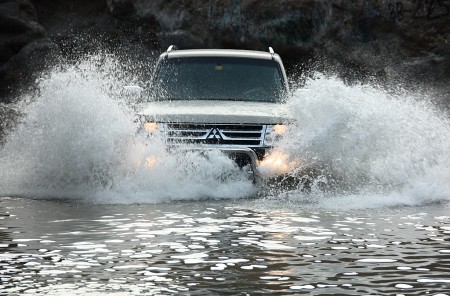 The departure-angle of the Pajero is something which every owner with off-roading intentions, needs to be blindly familiar with, especially while venturing out in the dunes. A design flaw it may seem to be, but the fake aluminium lip forming a part of the rear bumper, which is only supported by two metal clips, is hollow from the inside. Just as one completes descending a steep dune, the hollow plastic lip scoops off massive amounts of sand, causing the supporting clips to get stressed and bend outward, which in-turn pushes the plastic lip outwards, and the conjoining rear-step upwards, thus trapping the rear door and preventing it from opening. The plastic lip and the rear-step also get misaligned from the rear bumper. Pushing the clips back temporarily solves the problem and leaves the rear-door free, but re-alignment of the plastic lip and the rear step with the rear bumper can only be done by garage personnel. Such a re-alignment cost us Dhs 25 from a garage in Rashidiya. A permanent resolution to the problem involves installing a rear bull bar, which will sit over the plastic lip, and thus not allowing it to bend outwards in any case.
Having had some awful experiences with the local Mitsubishi dealers in the past, I had decided to get my vehicle serviced from outside for the cost of peanuts. So far, it has just been two oil and filter changes at 5000 km service intervals, done at a local service center using Mobil products. Each oil and filter change cost me Dhs 110. At 20,000 km, I had the entire vehicle checked for mechanical problems, leaks, abnormal brake-fade and other things at a friend's garage, free of cost. There are no problems with the vehicle except for some random rattling from the dashboard, which appeared after some harsh driving through the rough trails of Hatta; it is probably some loose plastic clip inside, which I never bothered to check as I find it rather negligible. Nonetheless, our Pajero continues to remarkably fulfill our requirements of daily office commuting, weekend family picnicking, and occasional off-tarmac explorations.
Original Mileage When Bought: 8,880 km
Latest Mileage To Date: 21,310 km
Latest Average Fuel Economy: 14.4 litres/100 km
Cost of Latest Problems: Dhs 0
Cost of Latest Maintenance: Dhs 110

Total Non-Fuel Running Cost Since Bought: Dhs 245