Abu Dhabi driver stuck in cruise control at 160 kph rescued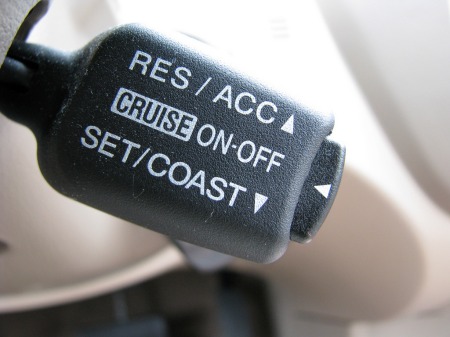 A UAE news report suggests that a speeding driver in Abu Dhabi set the cruise control on his "new Japanese car" to 160 kph and then couldn't turn it off. He then called the police for help.
According to Gulf News, the Emirati driver was speeding along the Abu Dhabi-Al Ain highway when the incident happened. He called the police on his mobile phone, and three patrol cars were dispatched. They eventually found him and surrounded him in case he loses control and hits something.
The police apparently advised the driver to do a number of things, eventually asking him to leave the accelerator and brakes untouched and apply the handbrake slowly. This supposedly worked, and the car came to a stop after 45 minutes.
A "mechanical engineer working with Abu Dhabi Police" is quoted as saying that dust could've entered the cruise control system or it had a manufacturing defect, and that the driver should sue the as-yet-unnamed carmaker.
Update: Latest reports from Abu Dhabi police now suggest it was a "2007″ four-wheel-drive and that it was "modified for speed."