2018 Audi RS3 Sedan
The Good:
– Speed and handling
– Just enough practical space
– Fairly comfortable ride
The Bad:
– Pricey for its size
– Needs more exterior pizzazz
– Some hard cabin plastics
---
The Audi RS3 that debuted a couple of years ago was a phenomenal car, but being stuck in a hatchback form factor wasn't going to cut it, especially in the sedan-loving GCC. Audi already had an A3 sedan in its stable, so they did the next logical thing — make an RS3 Sedan.
The Audi RS3 sedan looks like a very unassuming car, especially in the blank white our tester came in. You'd have to look very closely to notice that this is no ordinary A3. There is "quattro" subtly inscribed on the grille, the rear lip spoiler is just a thin black line, the exhaust tips are black, and the sizeable 19-inch wheels are simply painted shades of grey. Pay attention and you'll notice the drilled brake rotors with red calipers. We wish the car displayed more aggression in its design, such as wider fenders and a few more functional vents elsewhere other than just the front bumper, but as usual, Audi chose to be subtle. Don't expect to get any respect from taxis, Tiidas and trucks on the road.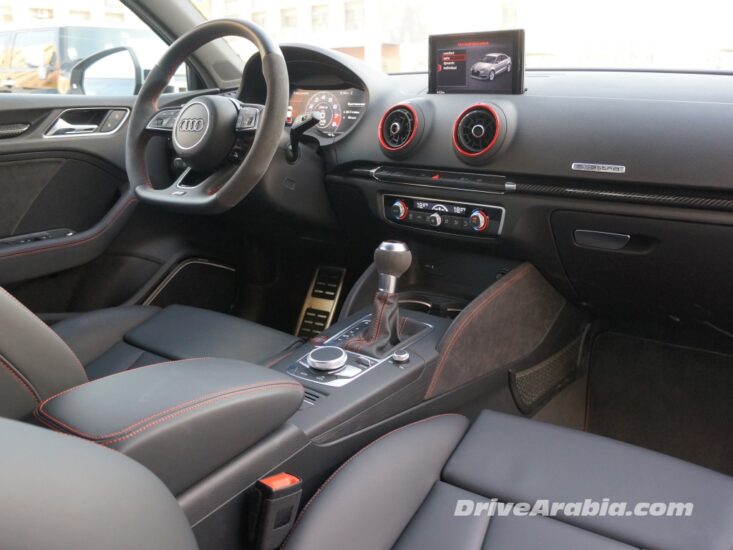 Inside, it's not much different from the base Audi A3's cabin design. There's soft-touch materials on all above-waist surfaces, with hard plastics in the lower half reminding you of its A3 roots. The upholstery is fancier though, done up in leather, with alcantara door inserts and centre-console knee pads. And there's a thick-rimmed flat-bottomed steering wheel. The multimedia screen pops up on top of the dash, and can be stowed away at the press of a button, if you wish to focus on driving.
Cabin space is pretty decent, with enough headroom all round as well as rear legroom for average-sized adults, although the middle rear seat is only fit for kids. The sporty front seats are aggressively bolstered only around the waist area, so they don't feel cramped. And there's enough door pockets and cubbies, but when it came to cup-holders, the front ones were awkwardly placed ahead of the gear shifter, and we couldn't even find any rear ones. The boot is a decent size for such a small car. And oddly enough, a pass-through opening and rear-middle armrest are optional.
Available features include glass over half the roof, LED headlights and tails, rear camera with sensors, cruise control, dual-zone auto a/c with rear vents, smart key with starter button, auto engine start/stop for fuel savings in traffic, electronic parking brake, power front seats, a full set of airbags, ESP and more. The aforementioned multimedia system is not something we could pick up in just a few days of use, as it requires looking down at the labels around the rotary controller near the gear-shifter, which is a bit of a distraction.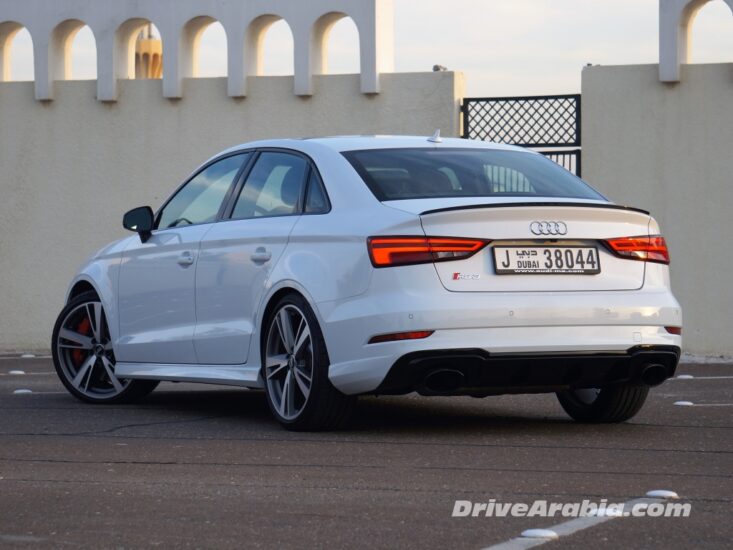 The 2.5-litre turbo 5-cylinder in the RS3 has been upgraded since the time we drove the 2016 hatchback version, now making a full 400 hp from 5850 to 7000 rpm and 480 Nm of torque from 1700 all the way up to 5850 rpm. We managed a 0-100 kph time of 5.0 seconds during the cool January season, with no horses wasted in wheelspin thanks to the "Quattro" all-wheel-drive system. While the previous RS3 didn't feel hugely quick in daily driving, the newfound power of the new RS3 is evident at any speed, with no significant delay between putting the throttle down and getting a response, unlike some other turbocharged cars.
The 7-speed dual-clutch automatic gearbox works well, fairly smooth in casual driving, while being quick to respond whenever extra kick is required. The paddle-shifters are quick enough for some proper self-shifting fun too, accompanied by muted "braaaps" on downshifts, especially in the driver-selectable "dynamic" mode. Leaving it in "normal" mode most of the time netted us a respectable 13.3 litres/100 km of fuel consumption.
Our test car rode on optional adaptive suspension, although the difference between modes wasn't readily obvious. It handles as neutral as we've come to expect from all-wheel-drive Audis, with understeer and oversteer never rearing their heads. There is no obvious body roll to speak of, and there's no end to the grip in aggressive street-driving. While it's bigger brothers, such as the RS6, eventually start understeering, the little RS3 can keep at it longer on the tighter corners, making it a much more fun drive.
The steering feedback can best be described as mild but well-weighted, while offering a bit more of both in "dynamic" mode. The brakes are fairly strong and easy to modulate.
The ride is firm but still compliant enough for the daily drive. It is also reasonably quiet in "normal" mode, with the exhaust note going higher only on hard throttle. In "dynamic," it's a full-on party from the back.
The Audi RS3 sedan offers a unique combination of power, handling and practicality compared to its direct rivals, namely the BMW M2 with only 2 doors and the Mercedes-AMG CLA45 which has horrendous rear-seat space. To be honest though, the front-biased Mercedes is a dud, but the BMW is actually more fun to drive on account of its rear-wheel-drive. But while the RS3 sedan indeed offers better value as a family car than the other two, our test car being priced almost as much as a base Audi Q7 firmly seals the RS3's fate as an expensive niche product.
Price Range:
Dh 225,000-235,000

Current Model Introduced in:
2018

Body Styles:
4-door sedan

Engines:
2.5L 400 hp Inline-5 turbo / 480 Nm

Transmissions:
7-speed automatic

Setup:
Four-wheel-drive

Suspension:
Front: independent
Rear: independent

Brakes:
Front: discs
Rear: discs

Curb Weight:
1590 kg

Length:
4479 mm

Wheelbase:
2631 mm

Top Speed:
250 kph(limited)

Test Acceleration 0-100 kph:
5.0 sec.

Observed Test Fuel Economy:
13.3 litres/100km