2008 Bentley Arnage R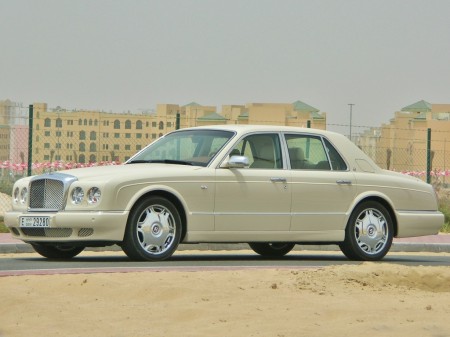 The Good:
– Prestige image
– Classy cabin trim
– Monster engine
The Bad:
– A bit too big
– Pricey to buy and run
– Gadgets feel tacked on
---
The Bentley Arnage R is the most expensive car we've ever had for a four-day test. Clocking in at the price of a small villa, it may not be the wisest investment of money. But then again, the person who can afford a car like this probably has a string of villas around the world. Hopefully the same person donates generously to charities as well, to offset their negative karma. However, there is nothing negative about wanting a Bentley. The damn car just has too much character.
The exterior is simply an update of the original Rolls-Royce look, dating back as far as the 1970s. But while the BMW-owned RR Phantom is now a modern monster, this VW-owned Bentley carries on its original British genes. It has immense charisma, with chrome wheels and a flying "B" hood ornament, although our tester lost some of its sheen due to its taxi-beige paintjob.
The interior follows the luxury rulebooks of yesteryears, slathering everything inside in real wood, metal and leather. Even the headliner is leathered, along with the dashboard top, seats and doors. Massive expanses of wood line the dash face as well as the tops of the doors, the entire centre console and part of the steering wheel. Of course no one thought that all this heats up painfully in the summer sun, but people have made larger sacrifices in the name of vanity. Other hot features include wooden covers for the stereo and some of the a/c controls, real metal a/c vents, chrome toggle-style switches, extra-thick door seals and two umbrellas in the luggage trunk. Of course, all the switches are not labelled and the doors still slam shut with a cheap clang, thus retaining its trademark quirks.
The leather-lined cabin space is generous for all passengers, although it is no more voluminous than in any "ordinary" fullsize car, such as a Ford Five Hundred or a Hyundai Azera. There are a few storage cubbies as well as the obligatory cup-holders, all in awkward positions. The carpet-lined luggage trunk is wide, but not very deep. And for extra quirkiness, there are retractable wooden tray-tables for the rear passengers to enhance the business-jet ambience.
In terms of gadgetry, the Arnage would be considered high-tech back in 1998. In 2008, it is outdone by the cheaper VW-designed Continental GT and even the lowly BMW 3-Series. Sure, it has power windows, electric mirrors, a sunroof, cruise control, parking sensors, multiple airbags, keyless entry, a little digital colour display between the gauges, and a cool navigation screen that rises up from the dash. But then, the windows don't have an auto up-down feature, the keyless entry is just a standard remote, there is no fancy start button, there is no trip computer or "adaptive" cruise control, no rear camera, and the doors and trunk lid don't shut themselves like they do in the Continental. The nav system can be operated only via a remote, which was missing in our tester. The CD stereo is pretty decent, but the CD changer is in the trunk and there are no steering-wheel buttons. The digital a/c was average at best, but at least it had rear vents. The Bluetooth phone controls are hidden in the armrest, where an extra handset is available for privacy, but at least the system worked well. All in all, the gadgets feel as if they were tacked onto a classic car that really wants to endeavour for traditional luxury.
The true masterpiece of this entire package is easily the monstrous 6.75-litre twin-turbo V8 engine, packing a solid 450 horses at 4100 rpm, while pounding out 875 Nm of torque from only 1800 rpm. When the brutish motor gets into action, grunting like a V8 and whooshing like a tuner-turbo, the juice makes it easy even for grannies to do smoky doughnuts while breaking their backs. On our 0-to-100 kph run, with traction control on, we managed a sad 7.8 seconds. Turning it off and launching at 1500 rpm, we got a respectable 6.4 seconds, with no obvious turbo lag. In our next attempt at a quicker time, we tried launching at 2000 rpm and simply ended up doing a massive burnout even before we lifted off the brakes. With tons of power available at any rpm, we calculated our fuel consumption to be at a monumental 23.2 litres per 100 km.
Considering the 2660 kg Bentley is a luxury cruiser first and foremost, the adjustable air suspension offers a great balance between firm sportiness and cushy comfort. In fact, we couldn't really feel much difference between the "sport" and "normal" settings. Most bumps were flattened with ease in either setting, with none of the harshness associated with sporty cars and none of the floatiness associated with comfortable cars. But while the Bentley outshines both BMW and Lexus in ride quality, the level of wind noise is rather high for a car with visibly extra-thick door seals. Our tester sounded as noisy as a typical Honda Accord at 120 kph.
However, the big Bentley can also probably keep up with that same Honda Accord. As we mentioned, the heavy Bentley has a great ride-handling balance, with limited body roll and easily-controlled handling. This rear-driver can do mild drifts around roundabouts if the throttle is lightly pushed in further, or even if we lifted off the throttle, which is infinitely more exciting than front-driven understeer. The electronic stability system stops things from getting out of hand, so there is no danger of losing control, and the grip from the 255/45 tyres, worn on mirrored 19-inchers, is commendable under sensible driving. But with all that power, it can be a rather interesting game of balance, but one that actual owners will probably never play.
Overall, manoeuvring this car isn't as hard as piloting the low-slung Continental GT. The driving position is high, and there is decent pedal feel, so modulating the throttle and brake is easy. The steering is slightly firm, but it still offers no feedback. The six-speed automatic is smooth and works better if left alone, since there is too much delay in responding to manual shifting inputs. Interestingly, the car can still be heard running for a while even after the key is removed, for a short cool-down period.
The Bentley Arnage R harks back to the days when luxury consisted of wood, leather, chrome and nothing else. The half-hearted attempt to modernise such a classic sometimes works, as in the case of the suspension, and sometimes doesn't, as in the case of the navigation system. But we are happy that its core values remain intact, namely its supernatural engine and its paranormal presence.
Price Range:
Dh 1,100,000-1,300,000

Current Model Introduced in:
2007

Body Styles:
4-door sedan

Engines:
6.8L 450 hp V8 turbo / 875 Nm

Transmissions:
6-speed automatic

Setup:
Rear-wheel-drive

Suspension:
Front: independent
Rear: independent

Brakes:
Front: discs
Rear: discs

Curb Weight:
2660 kg

Length:
5400 mm

Wheelbase:
3117 mm

Top Speed:
270 kph

Test Acceleration 0-100 kph:
6.4 sec.

Observed Test Fuel Economy:
23.2 litres/100km