2005 Cadillac STS
The Good:
– Powerful engines
– Excellent handling
– Loaded with gadgets
The Bad:
– Limited legroom for its size
– Few cheap interior bits
– Shallow luggage trunk
---
There was a time decades ago when Cadillac was at the forefront of technology. Cadillac was once a best-selling luxury brand with a fleet of high-tech land barges covered in shiny chrome and flamboyant fins. Then as the Germans and even the Japanese caught up and overtook them, Cadillac was left with a bunch of uninspiring models for old people. But all that changed with the shocking CTS mid-size sports sedan, and Cadillac takes its rejuvenation a step further with the new STS full-sizer. And what a transformation it is.
While the old Seville STS was a front-wheel-drive boxy sedan with sporting pretensions, the new STS drops the Seville name for an extended CTS rear-wheel-drive platform and actual athleticism. The STS can be had with a 255 hp V6 or a 320 hp Northstar V8, with optional all-wheel-drive available with the V8. Our V8-powered all-wheel-drive tester was a top-of-the-range model provided by GM, giving us the opportunity to see everything on offer with this new-generation Cadillac in its full glory.
The STS has unique exterior styling, with HID headlights, colourless LED tail-lights and huge 18-inch polished chrome rims. Its head-turning abilities are uncanny, attracting everyone from women to cops. Entering the car itself did not involve using the key at all. The doors are automatically unlocked when the handle is pulled with the key simply nearby. The engine could also be started with the key-fob remote itself from up to 60 metres away. An alternative is to start the engine with the dash-mounted start button, with the key still in your pocket. By the time the car started up, we were already impressed.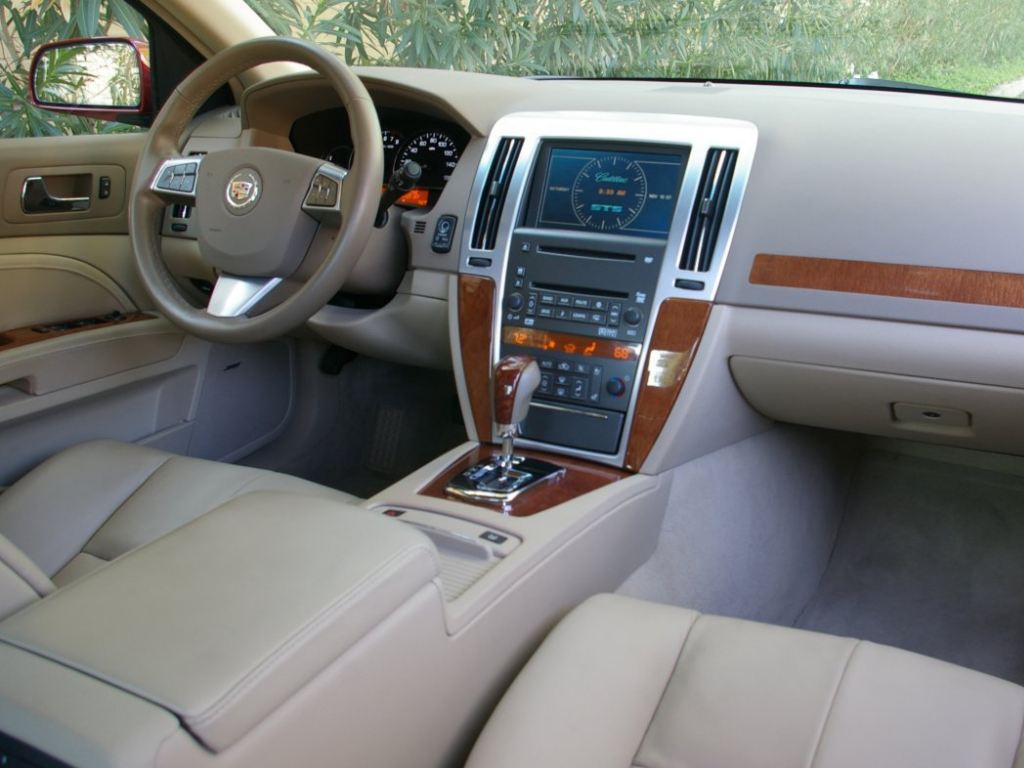 The interior has an upscale feel to it, as it should, and all the trim materials are much better than that used in the lesser CTS. Almost every surface is soft to the touch, except of course for the wood trim and plastic bits. Controls and buttons are laid out well, with the central computer screen placed high on the centre console for easy viewing. Frontward visibility is perfect, but the view through the rear window is hindered by three rear headrests and a small rear window. Part of the door is leather-trimmed to match the cushy leather of the seats. The leather seats themselves are beautifully crafted, firm and grippy, with good bolstering. Adjustable in every possible way, the front ones even come with built-in fans to cool down your bottom. All interior dimensions are generous, but leg-room is surprising not as much as we expected in this big car. The wide centre console intrudes into front passenger leg space, while very tall rear passengers might actually feel there is not enough knee-room. The luggage trunk is huge but rather shallow due to the full-size spare wheel. The air-conditioning is better than that in many expensive Euro brands, with vents and controls for rear passengers too. And there are enough cup-holders and storage compartments to keep most people happy. Safety is well taken care of, with numerous side curtain airbags in addition to the usual dual front airbags.
Quality problems we found were rather limited, and took multiple people to spot — someone said a few of the plastic pieces felt somewhat cheap, someone older said the seats were too firm, while a chain-smoker complained that the pop-out ashtray was stuck. But, minor issues aside, overall build quality is very good.
The number of electronic gadgets in this top-spec STS is enough to write a whole other article. Almost everything is either automatic or power-operated, including seats, windows, mirrors, headlights, rear-view mirror dimming, wipers and even the climate control, among other things. The main draw is the central touch-screen that controls features such as the 15-speaker Bose stereo, Bluetooth hands-free phone and, of all things, suspension settings. It also acts as a screen for the navigation system, TV receiver and DVD player. Many of the controls are voice-controlled, and custom settings could be saved for each driver. Sensors on the rear of the car aid in backing up. The DVD navigation system is excellent, with voice instructions and multiple map displays for guidance anywhere in the Middle East. To top it all, there is a heads-up display in front of the driver, as if floating outside the car windshield, showing speed, navigation and all kinds of other info as needed — simply amazing, to say the least.
All this technology may be overwhelming for the conservative set who can actually afford this car. Though easier to use than BMW's confounded iDrive computer, many of the Caddy's computer items are non-intuitive, using cryptic icons instead of text. The navigation system and Bluetooth phone took to lot of fiddling to make them work. We took a peak at one of the numerous thick manuals to properly work the navigation. It could take a few weeks of vacation time to read through all the manuals and get to know all the features.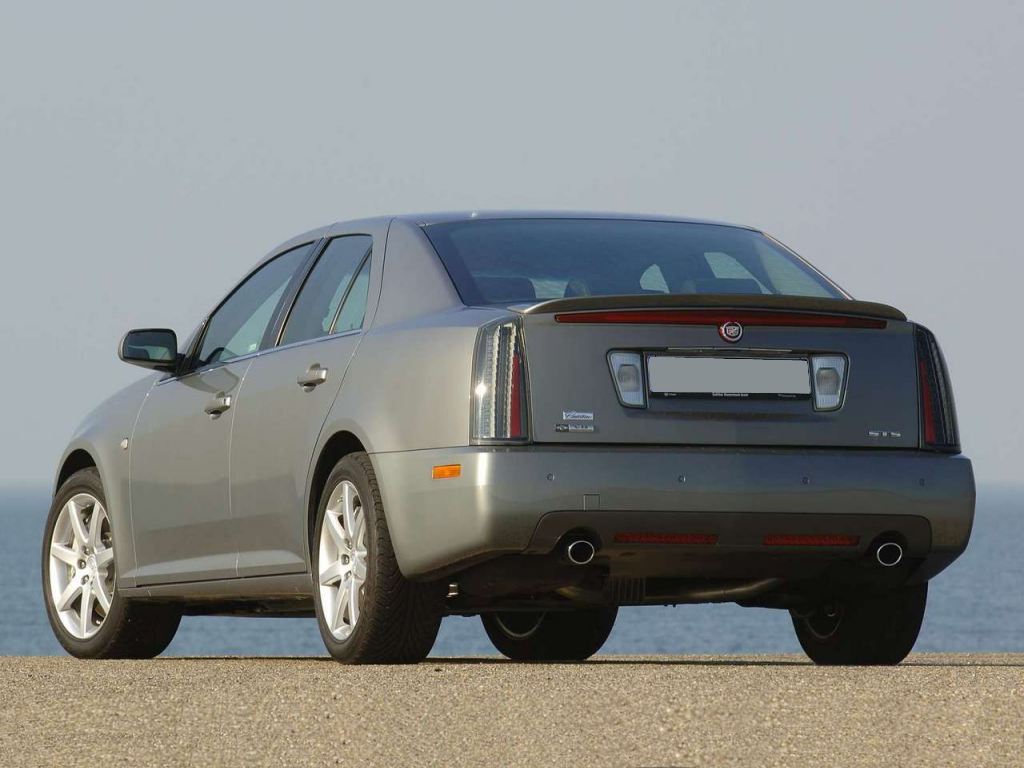 The base STS comes with a 3.6-litre 24-valve V6 pumping out 255 hp at 6500 rpm, with a peak torque rating of 339 Nm at 3200 rpm. Our experience with this engine in the CTS suggests it is more than adequate for most people even in this larger car, given its combination of useable power, decent refinement and reasonable fuel economy. However, performance-minded buyers most definitely should opt for the 4.6-litre 32-valve Northstar V8. This monster pumps out 320 hp at 6400 rpm, with a massive 459 Nm at 4400 rpm. In the standard rear-wheel-driven model, the V8 rockets the car from 0 to 100 kph in almost the same time as the expensive Mercedes-Benz CLS 500. It is almost a second slower with the addition of heavy all-wheel-drive equipment — as in our test car — but we are not complaining. There was just tons of power at any speed, available at the press of the accelerator. Slight unrefined vibrations were felt when the engine was even conservatively revved, but that was hardly an annoyance. We loved its muscle-car feel, even though we bash such traits in weaker cars.
The 5-speed automatic tranny was always ready when needed, with barely noticeable shifts and zero hesitation. Even the manual-shift function worked as it should, unlike the useless systems in some second-fiddle German marques.
As advanced as the Northstar engine is, fuel economy was still unimpressive. Combined with a relatively small fuel tank, we found ourselves hanging out at petrol stations often. Performance costs money.
The cornering ability of this rather large car is, to put it crudely, mind-blowing. Using a certain highway off-ramp as a base for our tests, we recorded some of the highest cornering speeds ever with a four-door sedan. With the combined help of Cadillac's Magnetic Ride Control suspension, Stabilitrak and all-wheel-drive, we calmly took the sweeping curve at 125 kph, and it felt like it could go even faster. At our "proving grounds" in the middle of nowhere, we were even more astounded by its sports-car mannerisms. There was almost non-existent body roll in any kind of cornering, even when we violently flung the car sideways. Such performance is unexpected from a supposed grandpa's car that features computerized suspension which detects road conditions and quietly flattens roads in daily driving. The steering is tight and decently weighted. Braking is strong with decent pedal feedback. And the ride is whisper quiet.
In the end, issues with this Caddy amount to limited legroom, shallow trunk, fuel economy and some cheap bits in the interior. All that seems fickle compared to what you are getting for your money. The price of a fairly-loaded STS barely even buys a smaller Mercedes-Benz E350, let alone an anonymous S-Class. Make no mistake, this new generation of Cadillac is good enough to hang with the best Germany has to offer. The price-to-performance ratio just makes the deal sweeter.
Price Range:
Dh 162,000-215,000

Current Model Introduced in:
2005

Body Styles:
4-door sedan

Engines:
3.6L 255 hp V6
4.6L 320 hp V8

Transmissions:
5-speed automatic

Setup:
Rear-wheel-drive
Four-wheel-drive

Suspension:
Front: independent
Rear: independent

Brakes:
Front: discs
Rear: discs

Curb Weight:
1753-1923 kg

Length:
4986 mm

Wheelbase:
2957 mm

Top Speed:
229 kph(3.6L)
246 kph(4.6L)

Test Acceleration 0-100 kph:
n/a

Observed Test Fuel Economy:
n/a