2021 Chevrolet Tahoe
The Good:
– Very, very spacious
– Comfort and cabin tech
– Handles well enough
The Bad:
– Very, very big
– Adequate but not quick
– Few low-rent interior bits
---
The Chevrolet Tahoe was both the leader and the underdog of the full-size SUV segment. Leader, because it is ubiquitous as the vehicle of choice for Secret Service, FBI and SWAT in real life and in the movies, as well as garnering a massive following among families from America to Saudi Arabia. And underdog, because it hadn't been the best option in the full-size segment for a decade now in the face of more modern competition. If General Motors had kept resting on its laurels any longer, they would've started losing sales soon, but they've finally pulled out almost all the stops for the all-new 2021 model.
The new Tahoe has love-it-or-hate-it styling, with its squinting face and large rear end, but it definitely looks premium in black. The top Premier trim comes with extensive chrome trimmings, power-folding side steps, and a lower front-bumper chin compared to it's offroad-friendly cousin, the Tahoe Z71. It is, visibly, the biggest SUV in its class now (if you ignore the longer-wheelbase Chevy Suburban).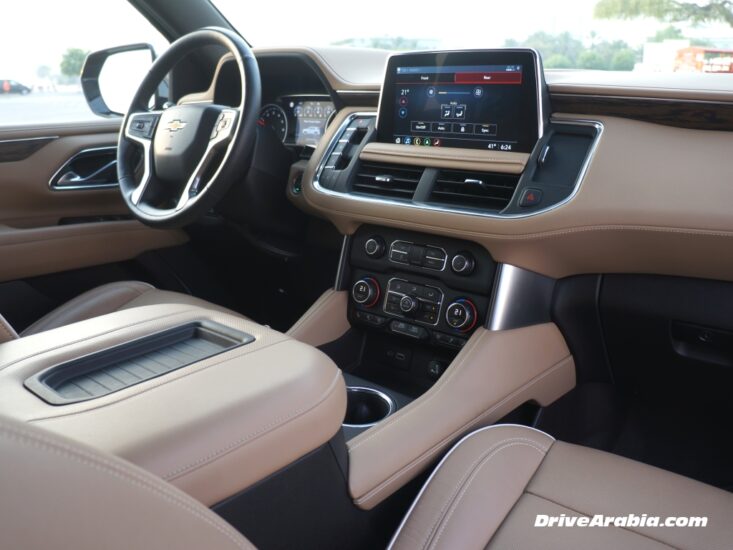 Inside, the styling is more contemporary and car-like, although still conservative. Of note is the completely unique dashboard layout compared to the Tahoe's platform-mates from GMC and Cadillac. And it's finally lost the classic column shifter in favour of buttons for gear selection.
In our well-trimmed spec, many interior panels have generally premium materials, with soft-touch surfaces and padded leatherette on the upper door panels and along the sides of the centre console. Some ill-fitting hard plastics remain in the lower extremities of the cabin.
The old Tahoe felt oddly small in the rear for its size, and had a tight third row due to its solid-axle rear suspension. Aside from growing in size, the new model now has independent rear suspension, and has immense space, including an adult-sized third row. With all seats in use, there is still far more cargo space remaining than a Nissan Patrol. Unlike the Patrol, the Tahoe's second row can slide front and back, and cargo space is cavernous with the third row folded flat. There is no shortage of storage spaces either. It's closest rival space-wise is the latest Ford Expedition.
Tech features are fully up-to-date, with the top trims getting LED lighting all over, the Chevrolet Infotainment system with 10.2-inch touchscreen, 9 or 10-speaker Bose stereo, Bluetooth audio streaming for two active devices, wireless Apple CarPlay Android Auto, voice recognition, dual rear seat-mounted 12.6-inch touchscreens, two wireless headphones, two rear HDMI ports and a barrage of USB ports.
Other appreciated features include a drinks cooler in the centre console, heads-up display, 360-degree cameras, wireless phone charger, adaptive cruise control and a foot-operable power rear tailgate that was a bit temperamental on our test car. The auto a/c is good too, in a Dubai summer afternoon. Available safety features are abundant, with all sorts of airbags, active emergency braking, lane assist and all those other electronic nannies popular nowadays.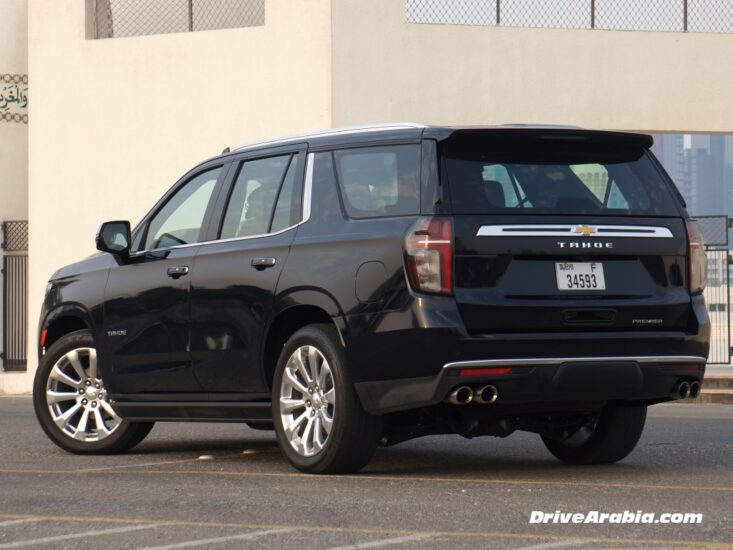 Still powered by an updated version of GM's 5.3-litre V8, the motor is just about adequate for daily duties, but won't let you do anything exciting. Making 355 hp at 5600 rpm as well as 519 Nm of torque at 4100 rpm, the old-school V8 powers the 2568-kilo Tahoe to a 0-100 kph run of 8 seconds in our summer afternoon testing, a fair bit slower than more powerful rivals.
However, with cylinder-deactivation tech, we managed to get a relatively decent fuel-economy figure of 16.1 litres/100 km (6.2 km/litre), aided by a 10-speed automatic and a start/stop function at idle. We could surely get it lower with more conservative driving.
Riding on 22-inch alloys with 275/50 tyres, the Tahoe offers up a far smoother ride thanks to the sweet "magnetic ride control" feature and new independent rear suspension. It is also luxury-car quiet thanks to generous sound-deadening.
The handling isn't as car-like as large European luxo-SUVs though, but isn't particularly wallowy either, and can be hustled at a decent pace around corners if needed. It's perfectly stable in daily driving. The well-weighted steering errs on the soft side and offers no feedback. The brakes are perfectly adequate as well.
It needs pointing out again that the new Tahoe is a very large vehicle, and this is coming from a Patrol owner. We had to recalibrate our senses to make wider turns in tight areas to avoid scraping the inner rear wheel. However, parking in tiny spaces is still manageable with a lot of back-and-forth, due to all the cameras and sensors.
The Tahoe has the bones to be a very good offroader, although you have to watch its size. Shallow dunes are handled with ease thanks to V8 torque and short gearing and decent ground clearance (after raising the air suspension). It even comes with low-range gearing and other four-wheel-drive goodies. But extreme offroading is best avoided due to the low-slung front bumper and low-profile tyres. If you still want to push a Tahoe hard in the desert, the Z71 version is obviously a better option.
The Tahoe has definitely improved by a considerable margin, and it shows. Even the pricing remains competitive with its rivals. About the only thing we'd personally ask for is more power, although GM does have a 6.2-litre V8 in its arsenal that they offer in the Tahoe's sister models. Between the General's three brands, there's a lot of variety to pick from.
Price Range:
Dh 185,000 – 265,000

Current Model Introduced in:
2021

Body Styles:
5-door wagon

Engines:
5.3L 355 hp V8 / 519 Nm

Transmissions:
10-speed automatic

Setup:
Four-wheel-drive

Suspension:
Front: independent
Rear: independent

Brakes:
Front: discs
Rear: discs

Curb Weight:
2568 kg

Length:
5352 mm

Wheelbase:
3071 mm

Top Speed:
180 kph(limited)

Test Acceleration 0-100 kph:
8.0 sec.

Observed Test Fuel Economy:
16.1 litres/100km