2017 Ford Escape EcoBoost
The Good:
– Frisky turbo engine
– Fair cabin space, features
– Ride and handling
The Bad:
– Boot not as big as rivals
– Odd cabin ergonomics
– Expensive with turbo engine
---
The Ford Escape doesn't register on anyone's radar when shopping for a small crossover, but then again, it wasn't offering anything groundbreaking at the time the current generation debuted, in 2013. However, with the 2017 facelift comes a few outstanding options that makes it a stand-out entry in this crowded segment.
First off, the 2017 model's most obvious change is the new corporate face which, to be honest, looks more conservative than before. Clad in black plastic along the bottom, and finished off with a redesigned rear-end and new tail lamps, there is absolutely nothing to hint that our tester packs the top-spec Ecoboost engine similar to the one found in the twice-as-expensive Range Rover Evoque and even the sporting Ford Focus ST.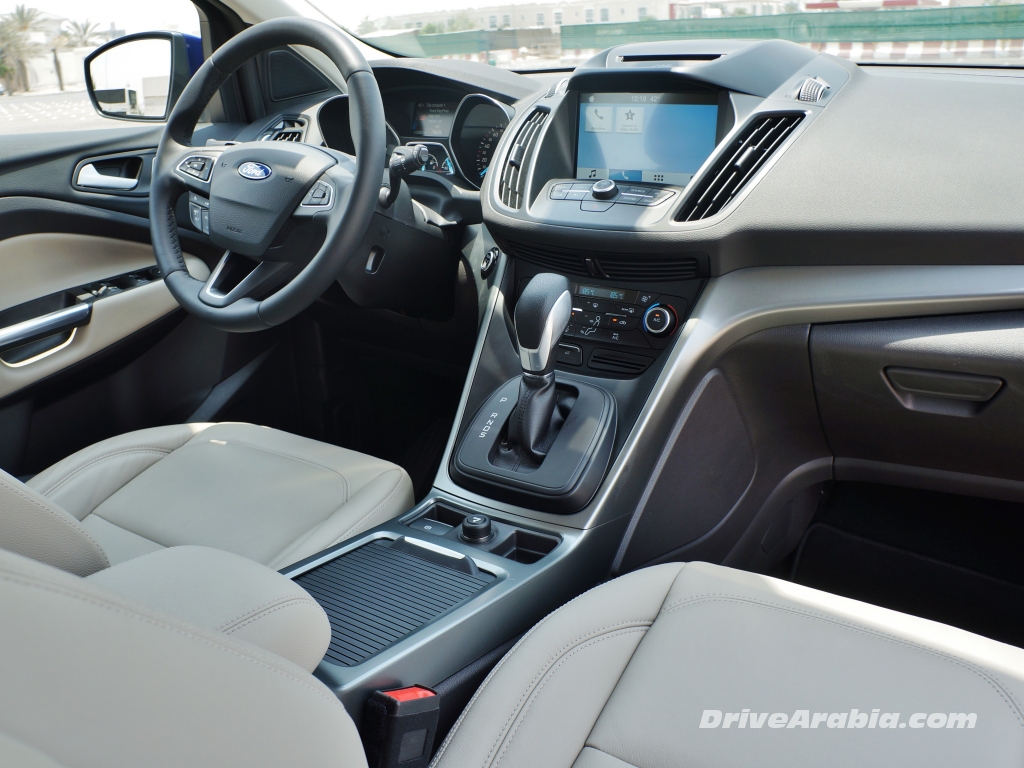 The cabin design is carried over, still current in terms of design, if a bit busy at first glance. The trim materials used are among the best in this segment, with a partial soft-touch dash and upper front-door sills, as well as some upholstery-matching padded door inserts and armrests. The rear door-sills are hard plastic, as is everything else below the waist.
Seating space is good, both front and back, although slightly smaller in every dimension than the new-for-2017 Honda CR-V. The front seats are moderately bolstered and comfortable, but the footwells can feel a bit cramped width-wise. The rear bench can lean back or split-fold forward, there's enough cubbies as well as moulded-in cupholders, and the optional power tailgate can be opened or closed by waving your foot below the rear bumper if your hands are full of groceries. The boot is of a good size, although not as big as some rivals, but it comes with a cargo cover.
The Escape can be had with all of Ford's latest gadgetry, including the new SYNC 3 multimedia touchscreen, with voice control and redundant buttons for the decent CD/MP3 stereo as well as the a/c. The capacitive touchscreen is quicker and smoother than before, with large icons and clear graphics, but pressing anything on the lower part of the interface is awkward due to the deeply-recessed LCD screen. Navigation was not included, at least in our test car.
Other tech includes LCD screens within the gauges, controlled by a myriad of buttons on the steering wheel, as well as Bluetooth, two faster-charging USB ports in the armrest cubby, panoramic glass roof, cruise control, smart keyless entry and start, fog lights, stability control, cross-traffic alert, front and side airbags, power driver's seat and a rear camera with parking sensors. Our tester did not come with HIDs or adaptive cruise, but they are available.
The dual-zone auto a/c blows cool air decently enough, but all the front a/c vents point upwards, while extra secondary vents just below the touchscreen point downwards, so it is hard to get air straight on your face. The rear vents are on the console between the front seats.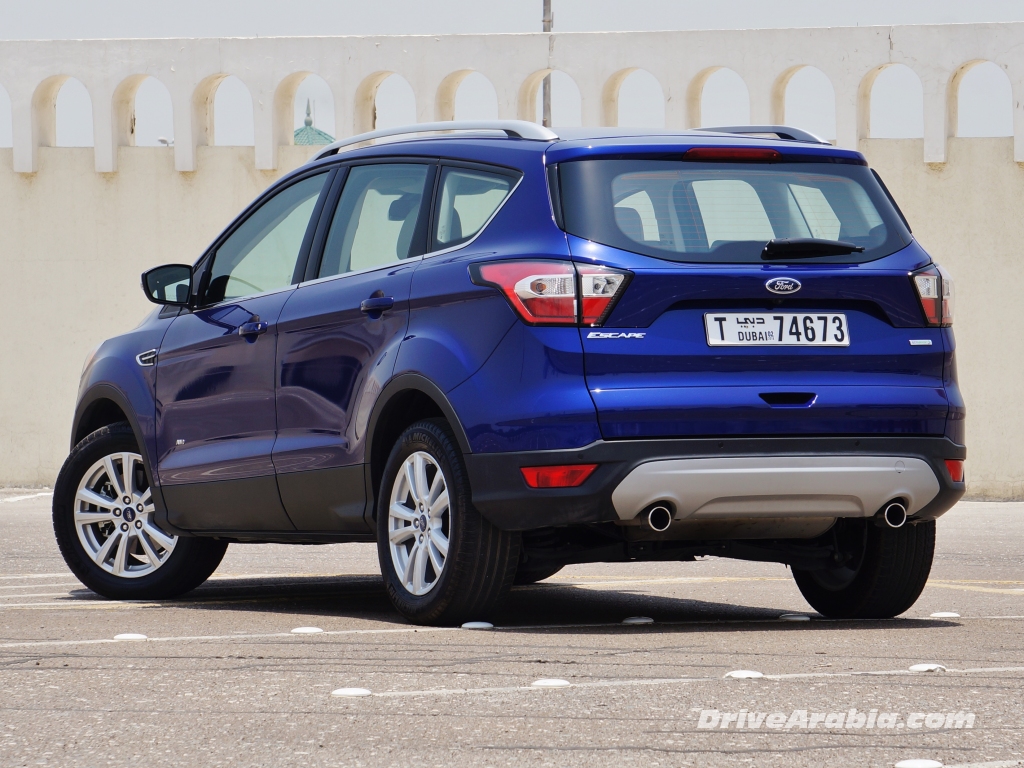 The base GCC-spec Escape has a carryover 168 hp 2.5-litre 4-cylinder powering the front wheels only, but we're driving the one powered by the sweet turbocharged 2.0-litre 4-cylinder, mated to an all-wheel-drive system and a 6-speed automatic with manual-shifting capability using tiny paddle-shifters or a thumb-button on the shift-knob. The motor makes 239 hp at 5500 rpm and 366 Nm of torque at 3000 rpm.
Hauling 1742 kg of curb weight, it is a bit portly for a compact crossover, and there is a bit of turbo lag, but it's still pretty quick once the deluge of turbo torque kicks in. We timed it at 7.6 seconds in the 0-100 kph run during our June afternoon test, making it quicker than most of its common rivals, including some V6-powered ones. Real-world fuel economy is expectedly average, as our car showed 12.7 litres/100 km on the trip computer.
Just like the Focus it is based on, the Escape is among the best when it comes to handling. Body roll is limited, understeer is kept in check, and grip is very good from the 235/55 tyres on those 17-inch alloys. Body control is great in and out of corners. The mildly-weighted steering is surprisingly sharp, but now offers a bit of feedback. The ABS-assisted brakes offer good pedal feel, with acceptable stopping power.
The suspension tuning continues to impress in terms of highway comfort. The ride is pretty smooth, perfectly stable on most surfaces, and displaying very mild floatiness over speed bumps. It's also reasonably silent below 120 kph, definitely quieter than before, as more sound insulation, seals and acoustic glass have been used for 2017.
The EcoBoost model is offered with all-wheel-drive in the GCC, but that doesn't make it a proper offroader, owing to its lack of ground clearance and low-range gearing. However, it does make the Escape a safe bet on beach sand, gravel and basic camping trails, so you won't ruin your outing by getting stuck. The all-wheel-drive system responds quickly enough that this car can make it pretty far on soft sand and mild dunes, but you need a fair bit of skill to manage that. If you've never been dune-bashing before, this is the wrong car to get started with.
Yet, with its new-found all-weather capability and modern multimedia system compared to the front-wheel-drive 2.5-litre model we tested in 2013, the 2017 Ford Escape can now be considered among the top contenders in this category. The problem is that the price gets pretty high in EcoBoost trim, to the point where you can buy a much bigger base-model Ford Explorer for the same amount of dough. At more realistic price levels, you end up with a base model sporting the same 2.5-litre FWD drivetrain as before, only with a new face. At that level, there are a whole host of impressive rivals from Hyundai, Nissan, Honda and even VW. We'd love to put the Ecoboost on our recommended list, as it truly is a fun all-rounder, but even with that premium turbo engine, prices need to come down a bit to appeal to the typical value-seeking crossover buyer. Wait for a "special offer" to grab one, unless you really want the quickest little family wagon on the block.
Price Range:
Dh 130,000-140,000

Current Model Introduced in:
2017

Body Styles:
5-door wagon

Engines:
2.0L 239 hp Inline-4 turbo / 366 Nm

Transmissions:
6-speed automatic

Setup:
Four-wheel-drive

Suspension:
Front: independent
Rear: independent

Brakes:
Front: discs
Rear: discs

Curb Weight:
1707 kg

Length:
4524 mm

Wheelbase:
2690 mm

Top Speed:
190 kph(limited)

Test Acceleration 0-100 kph:
7.5 sec.

Observed Test Fuel Economy:
12.7 litres/100km