2021 Ford Explorer
The Good:
– Capable turbo engine
– Cabin trim and features
– Ride and handling
The Bad:
– Some rivals have more space
– Interior design lacks style
– Limited offroad capabilities
---
We first got a sneak peak at the all-new Ford Explorer last year and came away with a favourable initial impression. That early car was a foreign spec though, and we finally got our hands on what we assume is the most popular spec — the four-cylinder turbo version with all-wheel-drive. Are we still going to be favourably impressed?
The new-for-2020 Explorer was a massive undertaking for Ford. Even though it looks like a facelift of the old model, it is actually an all-new model. The new Explorer actually switches to a rear-wheel-drive platform again, after 9 years as a front-driver (both with optional all-wheel-drive). If you stare at it long enough, you'll notice the unmistakeable stance of a rear-driver. And this platform will form the basis for many new models, including the next-generation Mustang apparently.
With styling just an enhancement of the previous model, it seems Ford didn't want to mess with the look too much since the faux-Range Rover demeanour worked so well for sales before. We feel the platform switch is a bit of a missed opportunity to have come up with something more interesting, but the target market seems fine with it.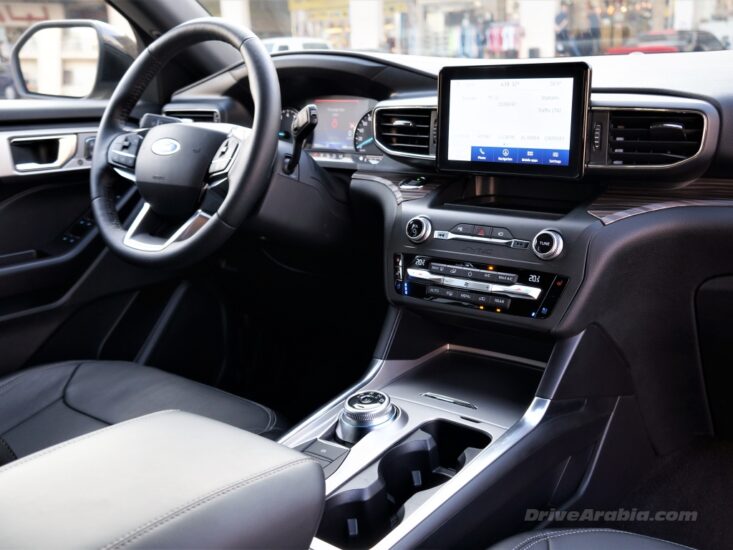 Inside, the all-new interior looks more functional than stylish, but has all the mandatory levels of soft-touch materials on the upper window sills, door inserts and dashboard. There is a sliver of faux wood trim on the dash, but it does not continue anywhere else on the cabin.
An 8-inch touchscreen sits on the dash, looking a bit small but otherwise functional, with fluid graphics, decent response and full Arabic support. There is also a big screen with full animated graphics between the physical gauges. The full LCD-only gauge cluster and a 10.1-inch touchscreen are offered in other markets, and may eventually come here.
Aside from that, there's all the usual niceties such as rear side-window roll-up sun-shades, panoramic glass roof, powered front seats with cooling and heating, smart key, LED exterior lighting and a good tri-zone auto a/c.
The Explorer comes with a full suite of safety features, known as Ford Co-Pilot 360, as standard equipment. This includes forward-collision warning, automatic emergency braking with pedestrian detection, blind-spot warning, cross-traffic alert and lane-keeping assist. A full set of front-side-curtain airbags is also standard.
Cabin space is pretty good in the first two rows, while access to the tight-but-doable third row does not require taking out baby seats installed in the forward-folding second-row seats. While more spacious than the previous model, there are still a few bus-like rivals out there that offer better legroom, such as the Honda Pilot and the Hyundai Palisade.
Boot space is great, and there are more than enough cup-holders and bottle pockets strewn about. Cargo floor-space increases to full-size levels if you fold down the third row, although the power-folding function can feel slow when you're in a hurry.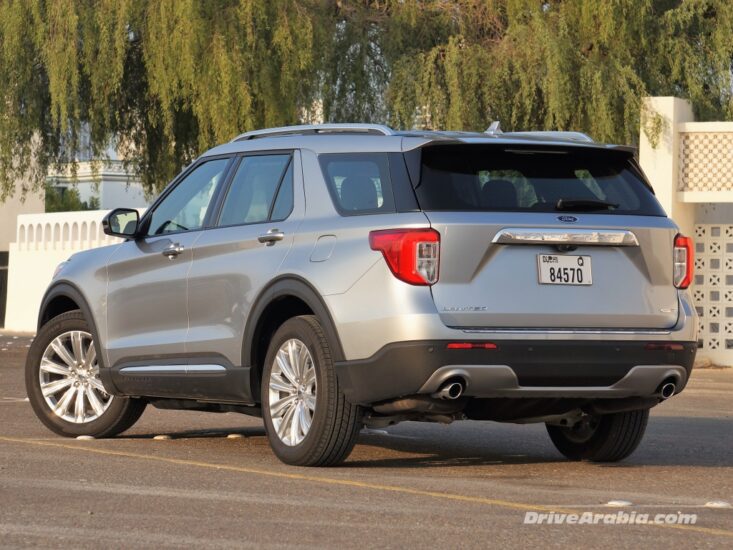 The base engine now is a 2.3-litre turbocharged 4-cylinder, replacing the old model's underwhelming 3.5-litre V6. Making 300 hp at 5500 rpm and 420 Nm of torque at 3500 rpm, the new model is actually quicker than the old V6 version, thanks to the turbo engine's strong low-end torque as well as the 10-speed automatic's extra gears. Even better, the new drivetrain helped it do a respectable 13.1 litres/100 km (7.6 km/litre) in our time with the car.
While the exhaust note isn't particularly pleasing, there is more than enough power for the daily highway battle. Available in either two-wheel-drive or all-wheel-drive form, it can do the 0-100 kph run in 7 seconds, enough to keep up with many non-turbo V6 "sport" sedans.
The Explorer isn't meant to be driven quickly, but the handling improvement compared to the old chassis is overwhelmingly obvious. The new rear-wheel-drive platform, combined with the wide 255/55 tyres on 20-inch alloys on our tester, give the big Explorer more car-like reflexes now, with good body control and limited body roll. It's somewhat fun to drive, with nicely-weighted steering that offer some feedback, and far more entertaining than boring rivals from pretty much every other carmaker except maybe Mazda's compromised CX-9. Our only minor bother was the oddly grabby brakes on initial pedal tip-in at low speeds, although we got used to it.
The ride is largely smooth, even if a bit on the firm side. Road and wind noise are within segment expectations, which is to say pretty decent in this segment.
Our car also had adaptive cruise control that could brake and crawl in traffic on its own, with the additional option to stay centred in the middle of the lane as it cruises. It requires a hand to always be on the wheel, and cannot change lanes on its own or figure out what to do when the lane markings disappear, so it's best used on the cleanest highways with no construction work going on.
The all-wheel-drive version gets a terrain-management system, but the Explorer is really more of a road-going vehicle rather than an offroader — it can tackle mild sand patches, but we wouldn't recommend venturing out any further, despite what you may see seasoned experts doing in Youtube videos.
Our conclusion is the same as before. The Explorer looks all set to continue its not-insubstantial popularity in the GCC. It will be a tough fight against the value-packed Koreans, the other Americans and some Japanese rivals, but the Ford is among the more fun-to-drive ones — something that will be appreciated by buyers who want something more than just a family bus.
Price Range:
Dh 155,000-200,000

Current Model Introduced in:
2020

Body Styles:
5-door wagon

Engines:
2.3L 300 hp I4 turbo / 420 Nm

Transmissions:
10-speed automatic

Setup:
Rear-wheel-drive
Four-wheel-drive

Suspension:
Front: independent
Rear: independent

Brakes:
Front: discs
Rear: discs

Curb Weight:
1971-2132 kg

Length:
5050 mm

Wheelbase:
3025 mm

Top Speed:
180 kph(limited)

Test Acceleration 0-100 kph:
7.0 sec.

Observed Test Fuel Economy:
13.1 litres/100km