2018 Honda Jazz
The Good:
– Immense, practical cabin
– Competent handler
– Fairly comfortable ride
The Bad:
– A bit pricey in its class
– Lots of cabin hard plastics
– Bit noisy at highway speeds
---
Honda, the internationally-renowned maker of innovative sports cars and hot hatches, currently offers just family cars in different shapes and sizes when it comes to the GCC market. The Honda Jazz had been discontinued here since the last generation, even while other markets got a new model in 2012. That new model is now here in the GCC, although it seems to be in a niche of its own.
In terms of looks, the previous model was stylish in its own way, with big pointy headlights and a wedge-shaped profile that made it look like a mini-spaceship. The new Jazz takes on the personality of those Europe-only tall hatchback-sized mini-minivans (which even BMW and Mercedes sell there). It tries hard to look cool with a flash paintjob, diamond-cut 16-inch alloy wheels and faux vents in the bumpers, and it succeeds up to a point, but it really is just the small sibling to the medium Odyssey J and the large Odyssey.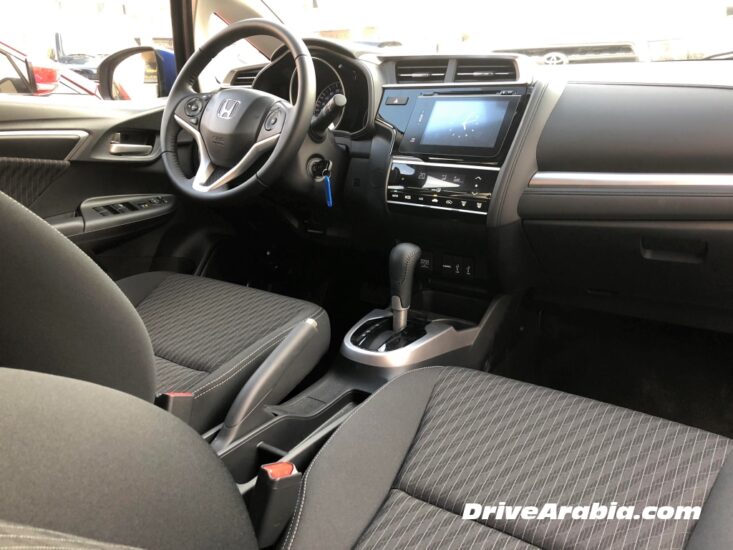 The interior is styled to be functional rather than funky. As with all previous models, there is still an abundance of shiny hard plastics all over, including the dash-top that reflects on the windshield as well as unpadded armrests on the tinny doors. However, there is a padded panel on the passenger-side dash with fake moulded-in stitching, to up the ambience a bit. The steering has a cheap leatherette wrap, and you still have to put the key in to start it, with a covered circle on the dash to remind you where the push-button start would be in other markets. Now, we are nitpicking here for what is essentially a Toyota Yaris rival. The problem is the Jazz actually costs more than most of its rivals, with a starting price that's only a laptop's worth less than a base Civic.
So why would you buy a Jazz? Well, the cabin is still confoundingly massive for the size of the car. There is enough overall headroom and rear legroom to rival midsize and even some full-size SUVs. Width is more like a regular sub-compact though, so two large guys in the back seat won't leave much space for a third.
Those "magic seats" in the rear — as Honda calls them — has seat-bottoms that can flip up, or seat-backs that can fold down flat, with split-folding functionality as well. The boot itself is of a good size, offering a bit more useable floor space than some of its rivals.
In terms of tech, there is regular keyless entry, cruise control, fog lamps, rear parking sensors, a decent auto a/c with distracting touch controls and no rear vents, and a multimedia touchscreen that is fairly easy to use but features outdated graphics. There is no volume knob, but the driver gets steering-wheel controls. The 4-speaker sound quality is passable, but radio reception can be patchy when driving among buildings. There are 2 USB ports and an HDMI port. But there is no sunroof, push-button start, rear camera or any other options.
For safety, ABS with EBD, hill-start assist, ISOFIX latches, tyre-pressure monitor and two airbags are standard, with no option for side airbags.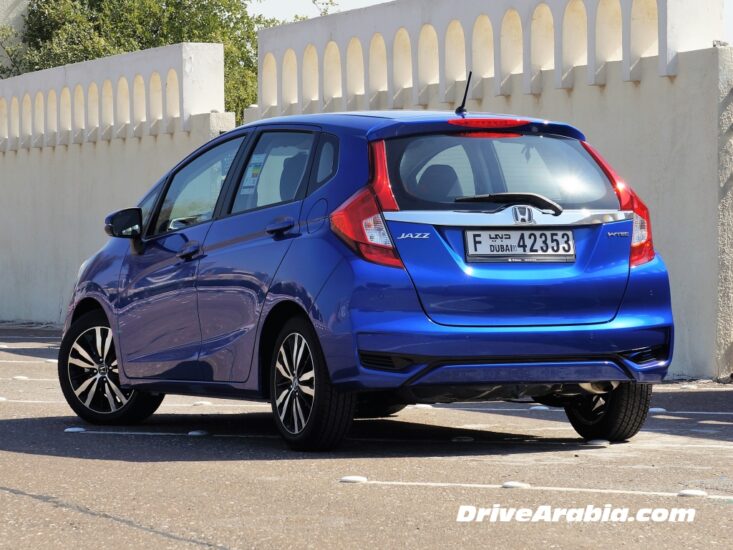 The engine gets a solid upgrade, with the 1.5-litre 4-cylinder now making 130 hp at 6600 rpm and 155 Nm of torque at 4600 rpm. For the first time ever, a Jazz cannot be called underpowered. A 0-100 kph time of 10.5 seconds is not bad in this class of cars, possibly quicker once the engine is broken in.
The standard transmission is now a CVT automatic, and it is pretty good compared to CVTs in rival cars, as it puts down a lot of torque at low revs itself instead of "rubberbanding" like other CVTs do. The result is spritely performance at lower city speeds, with a bit of a dead spot in the mid-range, and then gradually more power coming in at higher revs as "the VTEC kicks in, yo!" But while it's the best CVT in the business, it's still a gearless CVT, so full-throttle acceleration is a loud affair. There are also redundant paddle-shifters to fake-shift "gears", where the revs just drop a bit between each pull of the paddle.
When driving at highway speeds, the engine spins a bit above 2000 rpm, so it is nicely calm at cruising speeds, until you need to awaken the buzzing engine for overtaking. The motor needs to be pushed is many situations, resulting in our average fuel consumption figure of 8.2 litres/100 km (or 12.2 km/litre, far from the GSO-rated 19.7 km/litre), about average for this class of cars. Wind and road noise are thankfully less than before, but still on the high side. However, the ride is decently compliant now. And all-round visibility is great thanks to the huge windows.
The Jazz continues to be a fun-to-drive car, very chuckable thanks to its small size and taut suspension. Grip is decent from the 185/55 tyres. There is no floatiness, and body roll is limited when pushed. The electric power steering is fairly quick and well-weighted, but it now lacks feedback, which dulls the fun a bit. The four-wheel-disc brakes are very good, with linear pedal feel and good stopping power.
Banking on its practical use of space and fun-to-drive demeanour, Honda is pushing the Japanese-built Jazz as a slightly premium alternative to cheaper rivals. Given that it doesn't go far enough on the premium front, Honda will have a tough time justifying its price, especially since the larger Civic is so close to it in price. Honda is also competing with themselves at the lower end, with the Thai-built City sedan that starts at a far lesser price. It looks like the Jazz will continue to be a niche product.
Price Range:
Dh 63,900-64,000

Current Model Introduced in:
2018

Body Styles:
5-door hatchback

Engines:
1.5L 130 hp Inline-4 / 155 Nm

Transmissions:
CVT automatic

Setup:
Front-wheel-drive

Suspension:
Front: independent
Rear: semi-independent

Brakes:
Front: discs
Rear: discs

Curb Weight:
1090 kg

Length:
4028 mm

Wheelbase:
2530 mm

Top Speed:
190 kph

Test Acceleration 0-100 kph:
10.5 sec.

Observed Test Fuel Economy:
8.2 litres/100km