2022 Honda Accord 1.5T
The Good:
– Coupe-like styling
– Cabin space and features
– Ride and handling
The Bad:
– Bit pricey with options
– Few hard-plastic cabin bits
– Some rivals are quieter
---
The Honda Accord has been locked in a three-way battle with the Toyota Camry and the Nissan Altima for a couple of decades now. Over that time, at least in the Middle East, the Accord gained a reputation for being a "bit more premium," possibly due to higher pricing, but more because the other two started showing up in taxi fleets. The new-for-2018 Accord pulled out all the stops to finally justify its rep as being a "bit more premium," and that model continues into 2021 with a minor facelift and a tech upgrade.
Honda raised the bar for midsize sedans when they went all-turbo for their 2018-plus Accord line-up. Apparently the engine compartment was reduced in size due to the smaller turbo engines, leading to more space for the cabin, especially in terms of rear legroom and boot space. All this was done while making the car shorter in length and lower in height than the previous model, using design tricks such as the fastback-style roofline to make it appear longer. Visible changes for 2021 are limited to a reshaped nose, and possibly the wheels and rear bumper, but we can't tell the difference without having a 2018 model parked next to it.
Even base models get dual exhaust tips, cool LED headlights and tails, and 17-inch alloy wheels, so it really is hard to distinguish between base and top models. The range includes 1.5T LX, 1.5T Sport, 1.5T EX, 1.5T EX-L and 2.0T Sport. What we're driving now is a 1.5T Sport, and it looks great with its exclusive 18-inch wheels, black lip spoiler and black fin antenna.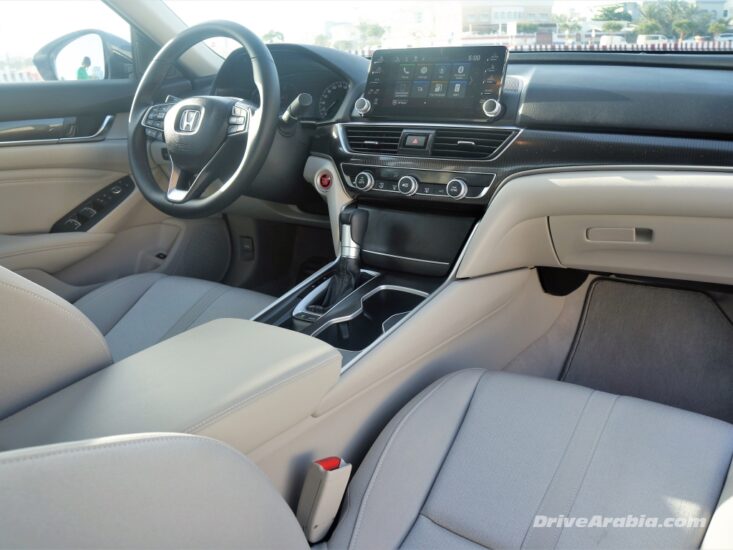 Inside, the dash design is clean, with a tablet-style infotainment screen plonked on top (8-inch touchscreen on higher-end trims) which now has a nicer-looking updated interface. The screen is capacitive, but there is no navigation in our test trim. The abundance of physical knobs and buttons is appreciated.
The dual-zone auto a/c (also standard on all trims) has its own set of controls and comes with rear vents. Other tech features include a gauge cluster that's two-thirds LCD screen, smart key, sunroof, and a rear-view camera with three angles.
Eight airbags are standard, as are ESP, ABS, cruise control, rear sensors, electronic parking brake and tyre-pressure monitoring. Honda's "LaneWatch" right-side blindspot camera, the "Honda Sensing" suite of active-safety features (including adaptive cruise with auto braking, lane-departure mitigation, etc.) and navigation are only available on top-spec models.
The dash-top and front upper-door trims are soft-touch padded, but there's still a bit more hollow hard plastics than we'd like, especially on the rear upper-door panels and centre console area. Door inserts and armrests are well-padded, and the hard-wearing cloth upholstery is nicely done.
Cabin space is immense, as we've come to expect from Accords. The rear legroom is huge, the boot is massive, and the rear bench folds down to increase cargo space if needed. There are also many useful storage spaces, including a covered cubby in the centre console.
Our test car came with the base engine. Introduced in 2018, the turbocharged 1.5-litre 4-cylinder engine makes 198 hp from 5500 rpm, with 260 Nm of torque from 1600 rpm, funnelled to the front wheels via a CVT automatic transmission. Interestingly, the 1.5T gets a proper "gearstick" shifter instead of the 2.0T's "P-R-N-D" buttons. Only the Sport trim gets paddle shifters and a "sport" mode.
The 1.5T feels decently powerful for daily-driving, although not a rocket by any means. There is some initial lag, but things are peachy once the turbo kicks in. We estimate the 0-100 kph run can be accomplished in about 8.5 seconds on a Dubai winter afternoon.
Honda continues to make the best CVTs, tuned to allow the torque to come on early in the rev range, with a far less obvious "rubber-band" effect than other CVT-equipped cars. The gearless CVT settles down the revs eventually, but the unbroken stream of noise can be annoying at full throttle.
Fuel economy is respectable at 8.9 litres/100 km (11.2 km/litre), although you can probably get it a couple of points lower by driving more conservatively.
Out on the road, the Accord behaves very well, with a fairly smooth ride, acceptable sound-deadening, and absolute stability at illegal speeds. There is no bounciness in the suspension when driving over more prominent bumps. But while it's as quiet as other Japanese sedans, there is high road noise on some road surfaces. Many American and Korean sedans are more quiet on that front.
Around long corners, there is ample grip, good body control and limited body roll. The electric power steering is responsive and well-weighted, even if a bit on mild side for faster driving, but it does offer a bit of feedback. The drive-by-wire brake pedal that responds instantly and linearly, with good enough stopping power. It's among the most entertaining front-wheel-drive sedans around.
With no halo models being sold in our Middle East market, the Accord is easily Honda's best offering, with styling inspired by those German "four door coupes" and enough tech to keep up with direct rivals. While the styling, tech and value are stronger in Korean sedan offerings, the Accord still has that "X factor" when it comes to driving enjoyment.
Price Range:
Dh 95,900-125,000

Current Model Introduced in:
2021

Body Styles:
4-door sedan

Engines:
1.5L 198 hp Inline-4 turbo / 260 Nm

Transmissions:
CVT automatic

Setup:
Front-wheel-drive

Suspension:
Front: independent
Rear: independent

Brakes:
Front: discs
Rear: discs

Curb Weight:
1502 kg

Length:
4904 mm

Wheelbase:
2830 mm

Top Speed:
195 kph

Test Acceleration 0-100 kph:
8.5 sec.

Observed Test Fuel Economy:
8.9 litres/100km