2011 Honda Odyssey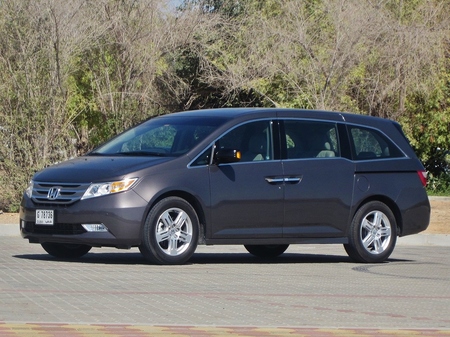 The Good:
– Immense cabin space
– Economical engine
– Good handling for a minivan
The Bad:
– Third-row seat access
– Firm ride over some surfaces
– Expensive with options
---
Believe it or not, the large minivan market is actually a hotly-contested segment in the United States. So competitive in fact, that carmakers build specifically-tailored models just for that country. Even Toyota finds the Previa workhorse to be far too pedestrian to be offered in the States, so they build the Sienna there. Honda also builds a minivan in America. It is called the Odyssey, and it has also been offered in the Middle East for years. Only this time, for the 2011 model, Honda is actually serious about promoting it.
The 2011 Honda Odyssey really has no direct competitors in the UAE. The Toyota Previa is just a tall van to carry tourists in. The Kia Carnival is painfully outdated. The aging Mercedes-Benz Viano is hilariously overpriced. And we don't even know if Chrysler still sells the Voyager here. In contrast, the all-new Odyssey actually tries to be more of a car. It is lower than any other minivan, appears unique thanks to that "lightning bolt" side-window line, and has a wider stance, as if hinting at some sort of sporting potential. We'll see about that.
The Odyssey has the low step-on height of a regular car, and leads to a cabin with a roof taller than a car but shorter in height than a 4×4. There definitely is no shortage of space, and it is designed to fit seven people in comfort, or cram in eight if needed. Headroom is great but isn't as abundant as in a tall 4×4, but why would you need useless air above your head anyway? Legroom in the first two rows is superb, but the third row is merely adequate for adults, unless the second-row passengers choose to be generous and slide their seats a bit forward. There is tons of space behind the third row, enough for a week's worth of groceries for a family of eight, and can fit a sofa once the last row is made to disappear into the floor.
Configuration options don't end there, as the three-piece second row can be pulled "wider" to fit three child seats if needed. The third row is also of the 60:40 variety and even includes a central armrest, just like the second row. The front seats get separate pull-down armrests, as there is a huge covered storage tub instead of a traditional centre-console. The lack of a console also means the driver can move to the passenger side without exiting the vehicle, for whatever reason. There are also countless storage cubbies and door pockets spread about, including 15 cup-holders, a cooler box in the front, and a pull-out ring to hang a trash bag from in the middle row. Ironically, even with all this engineering, Honda couldn't come up with a better system to access the third row, as the second-row seats slide forward partially but don't fold out of the way.
Material quality is good, of what premium stuff there is. While a lot of the cabin is hard plastic, the part of the dash facing the passenger side as well as the tops of the doors are trimmed in soft-touch materials. And there are padded armrests alongside the windows for not only the first two rows, but the third row as well. Being the top-spec "Touring" version, our tester was nicely upholstered in beige leather, down to the armrests.
There is a surprising amount of tech for what is supposed to be "just" a van. The navigation is one of the best we've ever tested. After we figured out the slightly-tedious rotary-dial system for data entry, we set it and drove from Dubai to Al Ain. The system gives accurate voice instructions down to the metre, even in the middle of roundabouts. Other features in the Touring include an above-average CD/MP3 stereo with Bluetooth and hard-drive, USB and HDMI ports, power and video plug-points, an extra-wide roof-mounted DVD screen to run a movie and a Playstation game side by side, HID headlights, power windows for all four doors, rear parking sensors with camera, a digital a/c that was unstrained in February weather, separate rear a/c controls and roof vents, dual front and three-row side-curtain airbags, sunroof, and remote-opening electric sliding doors as well as tailgate.
The Odyssey comes standard with a 3.5-litre V6, good for 250 hp at 5700 rpm and 339 Nm of torque at 4800 rpm. Power is sent to the front wheels via either a 5-speed automatic in the lower models or a smooth 6-speed auto in the top Touring version, controlled by a stubby knob on the dash, but with no manual-shifting capability. We fired off a 0-100 kph time of 8.5 seconds, quicker than Honda's own estimates, with stability control off and a little screech of the tyres. The Odyssey isn't rapid, but it always feels abundantly powerful, even with five passengers and luggage in tow. Our cross-country trip brought down the average fuel consumption to a remarkably low 11.6 litres/100 km, but it never went above 13 l/100 km in the city either.
As if the surprises never cease, the Odyssey even handles pretty good, almost as good as an Accord sedan even. It understeers around turns much earlier than a car with a squeal of the 235/60 front tyres, but upto that limit it is easy to push, without a whole lot of noticeable body roll either. Even weirder is that the somewhat-light steering even offers good feedback, better than some sports cars. The ABS-assisted brakes are adequate, but on the whole, it feels just like driving a big sedan.
Consequently, slapping on sporty suspension and 18-inch alloys on a minivan comes at the cost of ride quality, as the Odyssey rides a bit firmly for what is supposed to be cushy cruise-ship. It is generally smooth over big bumps, but a slight jitteriness can be felt on some road surfaces, something that BMW owners would be familiar with. However, there is virtually no road noise, while some wind noise only creeps in at 120 kph and beyond. We suspect the lower models, riding on smaller 17-inch wheels, offer a slightly better ride.
The new-for-2011 Honda Odyssey shatters all expectations you may have from a minivan, being more fun to drive than it should be, while hauling all the space one would ever need. It is pretty expensive when loaded with options, but we suspect the decently-equipped base model would be a good proposition, offering a rather large vehicle for the price of a loaded Accord. If you have a family as large as your ego, you'd do well to let go of your 4×4 and give the Odyssey a look.