2020 Infiniti QX80 Limited
The Good:
– Gigantic road presence
– Living-room cabin space
– Onroad and offroad performance
The Bad:
– Less fancy tech than rivals
– Fewer off-road features
– Fuel consumption
---
Almost a decade ago, when we reviewed the 2011 Infiniti QX56, we wrote that the world's focus was shifting towards "green" cars while the days of the full-size 4×4 were numbered, especially of the body-on-frame variety. And yet, we felt it was brave of Nissan to launch the then-new Patrol at that time, with the Infiniti sister model following shortly. A decade is a long time, and electric cars have yet to get a foothold beyond being a niche product for people with money. The Patrol is still going strong with only minor changes, while the Infiniti carries on alongside with a new face and a new name – the QX80.
The QX80 got its much-needed facelift back in 2018, when it received several new body panels that included a completely redesigned front end as well as a redone rear, aside from new designs for the wheel options. The new look addressed the biggest design criticisms of the older model by moving the headlights higher, while also changing the front-fender vents and adding a chrome strip on the tailgate between the new LED tail lights to break up the bulky rear. Moving the rear indicators down to the bumper was an out-there move though.
The car we tested is the Limited model, identified by its satin chrome exterior trim, darker lower-bumper garnishes and unique 22-inch wheels with a dark machined finish.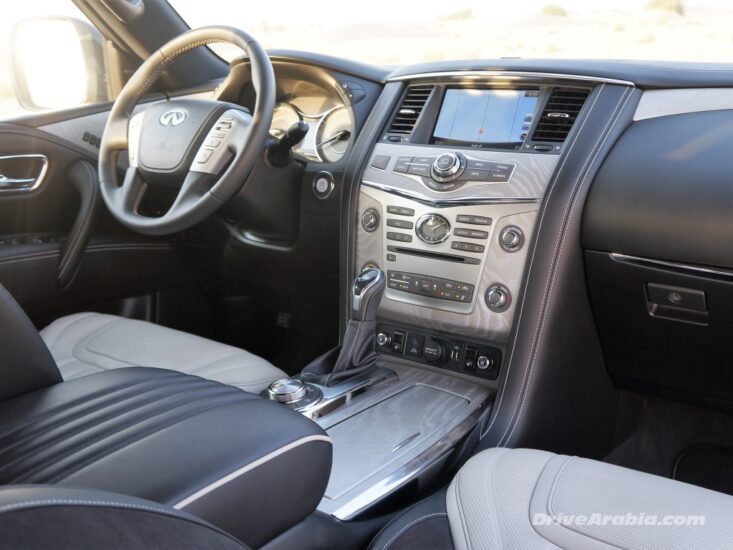 The spacious interior features minimal changes compared to the pre-facelift model, the most prominent being the new leather materials, quilted upholstery, extra stitching on the wheel and dash, and the unvarnished wood trim. The upholstery is a two-tone mix of semi-aniline leather and alcantara with contrasting piping and stitching. While most of the cabin materials are top-notch, some hard plastic cabin bits carry over from Patrol, such as the glovebox cover, but its Nissan cousin itself is well-trimmed already. More premium bits that you can't get in the Patrol include the alcantara headliner and pillar trims.
That outer size translates to a cabin as big as a villa, where you can literally watch movies on three different screens or sleep in the comfort of the strong tri-zone climate-controlled a/c. Space up front is immense, with big mildly-bolstered cooled seats and a wide central console armrest that has a six-bottle cooler box underneath, with a double-hinged cover that can be opened by front or rear passengers. The seats feel rather firm, but not uncomfortable.
Rear legroom is also immense, with room to stretch out in any direction. The second row can optionally have two seats with a storage console in the middle, but a three-seater bench is standard. Even the third row is decently spacious, with regular-sized people easily fitting back there for long trips, but taller folks will have issues, as the second-row seats don't slide front and back. Access to the last row is reasonably easy thanks to flip-front second-row seats at the pull of a lever or the press of a button. The third row can be folded up or down electrically, although the motors are painfully slow.
Cargo volume with all rows in use isn't a lot, but still good enough to hold a week's groceries or a day's picnic supply. The second and third-row seats can split-fold down to create ridiculously-generous cargo volume. And all passengers get a good number of cup-holders spread about, as well as various covered storage cubbies.
The 8-inch touchscreen houses the navigation, Bluetooth, etc. with convenient physical buttons below it. The rear entertainment system has larger 8-inch higher-res rear screens that can play individual content, while also having an HDMI auxiliary port and three USB ports for the rear cabin. However, the major tech upgrades seen in the 2020 Patrol will appear in the 2021 QX80, which is why our 2020 tester still has the little monochrome screen within the gauge cluster. There is already a decent amount of tech though, such as the welcome lights on the ground across the entire length of the side-steps, the Bose sound system with 15 speakers, voice controls for the infotainment system, smart key, "smart" rear-view mirror that shows a full-width video feed from the rear camera, power tailgate, adaptive cruise control, blind-spot warning and intervention, 360-degree cameras, 6 airbags and predictive forward-collision warning, among other features.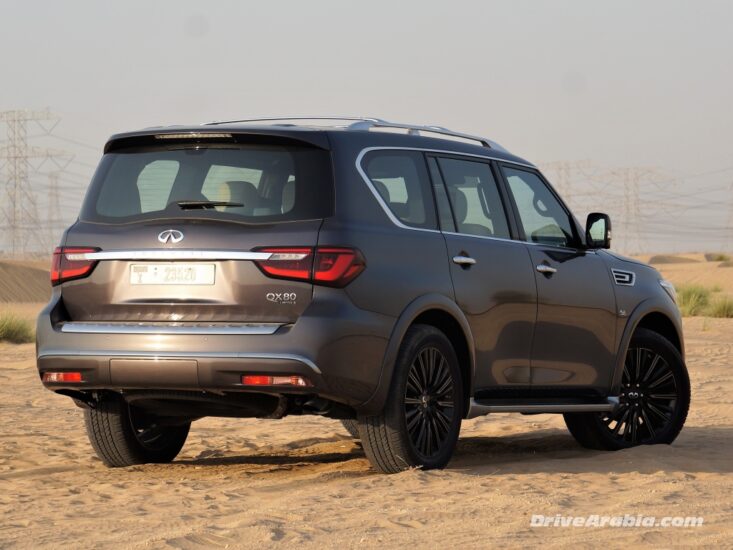 The 5.6-litre V8 engine carried over unchanged from the previous model, but more interesting is that the refined ultra-smooth motor gets a 28 hp bump up in power for the Limited trim (similar to the now-defunct Patrol Nismo), making it good for 428 hp at 5800 rpm and 560 Nm of torque at 4000 rpm. Mated to a 7-speed automatic and all-wheel-drive, the Limited managed a 0-100 kph time of 7.3 seconds in our October run. Even after 10 years, this torquey motor holds its own against turbocharged rivals.
This 2745-kg behemoth, which runs best on "Super" RON98 petrol, was burning fuel at rate of 16.7 litres/100 km (6 km/litre), which is within class standards.
The QX80 comes with four-wheel independent suspension and a unique "hydraulic body motion control" system that replaces the stabiliser bars. Unlike its premium rivals, the QX80 still does not have height-adjustable air suspension, more interestingly, the Limited is actually 39 mm lower than the Patrol, so it's easy to climb into with side-steps yet not too low to completely give up offroad ability.
In hard cornering and quick direction changes, the body starts to sway but then gets quelled after a second or so. Body roll is never allowed to be prominent, yet it can occasionally still feel mildly lumpy when suddenly diving into a curve. The ABS-assisted disc brakes are also fairly powerful. However, the 275/50 tyres start squealing rather early, safely understeering to remind you that this is not a car, let alone a sports car. As if to counter our point, the previously finger-light power steering has now been made much firmer in the new model, although not really adding more feedback.
Ride quality is generally good, but thanks to the 22-inch alloys with lower-profile tyres, it can be a bit jittery on some rough road surfaces. On the other hand, it takes tall sharp speed humps with ease, squashing them without a second though. Wind hush is muted well, with some road noise cropping up only at 120 kph. And parking is made far easier with the all-round cameras offering a virtual "overhead" view, although its size can still make it a minor chore in tight spaces.
As for offroading, all the required gear is there, including a selector for 4-high and 4-low. It doesn't get the Patrol's terrain-select system, ground clearance, final drive ratio or meatier tyres, but it can still do a fair bit of dune bashing as long as you watch what you're doing and don't try to ram it onto steep inclines. It can glide over soft sand rather easily with just deflated tyres, and can manage a desert excursion far more effortlessly than its pricier European and American competitors.
The 2020 Infiniti QX80 is a dinosaur in today's world. But it is a friendly dinosaur, one that rewards you with reliable power and welcome capability that few overly-modern rivals are still able to match.
Price Range:
Dh 397,000-398,000

Current Model Introduced in:
2018

Body Styles:
5-door wagon

Engines:
5.6L 428 hp V8 / 560 Nm

Transmissions:
7-speed automatic

Setup:
Four-wheel-drive

Suspension:
Front: independent
Rear: independent

Brakes:
Front: discs
Rear: discs

Curb Weight:
2745 kg

Length:
5340 mm

Wheelbase:
3075 mm

Top Speed:
200 kph(limited)

Test Acceleration 0-100 kph:
7.3 sec.

Observed Test Fuel Economy:
16.7 litres/100km