2020 Jaguar E-Pace P250
The Good:
– Great styling inside and out
– Handles pretty good
– Decent ride comfort
The Bad:
– Expensive for its class
– Small boot volume
– No low-range gearing
---
The Jaguar E-Pace is one of those cars that no one asked for, but makes a ton of sense for a carmaker. The entry-level premium sub-compact crossover segment may be a mouthful, but it is a fast-growing segment in markets that can't afford full-fat luxury vehicles such as Jaguar-Land Rover's own Range Rover Vogue. Hence such little faux-luxury faux-SUV type vehicles are a hit in places like the United States and Europe, although they've never gained much ground in the Middle East, where large vehicles are still preferred by high-end customers. Credit must be given to the British carmaker though, as the E-Pace is one of the brand's best-sellers in our region now, even if it's a tiny niche.
Further credit goes to the F-Type inspired styling, with the point front-end and the sloping rear roofline. It looks a little cartoonish, but in "R Dynamic" spec with big 20-inch wheels and body-coloured exterior trim, still one of the more attractive entries in a segment that includes such stylistic dullards as the Mercedes-Benz GLA-Class and the BMW X1. Clearly it has also been stealing sales from the F-Pace, Jag's slightly-larger "sporty" sibling that's pricey and a dull drive when it theoretically should be neither.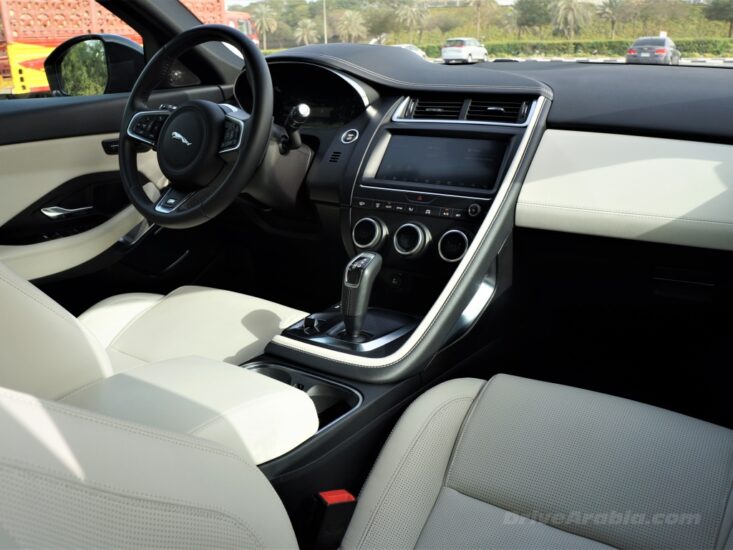 The interior is pretty well trimmed, with lots of leatherette-covered surfaces and nice textures, but there are some obvious hard plastic panels as well which, to be fair, is within class specs compared to rivals.
In terms of cabin space, overall headroom is fine, and while rear legroom is decent, very tall passengers may feel cramped. Boot space is decent under the swoopy tailgate, although many rivals offer a bit more volume, including its sibling, the Range Rover Evoque.
Features are extensive, with a shiny 10-inch "dual view" capacitive touchscreen that's customisable and has pleasant graphics, even if a bit fiddly to figure out on the move. Other standard features include a smart key, a good 2-zone auto a/c with rear vents, auto LED headlights, rear camera, lane-keeping assist, front/rear parking sensors, front/side/curtain airbags, ISOFIX latches, driver condition monitor and basic cruise control with speed limiter. Options include a 12.3-inch full-LCD gauge display, a heads-up display, navigation, ambient lighting, panoramic glass roof, powered tailgate and a good stereo, with Apply CarPlay and Android Auto only added on later 2020 models (our 2019-build test car did not have it).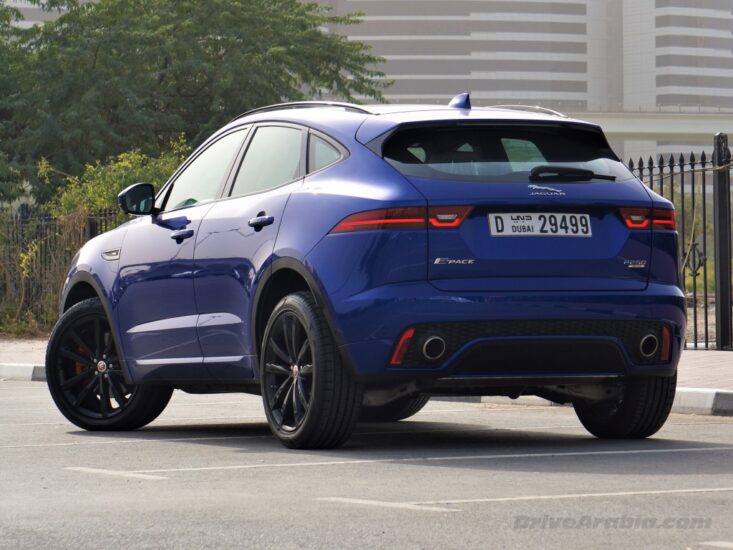 All petrol-powered E-Pace models now come with a 2.0-litre turbocharged "Ingenium" engine newly designed by the company, but in three different states of tune — there is a base P200 model with 200 hp and 320 Nm of torque, a mid-range P250 with 249 hp and 365 Nm, and a P300 with 300 hp and 400 Nm of torque, that last one not being offered in the GCC. We had the middle child, badged as a "P250 AWD" on the tailgate. Mated to a 9-speed automatic and all-wheel-drive, the engine is spritely at city-road speeds, but suffers from massive throttle lag when moving off from idle or crawling speeds. It's annoying enough to make us drive in "Sport" mode most of the time, as it reduces the delay issue somewhat.
The 0-100 kph run can be done in 7.5 seconds, and progress at higher speeds is less frantic. There is still adequate power for overtaking and such, so it's a perfectly fine daily driver, with fuel economy hovering at around 12 litres/100 km (8.3 km/litre).
The cabin is reasonably quiet and the ride quality is smooth enough, with a tinge of firmness due to the low-profile 245/45 tyres and mild floatiness over bumpy roads.
There's not much feedback from the steering, but it's responsive and well-weighted. The limited body roll and great grip overcomes the annoyance of the tall driving position, and we could push it around corners with more confidence than the last F-pace we drove in 2017. Apparently the R-Dynamic models come with torque vectoring for tighter cornering. The aforementioned throttle lag is largely mitigated at higher speeds. The brakes are great as well.
The Jaguar E-Pace is a very nice little crossover, and fun to drive as well. That low-speed throttle lag is a downer though, and it's not going to handle any sort of offroading other than gravel trails and flat sand, although that should be enough for the average shmoe's family picnic. However, it's an expensive way to travel, and the target market's eyes may start wandering to other cheaper second-tier luxury Japanese or American alternatives. It may be why certain dealers are only stocking P200 models for 2020.
Price Range:
Dh 186,000-241,500

Current Model Introduced in:
2018

Body Styles:
5-door wagon

Engines:
2.0L 249 hp Inline-4 turbo / 365 Nm

Transmissions:
9-speed automatic

Setup:
Four-wheel-drive

Suspension:
Front: independent
Rear: independent

Brakes:
Front: discs
Rear: discs

Curb Weight:
1832 kg

Length:
4395 mm

Wheelbase:
2681 mm

Top Speed:
231 kph

Test Acceleration 0-100 kph:
7.5 sec.

Observed Test Fuel Economy:
12.0 litres/100km