2019 Mercedes-Benz CLS 53 AMG
The Good:
– Head-turner with the right paint
– Great handling and comfort
– Powerful and economical
The Bad:
– Expensive relative to performance
– Lack of feedback from controls
– Rear space and boot inefficiencies
---
We still remember a time when you could count the number of Mercedes models in the palm of your hand, with a single AMG variant for each one. Of course, we now live in a world where Mercedes-Benz has more models than Toyota, and there are several levels of AMG. Take for instance the all-new CLS-Class. It now comes in this CLS 53 AMG variant, which is midway between the 63 and the 43 models. However, the 43 and 63 models aren't offered in the CLS line-up like they are in the E-Class. And the 53 models are exclusively hybrid, or "mild" hybrids rather. Hope we laid it out clearly.
The correct marketing name of the car is the Mercedes-AMG CLS 53 4Matic+ Coupe. There also seems to be some confusion over whether the CLS and the AMG GT 4-door (both advertised as "coupes") are the same car. Well, they both share the bones of an E-Class under the skin. However, the CLS is a proper sedan with a bootlid, while the AMG GT 4-door has a liftback. Hope we're still clear.
That said, the new CLS looked like a beached whale in initial press photos, but is much more attractive in real life, at least in AMG trim. It's a head-turner specifically since our test car came with the matte-grey paintjob and 20-inch wheels as well. Design details of note are the four frameless doors and the rear bumper-integrated exhaust tips done better than in the E 63 AMG. Almost as long as a Porsche Panamera, the CLS falls in size somewhere between an E-Class and a short-wheelbase S-Class.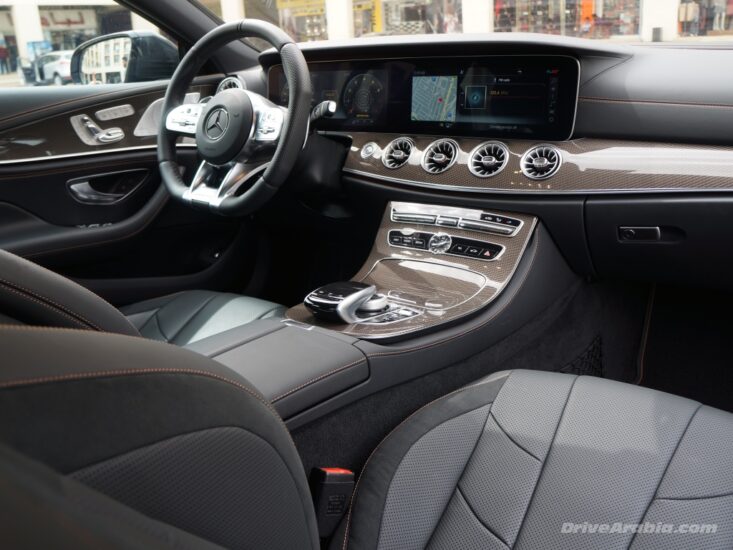 However, that size isn't reflected inside. While space up front is perfectly fine — with well-bolstered seats that fit "wide" people comfortably — the rear legroom is below average, and you have to watch your head while getting into the rear seats. And while the boot is big, Mercedes thought it appropriate to just throw in a massive unsecured space-saver spare wheel in there to fulfill some local legal requirement.
This is detracting from the fact that the CLS has a stunning interior worthy of its hefty price-tag. There are padded stitched-leather surfaces in abundance, broken up by carbon fibre and metal trim, and you'd be hard-pressed to find the few hard-plastic bits in the furthest reaches of the footwells. The glowing ambient lighting is done with style, and the six metal a/c vents move with a smoothness not seen in any other brand.
Features are extensive, since ours is a fully-loaded model. The two conjoined LCD screens on the dash — one for the customisable gauge cluster and one for the multimedia — are veritable iPads in terms of image quality, although they aren't touchscreens. The functions are utilised via a complicated controller that has buttons, rotary dials and even a trackpad, aside from thumb controls on the steering wheel that can be used as a kind of mouse-pointer — yes, it's all very distracting, and we found ourselves not fiddling with radio stations much when driving.
All in, you can get every luxury in the book, such as LED exterior lighting, a power boot lid, heads-up display, navigation, smart keyless entry and start, 360-degree camera with sensors, decent four-zone auto a/c with rear vents and controls, regular sunroof, decent-sized storage cubbies and four useable cup-holders. An issue with the electronics popped up in our test car though — the seatbelt warning kept beeping even while everyone in the car was belted and no errant packages were left on any of the weight-sensing seats. Needless to say, it was a major annoyance, but probably a one-off case with our tester.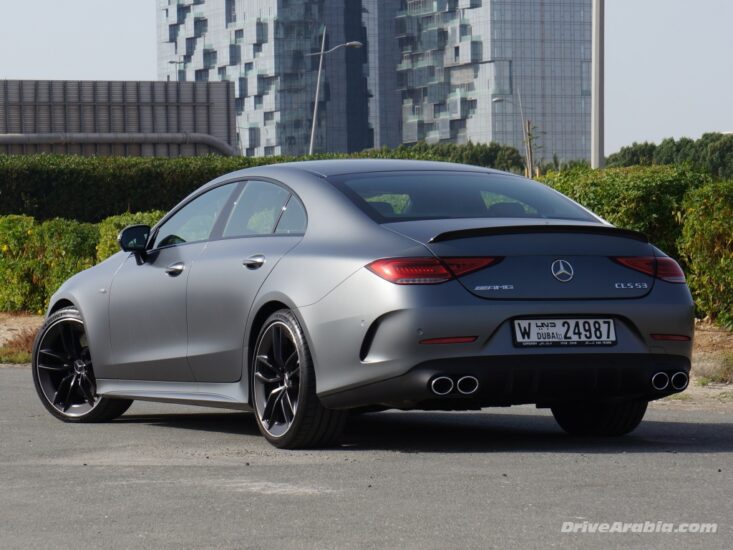 What's very palatable however is the powerful turbo 3.0-litre petrol-hybrid inline-6 engine. Making 435 hp at 6100 rpm and 520 Nm of peak torque between 1800 and 5800 rpm, those are reasonably impressive figures. The electric powertrain offers up an additional 22 hp and 250 Nm for short periods, thereby making it a "mild" hybrid. This is all mated to a 9-speed automatic and a rear-biased "4Matic" all-wheel-drive system.
We timed it at a solid 5 seconds in the 0-100 kph run, similar to the performance of V8 muscle-cars in Dubai's March weather. The power delivery is linear and smooth, which, together with the uninspiring exhaust note even in "sport" mode, offers up no sensation of speed within the well-insulated cabin. Aided by an auto stop/start system, at least you get to enjoy impressive fuel economy figures — 10.9 litres/100 km (9.2 km/l) as tested.
The CLS 53 AMG offers up smooth gear-shifts, strong high-speed braking and well-weighted steering, even if a bit on the light side. However, it suffers from the same lifeless controls as other E-Class-based models, namely the delayed throttle response in city driving, the lack of steering feedback and spongy brake-pedal feel at low speeds.
That's a shame, because the playful chassis has tons of potential. Body roll is mild, while the 245/35 front and 275/30 rear tyres offer great grip, yet it is possible to swing the tail out on tight corners with low-traction surfaces and keep it under control, partly due to a less-intrusive ESP system.
In true Mercedes fashion, the adaptive-suspension ride is largely smooth, with some harshness felt on certain roads only due to the low-profile tyres. It's pretty quiet in the cabin, with a bit of wind noise at high speeds due to the frameless doors.
The CLS 53 does not offer the full-blooded AMG experience that has come to define the three-letter sub-brand for decades, slotting in under the 63 models as an "entry-level" performance option. It is still a great luxury car though, and being a fresh entry, does the job of standing out in the crowd quite well.
Price Range:
Dh 450,000-500,000

Current Model Introduced in:
2019

Body Styles:
4-door sedan

Engines:
3.0L 435 hp I6 turbo / 520 Nm

Transmissions:
9-speed automatic

Setup:
Four-wheel-drive

Suspension:
Front: independent
Rear: independent

Brakes:
Front: discs
Rear: discs

Curb Weight:
1850 kg

Length:
4993 mm

Wheelbase:
2939 mm

Top Speed:
250 kph(limited)

Test Acceleration 0-100 kph:
5.0 sec.

Observed Test Fuel Economy:
10.9 litres/100km