2020 Nissan Sunny
The Good:
– Sharp design inside and out
– Decent tech features
– Good overall drive
The Bad:
– Bit pricey with options
– Less rear legroom than before
– Some hard cabin plastics
---
Nissan has always had a strong-selling small car in their line-up for as long as we can remember. The Sunny fought tooth-and-nail with the Toyota Corolla all throughout the 1990s and well into the 2000s. But then in the mid-2000s, the Tiida took over the mantle as a compact sales leader for Nissan, while the aging Sunny was largely relegated to fleets. Then odd things happened around 2013, as the Sunny was redesigned as a sub-compact while the newly-enlarged Tiida/Sentra duo became the compact entry. While the Tiida met its demise in our market a few years ago due to slow sales, the Sunny carried on below the Sentra, mostly as a fleet favourite, becoming the de facto leader of basic transportation around here. However, it really did give off all the flavour and appearance of basic transport, so it developed a rather unflattering reputation. We expect that to change with the arrival of the all-new 2020 Sunny.
Now built in Mexico, the biggest change is the overall styling. Riding on an upgraded platform, the Sunny has finally ditched its beluga-whale look for a far more modern appearance. The new shape is lower, wider and longer. It is basically an extension of Nissan's corporate look that started with the Maxima and trickled down to the Altima, namely in the nose, tail and rear C-pillar styling. While the base 2020 Sunny S rides on 15-inch steel wheels, the Sunny SL we drove gets 16-inch alloys. With the available LED headlights and running lights, mirror-mounted indicators and the striking paintjob, the new Sunny is one of the better-looking entries in the sub-compact segment, and far prettier than its deadly rival, the Toyota Yaris.
The cabin is a massive step up, making use of better materials compared to the plastic-bucket ambience of the old one. While there is still an abundance of hard plastics, they are textured better, and there is a large patch of stitched leatherette on the entire width of the dashboard face that lifts up the overall atmosphere. A centrally-placed "floating" touchscreen sits in the middle, all arm-rests front and back are padded, and the seats come with two-tone upholstery.
There are no complaints in terms of space. There's enough room in there for adults of all sizes, both front and back, but it's not as cavernous as the old model any more. Rear legroom has been cut down to accommodate the swoopy roofline, even though the wheelbase is 20 mm longer. The front seats are moderately bolstered, and at least they have grown in size compared to the outgoing Sunny's cartoon chairs. That lost space has gone to the boot, which is pretty big for a sub-compact sedan, and even has a split-folding rear bench.
Only the driver get's a centre-console flip-down armrest, but a full centre-console armrest with storage is available as an expensive option. There is no centre pull-down armrest for the rear bench seat. While there are enough storage spaces for wallets and phones, the front cup-holders are shallow and the rear passengers have to make-do with bottle-holders that are moulded into all the doors.
Available features include a capacitive 7-inch touchscreen that integrates stereo functions, Bluetooth phone, and even options such as a 360-degree parking camera system, Apply Carplay and navigation. Mind you, the interface can be slow at times, but at least the graphics are done well. It also comes with short-cut buttons for basic functions as well as 3 USB ports.
Aside from the standard power windows and mirrors, ISOFIX child-seat latches, ESP, ABS, tyre-pressure monitor, hill-start assist and two front airbags (side and curtain airbags might be available in some markets), other options include smart keyless entry with starter button, cruise control, fog lamps, rear open-door alert, blind-spot warning, intelligent emergency braking, rear cross-traffic alert and easy-fill tyre alert.
Our top-spec model came with a single-zone auto a/c, but unlike the old model, there is no option for rear vents, and the a/c itself struggles to blow cold air when the car sits idling in a July afternoon, only cooling when you get going.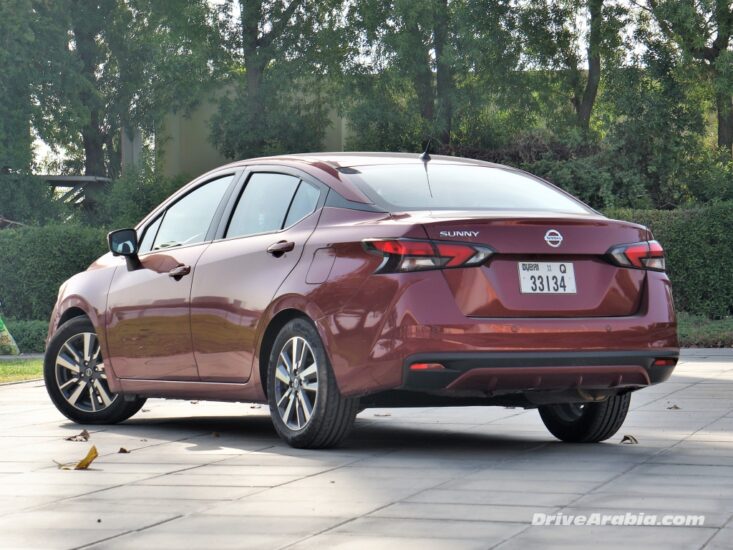 The standard engine is a 1.6-litre 4-cylinder making 118 hp at 6000 rpm and 149 Nm at 4400 rpm. It's not quite a modern marvel, but mated to the latest version of Nissan's CVT automatic, it feels pretty adequate. The CVT is now tuned well, revving up the engine quicker with negligible "rubber band" effect, while throwing in the occasional fake "shift" to not make you whine about the lack of gears. The 0-100 kph time is about 10.8 seconds on average, which finally brings it on par with the Honda City, although with its new-found performance, the Nissan still burned more petrol at 9.5 litres/100 km (10.5 km/litre) in our tests, although we have to admit, we were hammering it everywhere because it was quite fun, so you can probably get a far better rating if you calm down.
The small engine still makes itself known under full throttle, but there seems to be decent sound-deadening now, so it doesn't pierce your ears when you're going boot-to-the-floor. However, its advantage becomes obvious when, at 120 kph, the Sunny silently does below 2500 rpm. The CVT has "low" or "sport" modes, both of which seem to do the same thing, namely pump the revs higher with the same level of throttle input.
Interestingly, a 5-speed manual is available only on the base model, destined for fleet sales, but probably very satisfying to drive now with all that new-found performance.
Also new-found is its agility, at least in the top-spec version shod with 205/55 tyres on those sweet 16s (far wider than on similar Hondas). Body roll is limited and well-controlled, while the grip is very good on small-radius corners, enough to be fun even. Still riding on independent front and torsion-beam rear suspension, the eventual understeer is gradual at the limit, but otherwise the handling is very neutral. Even the brakes are very good, despite still being saddled with drums in the back. Steering feedback is limited, and the weightage is on the lighter side, but it's accurate and effortless on the daily grind.
The Sunny also offers relatively good refinement on the highway, with a slightly-firm ride that's generally smooth on most surfaces, and a reasonably quiet cabin. It is now perfectly fine for long-distance travel.
We were looking forward to trying out this car. And it did not disappoint — mostly. The a/c's idle performance turned out to be a surprising weak spot in a car that is otherwise class-leading in a number of ways, although it could possibly be an issue with just our test car. Otherwise we're ready to slap a "recommended" sticker on it.
Price Range:
Dh 57,900-67,900

Current Model Introduced in:
2020

Body Styles:
4-door sedan

Engines:
1.6L 118 hp Inline-4 / 149 Nm

Transmissions:
CVT automatic

Setup:
Front-wheel-drive

Suspension:
Front: independent
Rear: semi-independent

Brakes:
Front: discs
Rear: drums

Curb Weight:
1180-1205 kg

Length:
4496 mm

Wheelbase:
2620 mm

Top Speed:
180 kph

Test Acceleration 0-100 kph:
10.8 sec.

Observed Test Fuel Economy:
9.5 litres/100km