2021 Nissan Patrol V6
The Good:
– Updated tech features
– Cabin space and ambience
– Onroad and offroad comfort
The Bad:
– Too slow for the price
– Too pricey for an old V6
– Slightly softer handling
---
The current Nissan Patrol dates back over a whopping decade now. We still remember the global launch in 2010, held in Abu Dhabi with Nissan's now-legendary then-CEO himself hosting the debut, and the big SUV has stood the test of time as it remains the best-selling behemoth in its segment in our part of the world, despite a constant onslaught of fully-redesigned rivals. The range has spawned several fancy variants, but we're taking a look almost near the bottom of the range, with the Patrol V6.
The full-size Y62-gen Patrol used to be the biggest in its class when it first launched, but is nowadays dwarfed by the ever-fatter American large SUVs. It received minor facelifts in 2014 and 2018, and then a major one for 2020 before yet another minor one for 2022. We're driving a 2021 model, although the main external difference for 2022 is a new grille. Our test V6 SE Titanium is one step below the top-spec Platinum, hence it gets the ugly "offroad" front bumper and smaller 18-inch wheels. It's not the most attractive of SUVs, but the look has grown on us, having seen them around for what feels like an eternity.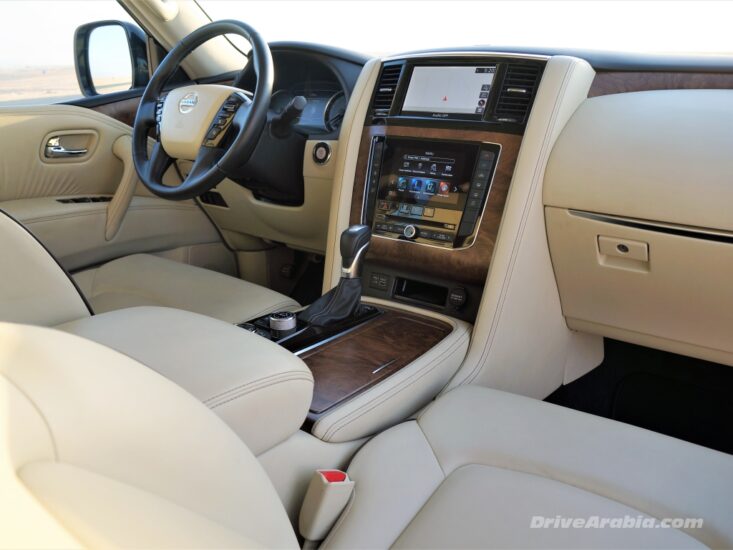 Stepping up into the familiar cabin is made easier with the standard side-steps. The interior is trimmed very nicely, as it should be at its high price-point, with padded stitched-leatherette all over the lightly-updated dash and door armrests, with a dollop of matte "wood" trim.
Our SE Titanium has a black-leather steering wheel, beige leatherette upholstery on the seats and upper door panels, with soft-touch surfaces on upper parts of the dash, and the bottom half finished with high-quality hard plastics. Even the carpets are almost as plush as a thick bath mat.
Space up front is immense, with big sofa seats and a wide central console big enough for the six-bottle cooler box that can be accessed from the front as well as from the back seats. Rear legroom is also immense, with reclining seat-backs and room to stretch your legs. Even the third row is decently spacious, just about enough for regular-sized people, but all its larger American rivals now have far better last-row legroom. Access to the last row is easy at least, thanks to flip-front second-row seats at the pull of a lever.
Cargo volume with all rows in use isn't a lot, but still good enough to hold a week's groceries or a couple of prams upright. For van-like cargo space, the third row 50/50 split-folds "almost" flat, and the second-row seats also fold down. And all passengers get a good number of cup-holders spread about, as well as various covered storage cubbies and some under-floor storage in the boot. All in all, it was the king of size in 2010, but it's now among the "smallest" large SUVs on sale now, beating only the relatively "cramped" Toyota Land Cruiser.
The main change is in the centre console, where a dual-touchscreen setup resides for the multimedia system. Most of the controls are in the lower screen, with the upper screen used mostly for navigation. It's a reasonably responsive system, and thankfully there are little physical buttons for important functions.
In terms of tech, our Titanium trim gets a 13-speaker Bose stereo, Apply Carplay, rear camera with front-rear parking sensors, USB ports front and rear, wireless charger, dual rear-entertainment screens, power front seats, adaptive cruise control, smart key with remote start, cool box, power tailgate, HID headlights and tails, physical gauges with a 7-inch full-colour LCD screen in between, a full set of airbags, blind-spot monitor, lane departure intervention, emergency auto braking and more.
Further improved for 2020, the strong a/c has rear roof vents all the way to the third row, with manual rear control in the V6. The SE Platinum version gets further fancy features such as 3-zone auto climate control, all-round parking cameras and more. But it still has what is quite possibly the world's slowest power-folding third row, and maybe the tiniest sunroof in its class.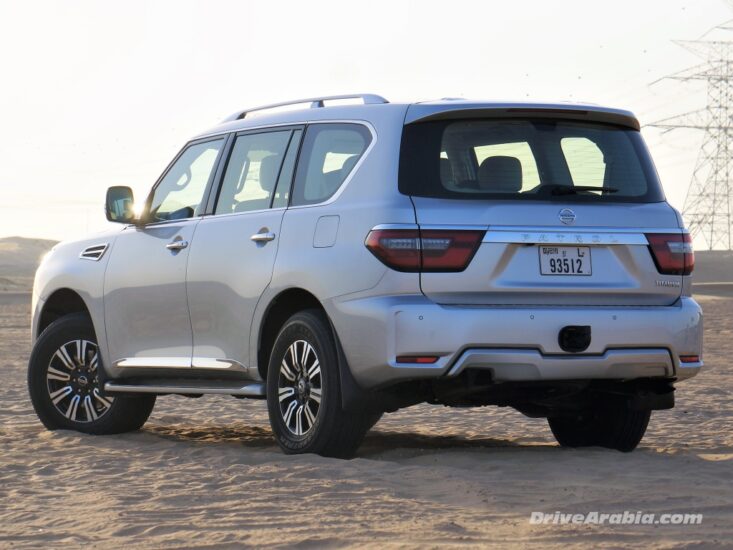 The SE's 4.0-litre V6 engine is based on Nissan's ancient Xterra motor from a decade ago. Making 275 hp at 5600 rpm and 395 Nm at 4000 rpm, they're relatively meek figures for a big SUV, but it turned out to be surprisingly spritely in city driving due to the 7-speed automatic's tight gearing, very capable of jumping into gaps in traffic or at junctions. It also sounds pretty good revving.
However, it is expectedly slow on full throttle, although it is still able to settle down to cruise at under 2200 rpm at 120 kph, totally unstressed.
We managed a fuel consumption figure of 15 litres/100 km (6.7 km/l), which is about 10% better than the V8, although you have to decide if the sacrifice is worth it, because the 0-100 kph time drops down by more than 4 seconds, to 11.5 seconds.
The all-wheel-drive Patrol SE comes with four-wheel-independent suspension and the hydraulic body motion control (HBMC) system that used to be reserved for the V8. It handles pretty well for a tall full-size SUV with no adaptive suspension, feeling slightly lumpy in its body motions, but nothing excessive.
Since our version gets 18-inch wheels, it has slightly thinner 265-width tyres, although grip remains respectable. It offers the same ride quality as the V8 with 20-inch wheels and 275-width tyres. There is a mild jitter on some surfaces, but still largely smooth.
The steering is slightly stiffer at parking speeds, although still on the light side. The braking is pretty good as well. The new Patrol is also noticeably a bit more quiet than before.
As for offroading, all the required gear is there, including a selector for 4-high and 4-low as well as a terrain-select system with settings for sand, rock and what not, as well as a rear diff-lock, Hill Descent Control, Hill Start Assist and an ESP-off button. While it may not have the power to climb the steepest dunes, it clearly has the ground clearance and the hardware to manage desert driving to a fair degree, assuming you know what you're doing. The V6 version shares the V8's ability to easily float over flat sand areas without having to deflate the tyres.
The SE V6 Patrol covers pretty much the entire driving experience of a full-fat V8 Patrol, save for the power. While it's a pricey way to enter Patrol ownership, if you're moving up from slow commuter cars and have a generally unhurried driving style, you'll be perfectly happy with the V6.
Price Range:
Dh 199,900-275,000

Current Model Introduced in:
2020

Body Styles:
5-door wagon

Engines:
4.0L 275 hp V6 / 394 Nm

Transmissions:
7-speed automatic

Setup:
Four-wheel-drive

Suspension:
Front: independent
Rear: independent

Brakes:
Front: discs
Rear: discs

Curb Weight:
2695 kg

Length:
5140 mm

Wheelbase:
3075 mm

Top Speed:
200 kph(limited)

Test Acceleration 0-100 kph:
11.5 sec.

Observed Test Fuel Economy:
15.0 litres/100km