2021 Opel Corsa
The Good:
– Good ride and handling
– Fair cabin trim and tech
– Decent power and economy
The Bad:
– Priced at higher end of segment
– Some rivals offer more space
– Some highway road/wind noise
---
The Corsa is back as part of Opel's relaunched range in the Middle East, and the one we found most interesting. Competing in the sub-compact category dominated by fleet specials from Toyota and Hyundai-Kia, the Opel tries a different tack and offers a one-spec fully-loaded model that no one will mistake for a rental car.
To begin with, it looks great. The styling is generic, but is accentuated by interesting details such as the black-painted roof, extended spoiler, LED lighting and funky 17-inch wheels. It rides a bit high, but extra ground clearance is never a bad thing. The youthful appearance means it doesn't get hounded as much on the fast lane.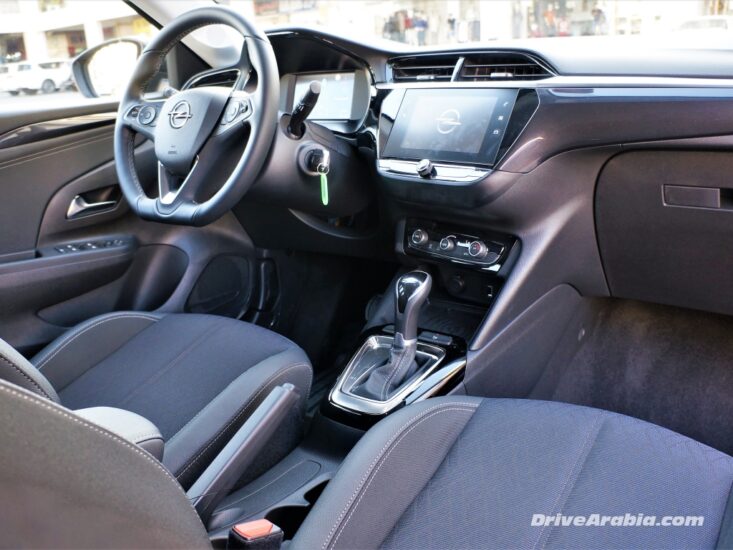 Inside, there is some use of decent materials, such as the soft-touch dashboard as well as padded door inserts and armrests dressed up in stitched leatherette. The rest is hard plastics, but the ambience is still better than in many of its sub-compact rivals, with a certain sense of solidity that you don't get in other common little cars.
Space is a bit of an issue though. While front passengers are perfectly comfortable in the nicely-bolstered cloth seats, the rear seat just about fits average-sized adults. Some of the aforementioned Asian fleet specials offer more rear legroom.
The boot space is decent though, and the rear seats fold down to make a larger cargo hold.
All the expected basic tech is there, such as power windows, rear parking sensors, auto headlights, cruise control with speed limiter, easy-to-use touchscreen audio system and Bluetooth connectivity as well as safety features such as automatic emergency city braking, driver drowsiness alert, lane departure warning and active lane keep assist. The touchscreen works fine, but can be slow to respond at times, while the keyless entry is basic, and there is no push-button start. Other features include a wireless charger and a decent single-zone auto a/c.
What we did appreciate was the panoramic glass roof, which comes with a manual sunshade and doesn't open. We also liked the ingenious parking camera, which accomplishes a "360-degree" top view using just one 180-degree wide-angle rear camera. There is also an LCD screen replacing the gauge cluster, but the graphics are minimalist and not particularly customisable.
The standard motor is a 1.2-litre turbocharged 3-cylinder making a decent 130 hp at 5500 rpm and 230 Nm of torque at 1750 rpm. That's enough juice to make it an entertaining warm hatch. We timed the little turbo tot at 8.8 seconds on the 0-100 kph run, and it's apparently capable of a 208 kph top speed run.
The engine offers good low-end kick thanks to the turbo and is very spritely around the city. It needs some pedal-to-the-metal action for quick overtaking on the highway, but it settles down nicely at cruising speeds. The 3-banger powerplant sounds pleasantly grunty, so you don't mind thrashing it either.
Our heavy-footed driving resulted in a fuel consumption figure of 8 litres/100 km (12.5 km/litre), although it is surely capable of better with a softer driving style.
We warmed up to the Corsa even more because it offers a reasonably comfortable ride with such a short wheelbase. Relative to larger cars, the wind and road noise is average at higher speeds, which is actually a good thing in this segment where its small-car rivals are far too loud inside. We were managing long-distance trips at 140 kph without fatigue.
The Corsa handles well, with minimal body roll and well-controlled understeer. Add to that the responsive steering which offers a bit of feedback and weight, as well as proper four-wheel disc brakes (almost all other rivals have drum brakes in the back), and you have a fun driver's car that doesn't break the bank.
The Corsa is priced on the high side of its segment, but knowing that it will be uncompetitive against the decontented fleet-special rivals, Opel is aiming to provide a loaded premium product for those who want a stylish fun-to-drive city car that's not a slug on the highway and safer than a typical tin can. It will be a hard sell, but we can see the point of this car.
Price Range:
Dh 74,900 – 76,000

Current Model Introduced in:
2021

Body Styles:
5-door hatchback

Engines:
1.2L 130 hp I3 turbo / 230 Nm

Transmissions:
6-speed automatic

Setup:
Front-wheel-drive

Suspension:
Front: independent
Rear: semi-independent

Brakes:
Front: discs
Rear: discs

Curb Weight:
1233 kg

Length:
4060 mm

Wheelbase:
2538 mm

Top Speed:
208 kph

Test Acceleration 0-100 kph:
8.8 sec.

Observed Test Fuel Economy:
8.0 litres/100km