2021 Opel Insignia Grand Sport
The Good:
– Coupe-like liftback styling
– Smooth ride and good handling
– Huge boot with large opening
The Bad:
– Slightly less rear legroom than rivals
– Few hard-plastic cabin bits
– Aims at pricey end of market
---
If you haven't heard yet, Opel is back in the UAE again with a new set of models targeting a slightly different set of customers than before. The Peugeot-owned German nameplate is offering mostly higher-spec versions of their cars in every segment rather than race to the bottom against other mainstream brands, and the midsize market will be tackled with the Opel Insignia Grand Sport.
The current Insignia dates back to when Opel was still part of General Motors, so it shares a platform with the Chevy Malibu. That's no bad thing, as both cars are agile handlers and offer coupe-like styling. The front-end of the Insignia is generic yet aggressive, but the rest of the car looks very premium, with standard LED lighting all around. The Grand Sport gets black-out trim and dark 17-inch alloys to further accentuate the "sport" in it.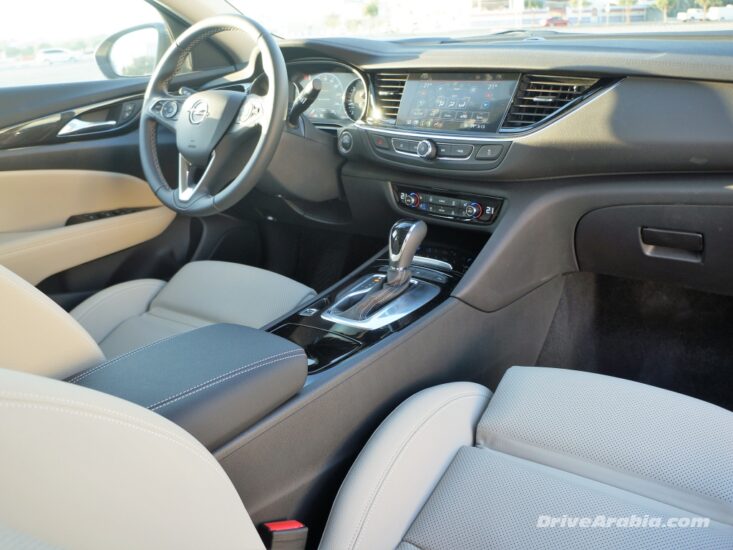 The cleanly-styled interior features a stitched leatherette dash top and soft-touch materials on the upper door panels. There are some hard plastics in obvious places, but nothing too distracting and well within class standards. The leather upholstery is done well on the seats and door inserts.
With a wheelbase of 2829 mm, the cabin is spacious up front with moderately-bolstered cooled seats with extendible thigh support, and has pretty good rear legroom with enough headroom for most people, but very tall folks may complain. Many Japanese rivals offer more space, but the Insignia's party trick is that it has an actual liftback-style tailgate opening up to a huge boot, unlike the little boot lids on all other sedans.
Harking back to the Insignia's GM roots is the 8-inch capacitive touchscreen that is responsive and works well enough, with Bluetooth, Apply CarPlay and Android Auto. There are still physical buttons for the a/c and basic stereo controls. Other features of note include a wireless charger, adaptive cruise control, heads-up display, smart key, rear camera and sunroof.
One issue we noticed is that the auto a/c doesn't really get going until the car starts moving after start-up, but after that it's ice-cold even in traffic.
Like most European cars, safety is uncompromised, with the usual full set of airbags and ESP complemented with active features such as the blind-spot monitor, forward collision warning and lane departure prevention, among other items.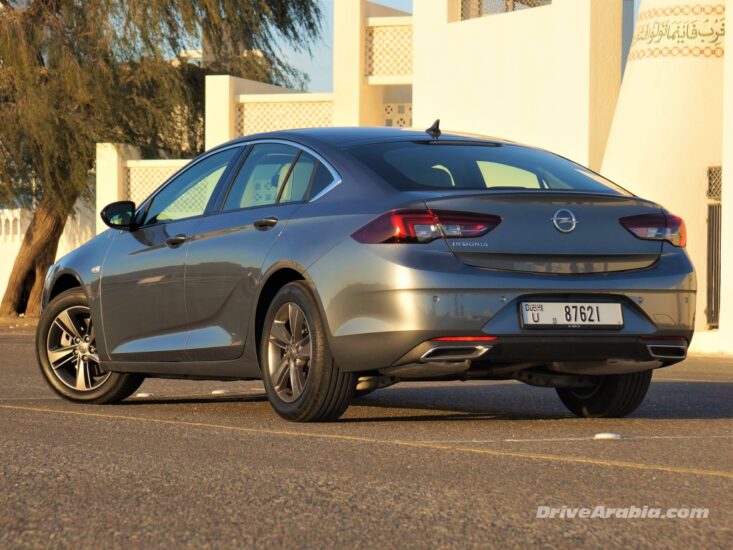 The standard engine is a 2.0-litre turbo making 200 hp at 4000 rpm and 350 Nm at 1500 rpm, both respectable figures in general, although a more powerful option would've been good. Our car could manage the 0-100 kph run in 8.5 seconds on a Dubai winter afternoon, while fuel consumption averaged 10.4 litres/100 km (9.6 km/litre).
The 1495 kg liftback sedan (or is it a hatchback?) moves quickly enough in the daily grind, with good mid-range kick, although it's a bit lazy at the low end due to slight turbo lag. The response is better in sport mode, and the 9-speed automatic shifts well on its own.
The Insignia is quite enjoyable in the aforementioned sport mode as the light steering becomes a bit firmer, although there's no difference in the limited feedback.
The 225/55 tyres offer good grip, while cornering body roll is limited and the brake responds linearly, so it's quite easy to drive quickly. Understeer at the limit is gradual, although it's still possible to have a bit of fun.
On the other hand, the ride is supple and the suspension feels mildly floaty over uneven highway surfaces. The car is fairly quiet, although road noise becomes very noticeable at 120 kph.
The Opel Insignia is a well-rounded Eurocentric family car that still feels familiar given its American roots, which is no bad thing compared to its quirkier European counterparts. It's the car to get if you want some of that Germanic driving feel and safety without the hollow built-to-a-cost feeling that some Japanese and Korean sedans impart when you knock on their panels. About the only thing holding it back would be the price tag that aims at the higher end of the segment rather than the mid-priced volume market.
Price Range:
Dh 129,900-139,900

Current Model Introduced in:
2021

Body Styles:
5-door liftback

Engines:
2.0L 200 hp I4 turbo / 350 Nm

Transmissions:
9-speed automatic

Setup:
Front-wheel-drive

Suspension:
Front: independent
Rear: independent

Brakes:
Front: discs
Rear: discs

Curb Weight:
1495 kg

Length:
4897 mm

Wheelbase:
2829 mm

Top Speed:
235 kph

Test Acceleration 0-100 kph:
8.5 sec.

Observed Test Fuel Economy:
10.4 litres/100km