2012 Renault Koleos 4×4
The Good:
– Value-packed pricing
– Cabin trim and features
– Fairly comfortable ride
The Bad:
– Not great on the turns
– Not great offroad either
– Not the best auto transmission
---
As Renault owners ourselves, we know exactly how diversified the brand is nowadays, compared to just a decade ago when they were peddling quirky French-built cars that no one here wanted. The bulk of their current range is now made up of fiercely-mainstream cars from Korea, Spain and Romania, all making this "French" brand much more successful in the GCC than they've ever been before. One car born from that strategy is the Renault Koleos.
A relatively new nameplate that was launched in 2008 with a beaky nose, the 2012 model has under gone a sizeable facelift to fix that front-end, but remains exactly the same in profile. Based on Nissan crossover underpinnings, the Koleos isn't the most attractive in its segment, but the new face with extra chrome adds a bit more elegance to its look.
We never drove the old model, but we did sit inside one once. So sitting in this new model, we easily recognised the use of better materials now has certainly spruced up the ambience, even though the basic panel shapes are all the same. There is generous soft-touch padding on the dash and upper door panels, which puts this cabin a class above compared to the hard-plastic tubs in the Honda CR-V and the Kia Sportage.
The brown-and-beige leather interior looks better than the all-black option. The front seats are lightly-bolstered, while the rear bench is expectedly flat but offers three rear headrests and has an angle-adjustable seatback at least. Space both front and back is pretty good, although probably a wee bit less than its competitors.
But there is an overload of comfort features, such as central armrests both front and back, tray-tables on the seatbacks, storage cubbies under the front armrest as well as the front-door panels, several moulded-in cup-holders, bottle-holders and door pockets, and even manual rear-side window sun-blinds! The two-piece tailgate opens up to form a place to sit, as well as provide access to a generous cargo area, and with 60:40 split-folding rear seats, we made good use of that flat load floor on an airport run. If we had one minor complaint, it'd be that the tailgate's inner lining feels flimsy, as the plastics crackle when you actually sit on it.
The features list doesn't end there. Our loaded tester came with an adequate CD/MP3 stereo, USB/AUX ports, Bluetooth connectivity, good dual-zone a/c with rear fan control and vents, rear parking sensors, cruise control, smart keyless start, multiple airbags, electric parking brake, cabin-view mirror to watch your kids, panoramic glass roof, HID headlights and even foglamps that light up corners as you turn. All this for about the price of a basic Honda or Toyota crossover!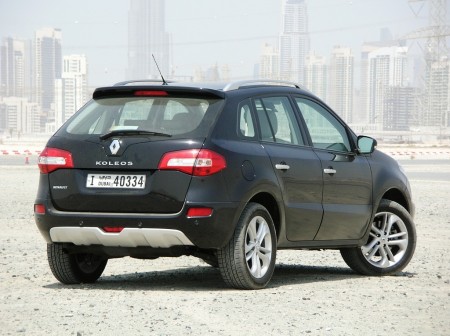 So where did the cost-cutting occur? It's certainly not in the drivetrain, a Nissan-sourced 2.5-litre 4-cylinder, making 170 hp at 6000 rpm and 226 Nm of torque at 4400 rpm, mated to a standard CVT automatic and optional all-wheel-drive. Though unremarkable, the engine is perfectly within class standards, as we timed it in the 0-100 kph run at 10.7 seconds, slow but just half-a-second shy of the benchmark Honda in September weather. The CR-V also trumps it in fuel economy, but only by a bit, at 12.5 litres/100 km for the Koleos in our test.
Oddly enough, it feels slower than it is, thanks to an older-generation CVT transmission that feels lazy in its rubbery responses. And then there's the mildly-weighted steering that offers little feel and borders on vague. At least the brake-pedal feel is surprisingly excellent, even if the ABS-assisted disc brakes themselves are class-average.
Riding on chunky 225/55 tyres on 18-inch alloys, the Koleos offers a fairly smooth ride, with moderate road noise and some wind noise at highway speeds. It's smoother than the CR-V in fact, but it comes at the cost of handling.
The suspension tuning is slightly better than an offroad-capable 4×4 like the lumpy Jeep Cherokee, although corners still induce body roll rather easily. However, while the shocks are soft and floaty, the amount of body roll is limited by short suspension travel and there are no repeated rebounds like you'd feel in the Jeep. We hear Renault was pretty keen on promoting the Koleos's offroad "capabilities" back when it was launched in 2008, which could explain the softer suspension and even the decent ground clearance. Our test car came with automatic all-wheel-drive, 50:50 "4×4" lock and hill-descent control, but low-range gearing is not offered.
We made the mistake of thinking the Koleos handles as well as the CR-V and several other car-like crossovers. So much so, that we went onto a curving on-ramp at above-average speeds on a windy day, and crashed it two minutes after picking it up from the showroom! The rear slid out on the changing-elevation turn, and we were drifting fully sideways until kissing the inner wall. The damage was limited to a heavily-scratched front bumper, but after that red-faced incident and the eventual repair, we took the same Koleos for another round later to figure out what happened.
Throwing it hard into corners with harsh steering inputs, it seems the rear-end has a propensity to rotate, sort of like a sports car, so it's easy to get the tail out slightly on even mildly-slippery surfaces. The sudden steering transitions, loose body roll and late-acting stability control don't make the Koleos the best car to be driving quickly in rainy or sandy roads, as its automatic all-wheel-drive isn't particularly quick either. The ESP didn't even kick in during our accident, in that particular set of conditions. Mind you, the tyres offer decent grip, leading to eventual understeer on smooth turns, but sharper turns should be handled like as if you're driving a Jeep Wrangler or a Chevy Tahoe, at cautious speeds. You could say it was our fault for assuming the Koleos would handle as tightly as the similarly-sized Honda CR-V or the Toyota RAV-4, or even the smaller Renault Duster.
So the Renault Koleos is a bit of a class-leader in the compact segment if you only look at its value-packed pricing, better-than-anyone-else interior, competitive engine, good ride comfort and oodles of extra features found only in luxury cars. That should be enough if you're a soccer-mom who takes it easy on the 'go' pedal, especially around turns. If you have the slightest need for speed, especially around corners, then this is or isn't the crossover for you, depending on how well you can drift!
Price Range:
Dh 80,000-100,000

Current Model Introduced in:
2012

Body Styles:
5-door wagon

Engines:
2.5L 170 hp Inline-4 / 226 Nm

Transmissions:
CVT automatic

Setup:
Four-wheel-drive

Suspension:
Front: independent
Rear: independent

Brakes:
Front: discs
Rear: discs

Curb Weight:
1655 kg

Length:
4520 mm

Wheelbase:
2690 mm

Top Speed:
186 kph

Test Acceleration 0-100 kph:
10.7 sec.

Observed Test Fuel Economy:
12.5 litres/100km