2010 Jeep Cherokee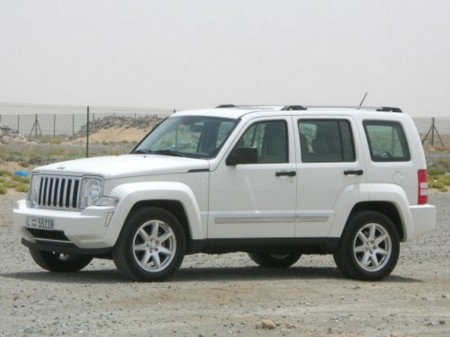 The Good:
– Interesting exterior styling
– Low-range gearing
– Excellent telecom option
The Bad:
– Needs more rear legroom
– Could do with a better engine
– Soft on-road handling
---
Descendant of arguably the world's first mainstream compact 4×4, the latest Jeep Cherokee continues its tradition of compact dimensions, real off-road ability and boxy design, the last bit thankfully brought back after a disastrous flirtation with rounded styling in its previous iteration. The current version debuted in 2008, and updates for 2010 are limited to minor changes in trim materials.
The Cherokee looks great in a utilitarian sort of way, like a less gawdy version of a Hummer or a G-Wagen. And with the chrome grille, mirror-finish exterior trim, metallic roof rails, 18-inch alloys and body-coloured fender flares, it looks upscale too, even though it competes in the "affordable" segment. It is technically a compact 4×4, but appears to be a fair bit taller than our own midsize Grand Cherokee.
That upright stance translates into a lot of vertical room, with a high driving position and good all-round visibility. The interior itself is clinically designed, all angular and truckish, but not unpleasant thanks to a beige-and-metallic colour theme in our tester. Build quality is generally solid, but we did find a few loosely-fit cabin panels in our specific car. All dash and door panels are matte hard plastics, as seems customary in the compact SUV class, but with leatherette padding on the armrests and a passenger-side grab handle above the glovebox.
The leatherette seats, engraved with the Jeep logo no less, offer good space up front, with minimal side-bolstering and padded armrests. The front passenger seat can fold down to become a hard-topped tray, if you got the sudden urge to use your laptop while driving. Things aren't too good for rear passengers though. Rear legroom is limited, about the same as a sub-compact car, while the central seating position has cup-holders fixed in its foot space. Also, the right-side front seatback is hard plastic, so it pokes the knees of tall people. There is no padding on the door armrests, and there is no centre pull-down armrest.
The cargo area isn't too impressive either, with limited floor space and a high load floor. However, there is a small storage area underneath the floor, and upward volume is available due to the boxy shape. Combined with the 60:40 split-folding rear seat and folding front passenger seat, the Cherokee can probably fit a canoe inside, provided your canoeing friends take their own separate car. Chances are they'll happily follow you in a more spacious Honda CR-V.
The top-spec Cherokee is loaded with features, some not seen in this segment. Along with the usual power windows, electric mirrors, keyless entry, sunroof, front and side airbags, a good single-zone a/c without rear vents, cruise control, rear parking sensors and numerous storage spaces, our tester came with a remote flip-up tailgate window, Bluetooth, a decent CD/MP3 stereo with USB/AUX ports, a music hard drive and a full touchscreen navigation system. Chrysler's "UConnect" multimedia system could use voice commands to control everything from the phone to the navigation. Considering it understood our accents too, it is truly better than Ford's overhyped SYNC gimmick we've used before.
Powered by an aging 3.7-litre V6, it manages only 210 hp at 5200 rpm and 318 Nm of torque at 4000 rpm, mated to a gated 4-speed automatic. Oddly enough, the gruff weezer of an engine offers respectable low-end kick in the city, so it never felt truly slow. This was confirmed by our tested 0-100 kph time of 10.7 seconds in May weather, which is enough to keep up in a three-way drag race between a CR-V and a RAV4. However, its car-like competitors use four-banger motors and manage better fuel economy than the 14.7 litres/100 km that our Jeep got, though that isn't too bad for a V6 really.
The Cherokee may also have a car-like unibody frame, but it sure drives like a truck. In fact, it felt like a refined version of the truck-based Wrangler, only, it has nothing to do with the Wrangler. The suspension tuning is soft and lumpy, so there is a lot of sway when taking sharp corners, and a lot of bounce when going over bumps. However, it doesn't feel as tipsy as the springs would suggest, and it comes equipped with stability control and roll-mitigation electronics to keep it upright anyway.
The Cherokee rides in reasonable comfort on smooth highways, although the engine is rather loud on acceleration and wind noise is noticeable above 100 kph. The steering is slightly firm, but still has limited feel. The ABS-assisted disc brakes are just about adequate, as is grip from the 235/60 tyres wrapping the 18-inch wheels.
The real reason to go for a Cherokee over a CR-V, besides looks, is its very real offroad capabilities. The Jeep comes with settings for 2WD, 4WD Auto and 4-Low, making sure that it can tackle more than just gravel tracks. However, care needs to be taken when taking the 1918-kilo Cherokee offroad. The aerodynamically-inclined front bumper is noticeably riding a bit lower than on our Grand Cherokee, while the power is barely adequate for climbing dunes. It can be taken for a beating in the desert, but we'd say it is more for the kind of person who enjoys casual camel exploration.
The Jeep Cherokee is a vehicle of compromises, needed to make it offroad-ready while still managing a manageable city-friendly footprint. It therefore has almost no direct competitors in the compact segment, except for similarly-compromised trucklets from a couple of niche Japanese carmakers. But neither of them sport a "Jeep" badge on the bonnet.