2018 Alfa Romeo Giulia Quadrifoglio
The Good:
– Unbelievably great handling
– Very, very, very fast
– Decent cabin space
The Bad:
– Love-it-or-hate-it looks
– Very expensive for what it is
– Too harsh to be a daily driver
---
Alfa Romeo, Fiat-Chrysler's second-tier luxury brand (after Maserati) is in comeback mode. A few years ago, they dropped a bomb with their new rear-wheel-drive Giulia Quadrofoglio that became the quickest sedan to lap the famed Nurburgring racetrack, at least at the time. While the hype from that 2015 run has faded, we finally got our hands on one of these for a run around Dubai.
Alfa is known for quirkily attractive designs. We ourselves owned a stunning 156 sedan in our fleet once. But we weren't fans of the styling when the reborn Giulia first came out, looking as if an awkward nose was grafted onto an Infiniti Q50, with Kia-like tail lights out back. Seeing the car in person though, it looks much more attractive, especially with the little Quadrifoglio details such as the extended side-skirts, stacked quad-exhaust tips, lip spoilers and choice of two 19-inch wheel designs. Aside from those, the only other Quadrifoglio cues are the front-fender vents, the fancy wheels with big Brembo brakes within, and extra little vents on the bonnet and front bumper — blink and you'll miss them. Also, we keep saying Quadrifoglio instead of "QV" is because Alfa has dropped the "Verde" part of their performance moniker.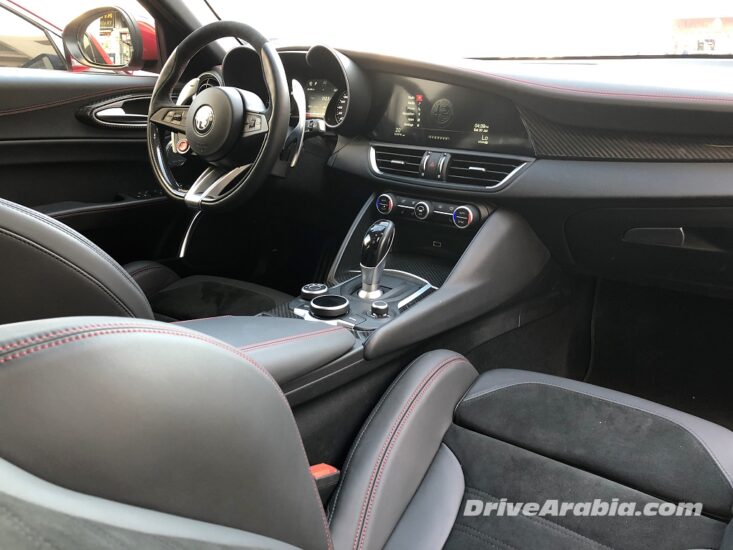 Inside, there are some luxury and sporty touches, but overall the ambience isn't particularly uplifting for a car that costs as much as a small apartment. The shape of the dashboard and layout are unique, with a black screen that gives the appearance of being seamlessly embedded in the fascia. There is nice matte leather and alcantara on the dash and doors as well as the knee bolsters. Carbon-fibre trim is used abundantly enough. Hard plastics dominate most below-the-waist areas, including the glovebox cover.
Cabin space is good for its class. The front features heavily-bolstered power-adjustable seats. There is decent rear legroom as well as good headroom. Limited storage spaces are an annoyance, with tiny door pockets and seatback pockets for company. There is only one cup-holder up front, while a second one's shape makes it useless. There are no cup-holders in the back, or even a central pull-down armrest or middle seat-belt for rear passengers. The boot is of a good size for this class of cars.
On the tech front, there is an 8.8-inch display (while base-spec Giulias come with 6.5-inch screens). One AUX port and three USB ports (one under the centre stack, one in the front armrest cubby and one behind), Bluetooth phone and audio connectivity are all standard. The system is controlled by a rotary knob on the centre console or by using voice control, the latter not particularly good. Apple CarPlay and Android Auto are not available for cars built before 2018, but may come in later models. The screen interface requires several clicks to complete simple tasks, but it's otherwise generally intuitive. The widescreen format means the view feels oddly small, especially when using navigation or the rear camera view pops up. The rear-view camera has moving gridlines, but video quality is relatively poor (like in other FCA products, such as the Chrysler 300 SRT in our fleet). Other features include HID headlights with LED running lights and tails, a great stereo and smart keyless entry/start. Unfortunately, the dual-zone auto a/c is below-average, that too on a February afternoon, but at least it comes with rear vents. And there is no sunroof option, as the roof itself is painted-over carbon-fibre.
Safety is not skimped on in the Giulia, with everything from standard front/side/curtain airbags, ABS, ESP and rear parking sensors to available features like auto-dimming exterior mirrors, blind-spot monitoring with rear cross-traffic alert, adaptive cruise control, automatic high-beam headlights, automated emergency braking and a rather-disruptive lane-departure warning feature.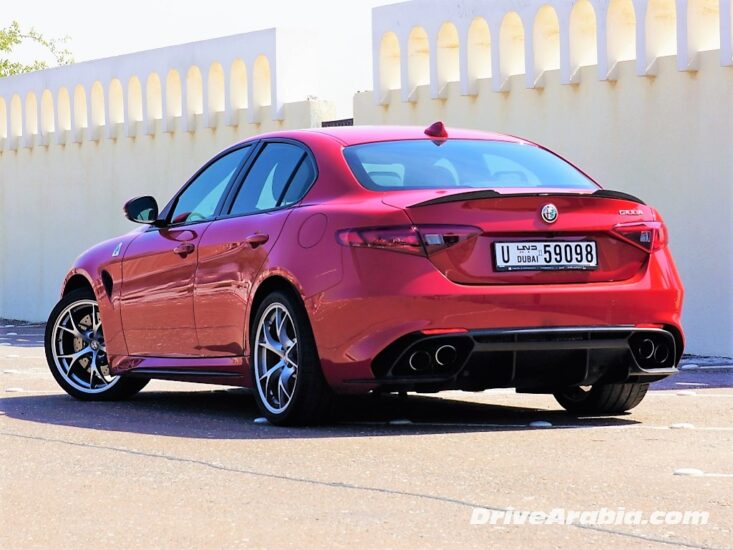 The rear-wheel-drive Giulia Quadrifoglio is powered by a 2.9-litre turbo V6 making 505 hp at 6500 rpm and 600 Nm of torque from 2500 to 5000 rpm. That's an insane amount of power for a little sedan, and it is, expectedly, rocket-fast. The 0-100 kph run was dispatched in 4.6 seconds during our February test, with instant kick at the touch of the throttle. Turbo lag isn't much of an issue, and it's actually quite easy to rein in all those horses. The 8-speed automatic does a fine job on its own, so the fairly-responsive paddle-shifters aren't really needed.
Our fuel consumption was at 17.4 litres/100 km (5.8 km/l), twice as much as their official rating, with a mix of some aggressive driving, some traffic and some highway cruising.
The Giulia Quadrifoglio has an adaptive exhaust that sounds like a generic V6 sedan in every setting except "Race," when the pipes open up to grunt like a Ferrari Portofino over the entire rev range. It sounds docile even in "Sport" mode for anything less than full throttle, but the problem with "Race" mode is that it turns off the ESP as well. That's not good for wannabe influencer types who want the noise but can't keep their poise on a curve.
But you'd have to be pretty stupid to lose control of a Giulia Quadrifoglio. The tyres are very wide (245/35 front and 285/30 rear), the body roll is nearly non-existent and the active front splitter even adjusts for more downforce. The handling is flat and neutral, feeling as sharp as a big go-kart, which is uncanny. It's pretty tough to break traction, unless you floor the throttle on tight turns.
Even the low-ratio well-weighted steering is very sharp, although feedback is limited. And the drive-by-wire brakes are strong, but very grabby at anything less than highway speeds. Our tester had steel brakes, but ceramics are an expensive option.
And that's the problem with the Giulia Quadrifoglio really — it drives a lot like a supercar. The sharp controls and brakes can lead to a darty and jerky cruise if you're not accurate with your inputs, while the superb handling comes at the expense of ride quality — whether you set the adaptive suspension for comfort or sport, it always rode either firmly, or very firmly, to the point of feeling harsh over the slightest bumps. There is also moderate wind noise and immense road noise at anything over 100 kph. And the front lip is so low, it is easy to damage on the lowest of curbs. In short, it's the typical supercar experience, except with four doors. It is most comfortable going fast.
So is the Giulia Quadrifoglio (hope we're not spelling it wrong) a good car? No, it's an excellent car, and a feat of engineering. On our handling loop, we've been able to get cornering tyre-squeal out of everything from a Jaguar F-Type SVR to a Ferrari GTC4 Lusso, but not this Giulia. It's easy to see how it could destroy 'Ring records, even though we've never had the opportunity to drive it on a racetrack. The problem is, it has literally zero brand awareness in the GCC. We got honked at by plebeians even though we were driving a car that's priced like a base Range Rover. On top of that, it's an uncompromising performance car, so it won't make for a particularly comfortable daily driver, which is something its German rivals excel at. People shopping in this segment generally expect the best of all worlds, especially road respect, and Alfa Romeo still has to make a name for itself outside the 'Ring.
Keep track of the latest prices and updates in the UAE, KSA & GCC in the Alfa Romeo Giulia Quadrifoglio buyer guide.
Price Range:
Dh 360,000-403,000

Current Model Introduced in:
2017

Body Styles:
4-door sedan

Engines:
2.9L 505 hp V6 / 600 Nm

Transmissions:
8-speed automatic

Setup:
Rear-wheel-drive

Suspension:
Front: independent
Rear: independent

Brakes:
Front: discs
Rear: discs

Curb Weight:
1524 kg

Length:
4639 mm

Wheelbase:
2820 mm

Top Speed:
307 kph

Test Acceleration 0-100 kph:
4.6 sec.

Observed Test Fuel Economy:
17.4 litres/100km