2018 Renault Megane 2.0
The Good:
– Great styling inside and out
– High-end cabin offerings
– Fair ride and handling
The Bad:
– Some rivals have more space
– CVT tuning could be better
– No steering feedback
---
The Renault Megane was never a major player in the compact segment, at least in our region. Blame it on lack of awareness, brand preconceptions or just a lack of desirability, but it just never caught on in the GCC, and older models remain a rare sight in the UAE. But there's an all-new model in town now, sporting Renault's latest corporate brand identity. And it seems to be more interesting than before.
The styling is spot-on this time, hiding its puffy shape well with well-executed design cues. With unique LED lighting front and back as well as optional 18-inch diamond-cut wheels, the Megane sports a more cohesive design language than anything from the Japanese. Built in Turkey, we found the build quality to be as solid as the top players in its class.
Inside, it's trimmed like a more expensive car, with well-padded door inserts matching the beige leather upholstery, extensive mood lighting, and soft-touch surfaces on the dash and front-door window sills. Rear-door window sills get hard plastic, but at least the armrests and door inserts are as well-padded as in the front so rear passengers need not feel short-changed.
There is also decent rear legroom in the back, although a few rivals do offer a bit more. In the Renault however, you get a relatively massive boot instead. Headroom is good all around. Front seats are well-bolstered and uniquely contoured, with fancy headrests that can be adjusted in multiple ways. The front cup-holders even have a sliding cover. There are also rear cup-holders in the middle armrest, door pockets all round, a front-armrest storage cubby and a space ahead of the shifter to place your phone, near the two USB ports.
The new Megane's big attraction is the high-tech interior, at least in this fully-optioned trim that costs less than a top-spec Toyota Corolla (which has far fewer features). For the money, you get an 8.7-inch capacitive touchscreen in portrait format (like in Volvos and Teslas), navigation, an LCD screen replacing the main gauges in the instrument cluster, electronic parking brake, automated parallel-parking steering, rear camera with sensors, power-adjustable driver's seat with massage function, panoramic glass sunroof, cruise control with speed limiter, multiple airbags, smart key with push-button start and more. The touchscreen can be a bit distracting to use while driving, as many stereo and climate-control settings are accessed within the interface. At least the steering wheel has some stereo controls in a stalk behind the steering wheel, while some basic a/c controls get their own buttons below the screen. The dual-zone a/c itself is great, with rear vents as well.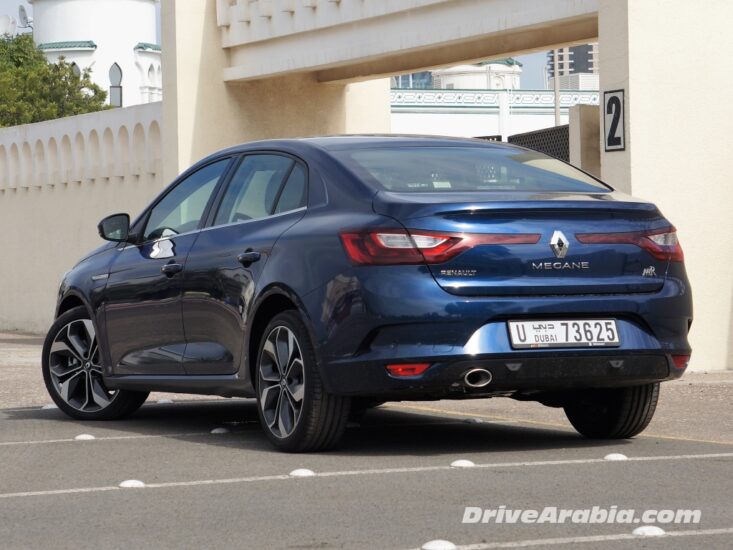 There are two Nissan-sourced engine offerings. Skip the base 115 hp 1.6-litre and go for the slightly-pricier 2.0-litre 4-cylinder engine mated to a CVT automatic that makes 140 hp at 6000 rpm and 193 Nm of torque at 3750 rpm, as seen in our test car. The motor is carried over from the previous model and therefore no quicker than the old model, clocking 0-100 kph in 11.2 seconds during our January test. Compared to some of its Japanese rivals who do better CVTs, the transmission tuning is old-fashioned, with a pronounced rubber-band effect on acceleration. Fuel consumption can climb quickly if driven aggressively, but a less-heavy foot rewards you with much better mileage at an as-tested 9.5 litres/100 km (10.5 km/l).
Once up to speed, the Megane exhibits commendable composure at high speeds. Even with independent front and torsion beam rear suspension, the Euro-style damper tuning helps the Megane behave very well in corners, with limited body roll and good grip from the 225/45 tyres, safely and gradually understeering at the limit. The speed-sensitive electric power-steering lacks any sort of feedback though, and has an odd springy action when left to wind back to centre, which has been a Renault trademark for many years now. The brakes are decent, and pedal feel is fine, with ABS and ESP nannies at the ready.
The Megane offers up a fairly smooth with a bit of firmness felt on uneven roads. Apart from the engine noise at full throttle, the interior is reasonably quiet at highway speeds, with only some wind noise after 110 kph.
Renault's latest cars all have an upmarket feel to them, with futuristic-yet-handsome styling, unique cabin tech and attractive pricing. The mechanicals aren't quite as refined as the best-sellers in this segment, but they've nailed several of the things that matter more to consumers who'd be interested in Japanese reliability with European flair.
Price Range:
Dh 67,200-86,625

Current Model Introduced in:
2018

Body Styles:
4-door sedan

Engines:
2.0L 140 hp Inline-4 / 193 Nm

Transmissions:
CVT automatic

Setup:
Front-wheel-drive

Suspension:
Front: independent
Rear: semi-independent

Brakes:
Front: discs
Rear: discs

Curb Weight:
1358 kg

Length:
4632 mm

Wheelbase:
2711 mm

Top Speed:
195 kph

Test Acceleration 0-100 kph:
11.2 sec.

Observed Test Fuel Economy:
9.5 litres/100km