2018 Honda Odyssey
The Good:
– Immense, versatile cabin
– Surprisingly powerful
– Great ride and handling
The Bad:
– Third-row seat access
– Some cabin hard-plastic bits
– Expensive with options
---
The minivan segment may be a small niche compared to the popularity of fake-tough crossovers, but the few carmakers who do still build these original family haulers have been doing a fine job keeping them up to date. Ignoring the decade-old Toyota Previa, the Chinese ones with forgettable names and the overpriced German ones, there are only a handful of mainstream players left in the GCC market, such as the Kia Carnival, the upcoming Chrysler Pacifica, and the all-new Honda Odyssey.
The new Odyssey is as attractive as a minivan can get, addressing the more controversial aspects of the previous model's design such as the kink in the side-window line and the generally dull appearance. The sliding-door rails are cleanly hidden in the side windows. In top trim, there are LED lights front and rear, upgraded 19-inch alloy wheels and more. It's not a small vehicle though, with sizeable width and almost as long as a Nissan Patrol.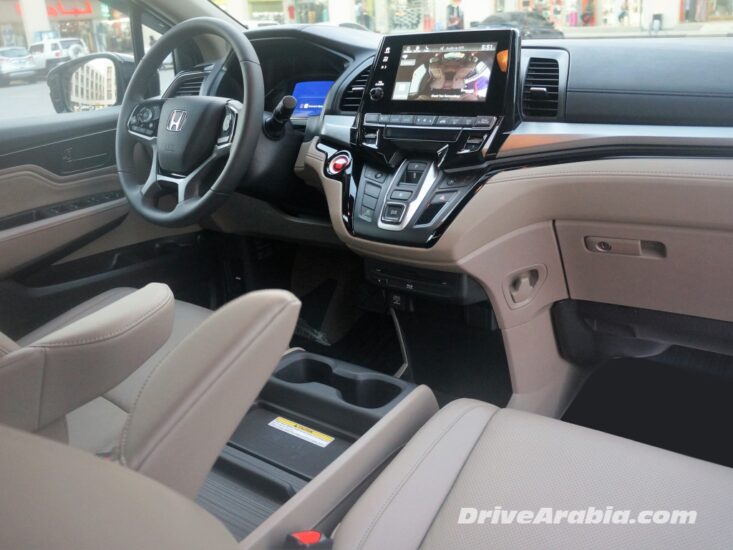 Inside, the dashboard is cleanly laid out, featuring buttons for the gear selection and a screen for most functions. The trim includes soft-touch padding with stitching on the dash and front doors, although Honda does cheap out in places by using hard plastics moulded to look like stitched leather, aside from the usual hard plastic for below-the-waist panels. Being the top-spec "Touring" version, our tester was nicely upholstered in beige leather, down to the armrests.
The Odyssey has the low step-on height of a regular car, and leads to a cabin more spacious than most SUVs. It is designed to fit seven people in comfort, or cram in eight if you leave all the seats in. Headroom is great, while legroom in the first two rows is superb, while the third row is just about adequate for adults, unless the second-row passengers choose to be generous and slide their seats a bit forward. There is tons of space behind the third row, enough for a week's worth of groceries for a family of eight, and can fit a sofa once the last row is made to disappear into the floor.
Configuration options don't end there, as the three-piece second row can fit three child seats if needed. The middle seat of the second row can even be removed, while the two outer seats can then be slid sideways. The third row is also of the 60:40 variety and even includes a central armrest, just like the second row. The front seats get separate pull-down armrests, as there is a huge covered storage tub instead of a traditional centre-console. The lack of a console also means the driver can move to the passenger side without exiting the vehicle. There are also countless storage cubbies and door pockets spread about, including 15 cup-holders, a cooler box in the front and more. Ironically, even with all this engineering, Honda couldn't come up with a better system to access the third row, as the second-row seats slide forward partially but don't fold out of the way completely like they do on, say, a Nissan Pathfinder.
There is a surprising amount of tech, but then again, the Odyssey is pretty expensive in top trim. Features such as radio and navigation are now integrated into the 8-inch capacitive touchscreen, which features large icons and somewhat simple graphics. The screen has a proper volume knob, and thankfully the a/c gets physical buttons, as small as they are. And the LCD gauge cluster is pretty fancy.
Features in the Touring include a good 11-speaker CD/MP3 stereo with subwoofer, Bluetooth, USB and HDMI ports front and back, Apply Carplay, power plug-points, LED headlights, power windows for all four doors, power-adjustable front seats, wireless phone charger, wifi hotspot, rear parking sensors with a multi-angle rear camera, good three-zone automatic a/c that was unstrained in October weather, separate rear a/c controls and well-placed rear vents, roll-up sunshades on all rear-side windows, dual front and three-row side-curtain airbags, small sunroof, smart key, and remote-opening electric sliding doors as well as tailgate.
Oddly enough, Honda has dropped the old model's extra-wide roof-mounted rear screen, replacing it with a regular-sized 10.2-inch screen with more apps for kids and a BluRay player. A new "CabinWatch" feature is a nightvision-equipped camera looking over the second-row seats, with the view showing up on the front touchscreen, so parents can keep an eye on kids and even make in-car announcements via the headphones.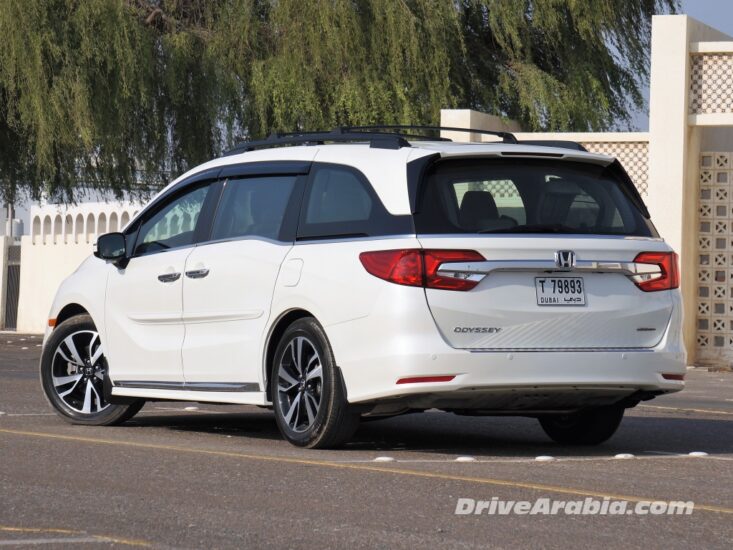 The Odyssey comes standard with a 3.5-litre V6, now good for 280 hp at 6000 rpm and 355 Nm of torque at 4700 rpm. All that new-found power is sent to the front wheels via a class-leading 10-speed automatic. We fired off a 0-100 kph time of 7.6 seconds, with linear power build-up and seamless gear-shifts. The new Odyssey feels rapid for a minivan, and can murder all those body-kitted old Honda Civics, let alone lesser sedans, all while burning an average of 13.3 litres/100 km (7.5 km/l) in our tests.
The Odyssey even handles very good, and feels a lot like driving an Accord. The 235/55 tyres offer decent grip, with gradual understeer at the limit and without serious body roll either. The somewhat-light steering offers a bit of feedback. The brake pedal doesn't do much on partial application, so you have to push it further in than expected when driving around the city, but otherwise the ABS-assisted disc brakes are adequate.
While the previous Odyssey used to ride a bit firmly, the new model is pretty smooth, even with the thinner-profile tyres. There is virtually no road noise, and the moderate wind noise that creeps in at 120 kph and beyond is a constant hush, so it's not hugely distracting.
The Touring also comes outfitted with a slew of "Honda Sensing" active safety features such as adaptive cruise (without stop-and-go), lane departure warning, blind-spot monitoring and collision alert, making it among the safest vehicles in its price bracket.
As expensive as the new Honda Odyssey is, this minivan does come packed with features that justify its price-tag, which is actually no more than a well-equipped midsize crossover SUV. What you get in return for picking a minivan over an SUV is more flexible cabin space, a more entertaining car-like drive, and the smugness of being comfortable with your manhood (or womanhood?).
Price Range:
Dh 142,900-175,000

Current Model Introduced in:
2018

Body Styles:
5-door wagon

Engines:
3.5L 280 hp V6 / 355 Nm

Transmissions:
10-speed automatic

Setup:
Front-wheel-drive

Suspension:
Front: independent
Rear: independent

Brakes:
Front: discs
Rear: discsCurb Weight:
2050-2086 kg

Length:
5161 mm

Wheelbase:
3000 mm

Top Speed:
192 kph

Test Acceleration 0-100 kph:
7.6 sec.

Observed Test Fuel Economy:
13.3 litres/100km