2018 Aston Martin Rapide S
The Good:
– Best-looking four-door ever
– Premium cabin trim
– Power and handling
The Bad:
– Rear seat space
– Not as quick as rivals
– A little bit pricey
---
Aston Martin has been a staple of James Bond movies since forever. Sure, there were a few deviations thanks to product placements by Lotus and BMW, but the quintessential British spy always returns to his favourite sports car. But what if one of 007's relationships actually went somewhere, and he had a couple of kids to tow around? That's where the Rapide comes in.
Built on a version of the DB9 platform, the Aston Martin Rapide claimed to be the only four-door sports car in the world when it debuted in 2010. It was kind of true, because no other fast four-door was actually built on a platform derived from a real sports car. Since then, it has undergone only minor updates and a facelift in 2013, making it the oldest offering in the Aston Martin range.
The version we drove is the Aston Martin Rapide S Shadow Edition, sporting the massive grille it received in a 2014 facelift. This special edition is mostly an interior trim package, available in either a shade of black or silver, and certain mechanical upgrade options such as adaptive damping are made standard. Even after all these years, it's a stunning car, and easily the best-looking four-door currently on sale, largely because it retains the coupe-style lines of the DB9.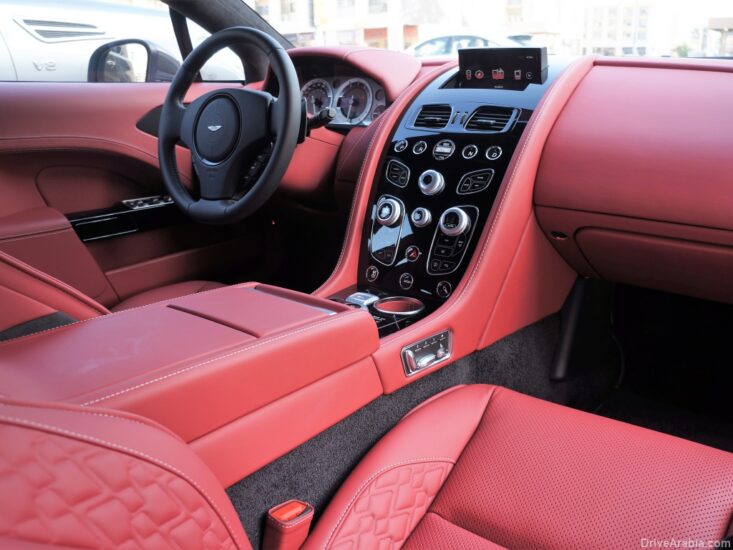 As expected, the dashboard comes straight from DB9. With plenty of bespoke buttons, leather, wood and metal, it looks stylishly clean yet more traditional than its mass market competitors. The only let down is the small pop-up navigation screen, which is at odds with the surrounding expensive materials.
Opening up the doors that hinge slightly upwards, the Rapide has great space up front with comfortable-yet-supportive seats, but the rear door apertures are unusually small. Entering the rear seats requires stepping across the wide sill, putting one foot into the tight footwell, and then twisting into the deep bucket seats while watching your head. It's not the most practical four-door around, but once you're in, there's about as much rear legroom as a sub-compact car, while the headroom is enough for average-sized folks. It feels snug thanks to a huge transmission tunnel that doubles as a centre console separating the rear seats and the shallow windows all round, with big one-piece seatbacks lacking adjustable headrests.
There are cup-holders for both front and rear passengers, with numerous other small storage spaces and pockets. The rear boot opening is actually hatchback-style, so it is convenient, but the actual boot volume is small and awkwardly shaped. The load floor is not fully flat, but there is a simple panel separating the boot from the cabin, which once removed, can fit in long items with the rear seats folded down.
Tech-wise, there's the unique buttons for the gear selection, the dial-controlled multimedia screen, and the touch "buttons" for certain infotainment and a/c settings, although thankfully there are physical knobs and buttons for important settings such as a/c temperature, fan speed and drive modes. Other features include cooled front and rear seats, electric parking brake, a sweet Bang & Olufsen stereo and bi-xenon headlights with LED markers and rear lights. The a/c is decidedly average in a Dubai summer. And there is no smart keyless start, as you have to insert the key-fob (dubbed the "Emotion Control Unit" and has crystal glass on one end) into a port in the dash and push on it to start the car, which was cool a decade ago.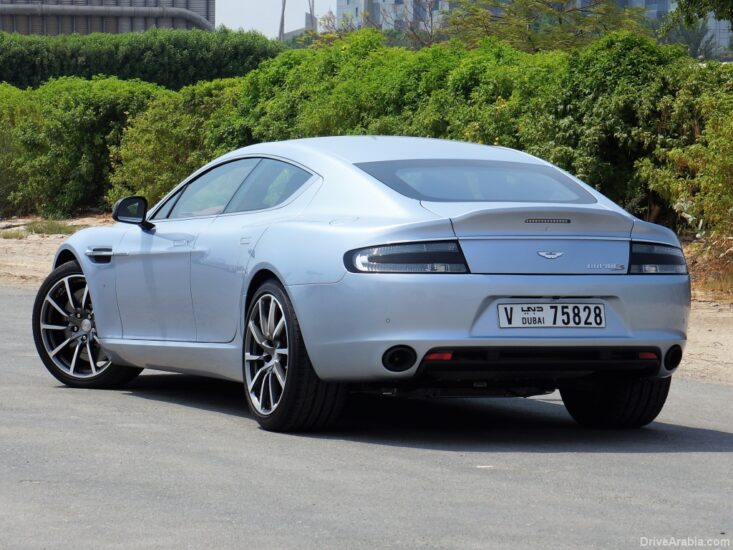 In the engine bay is the latest version of Aston Martin's 5.9-litre (or 5935cc) V12. It's old-school and forgoes modern tech, but with plenty of displacement and an angry roar, it makes a solid 560 hp at 6650 rpm and 630 Nm of torque at 5500 rpm, sending power to the rear wheels via a smooth paddle-shiftable 8-speed automatic. It's not as powerful as certain turbocharged rivals, but it's more performance than you'll ever need.
The motor offers progressive acceleration and has enough of a low-end kick to be fun at city speeds, while the real adventure starts at the high revs where there's just an avalanche of power. It doesn't feel as quick as turbo-engined rivals, but it has plenty of poke with an as-tested 0-100 kph time of 4.9 seconds, and the manual-shift mode is responsive enough to be entertaining.
Fuel consumption hovered around 19 litres/100 km with mixed driving during our test, expected for this kind of car.
What really surprises is its refinement compared to its two-door siblings. The Rapide's adaptive suspension is firm but very well damped over most road surfaces. The cabin is also decently insulated from wind noise and tyre roar, although nowhere near Bentley or Maybach levels, given its sporty demeanour. Only at very high speeds do the 245/40 front and 295/35 rear tyres wrapping the 20-inch alloys generate road noise to the point of disturbance.
With sportier suspension settings, the Rapide S gets tighter body control at the cost of a harsher ride. But it makes for outstanding handling, considering it is essentially a full-size sedan in terms of length.
The Rapide S is well balanced and feels more confident around curves than the shorter-wheelbase Vanquish. The steering is well-weighted, very responsive and offering enough feedback. And there's tons of grip, with mild understeer as you get close to the limits without overdoing the throttle.
It took us 8 years to finally try a Rapide. The last Aston we got in our parking lot was the flagship Vanquish half a decade ago, and it wasn't particularly impressive as a supercar. However, the current Rapide S is rather good as a supersedan. It may not be the most practical or modern four-door around, but it certainly gets the job done as an exotic driving experience as well as transport for 007's kids.
Price Range:
Dh 965,000-1,000,000

Current Model Introduced in:
2014

Body Styles:
5-door liftback

Engines:
5.9L 552 hp V12 / 630 Nm

Transmissions:
8-speed automatic

Setup:
Rear-wheel-drive

Suspension:
Front: independent
Rear: independent

Brakes:
Front: discs
Rear: discs

Curb Weight:
2065 kg

Length:
5019 mm

Wheelbase:
2989 mm

Top Speed:
306 kph

Test Acceleration 0-100 kph:
4.9 sec.

Observed Test Fuel Economy:
19.0 litres/100km