2019 Audi S5 Coupe
The Good:
– Fairly handsome inside and out
– Practicality and comfort
– Stable dynamics and power
The Bad:
– Fiddly multimedia system
– Average second-row space
– Lacks driver involvement
---
The first-generation Audi A5 coupe was considered one of the most beautiful cars ever, with its clean lines and minimalist styling. Of course, there isn't anywhere you can go from a starting point as simple as that, so the next generation of the A5 added the obligatory cuts and bulges to the exterior design in the name of change. The S5 we're driving is the more aggressive version of that car, although not quite as aggressive as the RS5 above it.
While the latest S5 simply looks like a facelift of the previous generation (as all Audis seem to be), the new model rides on Audi's MLB platform which gives the coupe a wider track and a longer wheelbase. It's a good looking car — with S5-specific bumpers and trim bits as well as quad tail pipes and 19-inch alloys — though not quite a head-turner in subdued colours such as on our test car.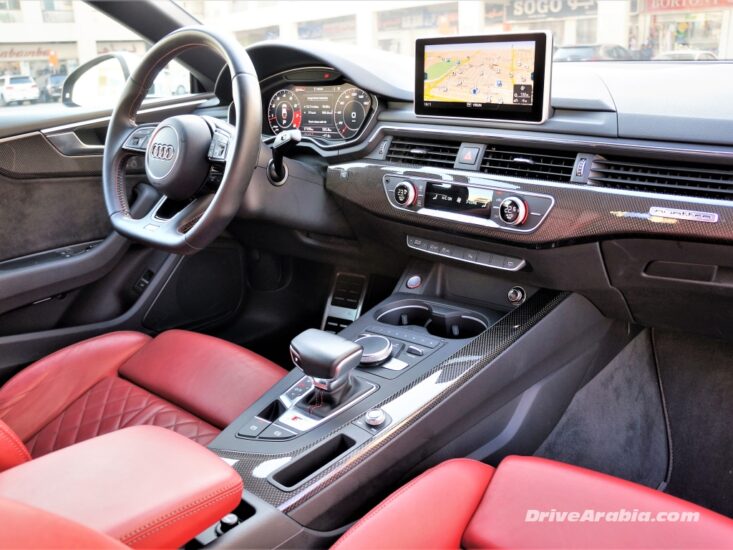 The interior adopts the latest corporate Audi style, with a layered dashboard with plastic trim that looks like a/c vents across two-thirds of the dashboard, generally high-quality soft-touch materials on the rest of the cabin's upper half, and hard plastics on much of the below-the-waist panels. There is an iPad-style screen perched atop the centre console that looks like it should be retractable like in older Audis, but it doesn't.
This latest evolution of Audi's MMI (Multi Media Interface) Plus infotainment system uses an 8.3-inch monitor and a touch-sensitive rotary controller that is partially intuitive to use for basic functions, but can be a handful going through menus while driving. A little volume knob is at least present separately, on the far side of the gear shifter. There is also an optional virtual cockpit function, which includes a 12.3-inch high-definition LCD screen in place of physical gauges. It's pretty, it's clear and it's configurable.
You can spec it up with a decent dual-zone auto a/c, navigation, Apply Carplay, full LED exterior lighting, a massive panoramic glass roof that doesn't open, smart key and all the usual active driving and safety features. Nothing truly stands out as innovative, but it's all you'll ever need, mostly — there is no wireless charger.
The front power-adjustable seats with extendable thigh supports are very comfortable, well-bolstered but not to the point of pinching your sides. The rear contoured seats just about fit average-sized adults, but only if front passengers move forward, and everyone is bound to feel cramped. Rivals such as the BMW 4-Series Coupe and Infiniti Q60 offer better rear accommodations. At least the boot is relatively huge.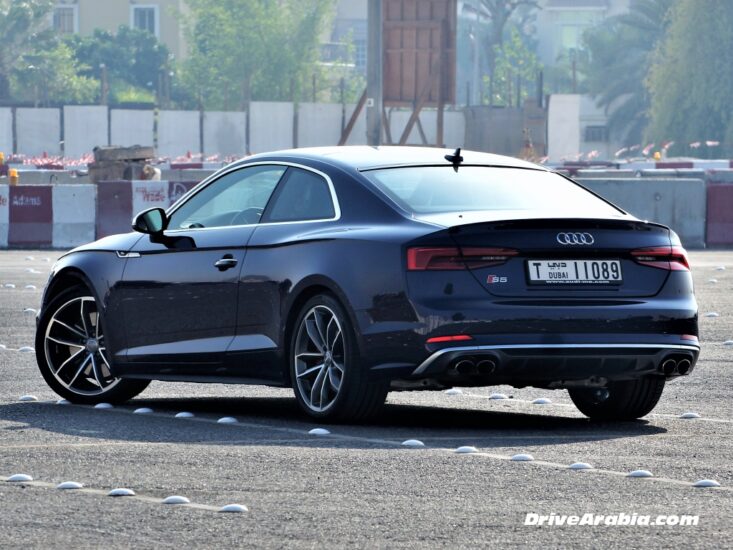 The S5 coupe is propelled by a newer 3.0-litre V6 turbo engine since 2017, after getting rid of their old supercharged motor. It churns out 354 hp at 5400-6400 rpm and 500 Nm of torque at 1370-4500 rpm, making for very flexible power delivery. The juice is sent to the "Quattro" all-wheel-drive system via a traditional 8-speed automatic with little paddle shifters behind the steering wheel.
We managed a 0-100 kph time of 5.8 seconds during our afternoon test, about a second off the pace from Audi's officially-quoted figure. There is an odd initial lag between putting the pedal to the metal and the car actually moving off, and it's pretty annoying when driving in the city or stop-and-go traffic. That throttle lag isn't related to the auto stop-start feature which shuts down the engine when you're stopped, and turns on the engine as soon as your foot is off the brake, contributing to an astounding fuel consumption figure of 11.5 litres/100 km (8.7 km/litre) during our drive.
With the help of 255/35 tyres wrapping the 19-inch alloys, the Audi S5 offers high levels of cornering grip and traction, as expected from anything with a "Quattro" badge on the bootlid. However, you get a quick introduction to severe tyre-squealing understeer once its limits are reached, and there is no way to make that chassis dance like a rear-wheel-drive car.
The variable-rate electromechanical steering is moderately-weighted and accurate, but doesn't convey much in the way of feedback, and the overall driving experience isn't anywhere near as engaging as is the case in its Bavarian rival. As one colleague put it, the S5 comes across as somewhat remote and flavourless in comparison. He also says the regular A5 he drove feels almost as quick on twisty roads due to a lighter 4-cylinder engine up front.
The S5's refinement levels are good though, for a sporting car. Wind hush and road noise are suppressed well, although there is constant road noise at 120 kph that isn't too distracting. Ride quality is more or less on par with its direct rivals, reasonably smooth for the most part, but mildly jarring over harsher road surfaces. The steering and brakes also lend themselves well to casual city driving, aside from the aforementioned throttle lag.
Even after an extensive redo, the Audi S5 isn't dramatically different compared to its predecessor. It remains a great high-speed cruiser with sporting pretensions, but it continues to play second-fiddle to most of its rear-driven rivals as Audi sticks to their formula of offering front-wheel-drive cars with all-wheel-drive tacked on. Honestly, that doesn't make a difference to about 90% of the target market who just want a fast, stable luxury car for daily use, and the Audi S5 is 100% competent on that front. It's a sports car for the school-run crowd.
Price Range:
Dh 277,000-320,000

Current Model Introduced in:
2017

Body Styles:
2-door coupe

Engines:
3.0L 354 hp V6 turbo / 500 Nm

Transmissions:
8-speed automatic

Setup:
Four-wheel-drive

Suspension:
Front: independent
Rear: independent

Brakes:
Front: discs
Rear: discs

Curb Weight:
1615 kg

Length:
4640 mm

Wheelbase:
2751 mm

Top Speed:
250 kph(limited)

Test Acceleration 0-100 kph:
5.8 sec.

Observed Test Fuel Economy:
11.5 litres/100km