2020 BMW X6 M50i
The Good:
– Hugely impressive power
– Handling and comfort
– Luxurious interior
The Bad:
– Awkward styling
– Lack of feedback from controls
– Very expensive obviously
---
The BMW X6 is probably the most polarising vehicle to come out of the company since the BMW Z3 Coupe. But while the old sports car gained a cult following long after it was discontinued, the X6 continues to be polarising even after debuting its third generation, with a strong customer base of the well-heeled flamboyant variety, while ubiquitous enthusiasts wearing "Save The Manual" t-shirts continue to protest as they drive past in their aging CVT crossovers.
We have to admit, we quietly liked the first generation of the X6. It was perfectly proportioned, with just the right amount of grille and toning. Then came the second generation, inheriting all the ugliness of the BMW X5 of that time, with a cluttered front end and an enlarged butt. The newest one we're driving is a bit of a mixed bag — it's still a head-turner, but only because its signature features are even more brash now. The grille is larger than ever and even glows at night now, but it's still better-looking than the last model. The rear is taller as well, with slimmer tail lights and a big central badge.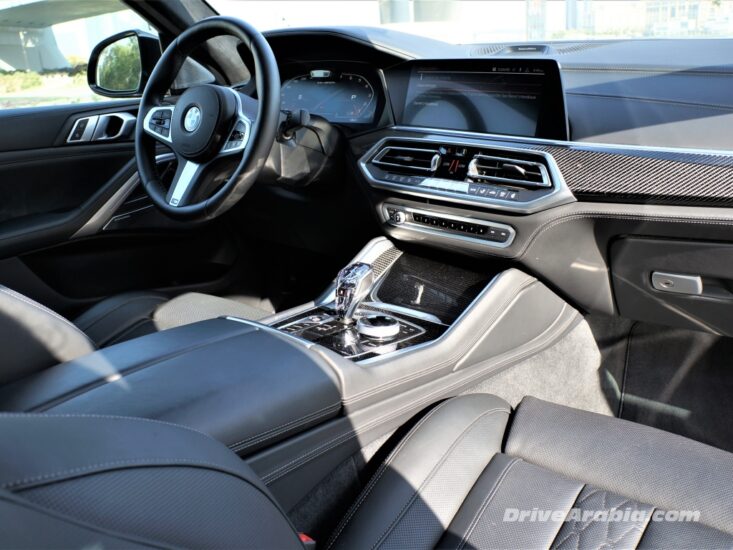 Step inside, and it's clear BMW is in a cat-and-mouse game of one-upping other luxury brands. While previous BMWs had simple cabin designs with straight lines and conservative trimmings, the X6 is littered with unique touches, such as the fancy mood lighting that changes with actions such as opening the doors or starting the car; the glittery stars effect on the moonroof glass ceiling; the crystal gear-shift knob; the stitched-leather upholstery all over; the abundance of carbon-fibre trim; and the distinct lack of hard plastic surfaces anywhere except around the buttons and controls.
It's assumed that the X6 lacks headroom but it doesn't, especially now with the taller butt. There is very good all-round headroom, while rear legroom is decent as well. The moderately-bolstered power seats are infinitely adjustable and ventilated up front, while three can sit comfortably in the rear bench. Unlike rivals such as the Porsche Cayenne Coupe, there is no shortage of storage cubbies and cup-holders, while the boot is actually huge, minus a bit of upward volume.
The tech-laden X6 has all sorts of party tricks, such as gesture controls for the wide touchscreen, where you can wave your hand in certain motions to flip through menu screens or change the radio volume. It's too gimmicky for general use, but you can impress your friends once at least. There is no need to note down the usual booming stereo, iDrive infotainment interface, adaptive cruise control, 360-degree cameras, Apply Carplay, heads-up display, 12.3-inch digital gauge cluster and all such features, because it's all there in the extensive list of available features. The quad-zone a/c could be better though, as it takes longer to cool the cabin than many other brands, and it's been just above-average in every BMW we've ever driven.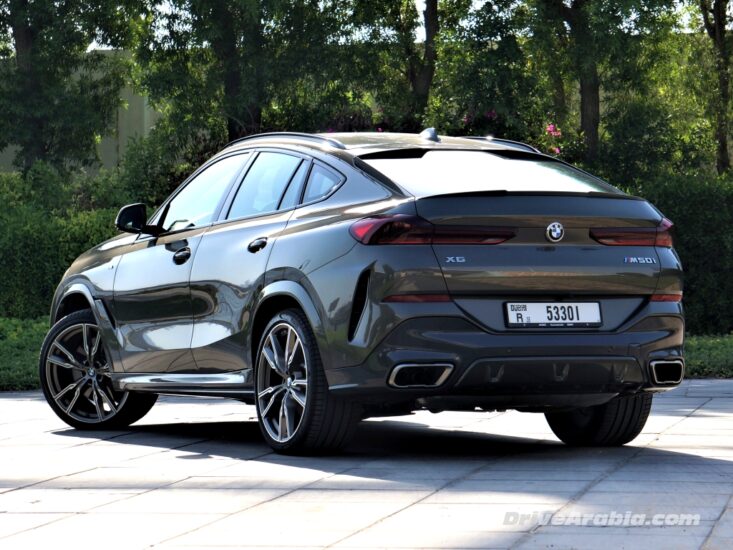 What BMWs excel in is getting the maximum thrust out of their engines. The BMW X6 M50i xDrive (yes, we had to look that up) is an absolute beast. When the throttle is floored, it feels excessively powerful and intensely fast. Slotting in under the overkill X6 M, our mild-M X6 is actually more than enough. The 4.4-litre twin-turbo V8 is good for 530 hp and 750 Nm of torque, fed to a rear-biased all-wheel-drive system through an 8-speed paddle-shiftable automatic. We timed it at a solid 4.5 seconds in the 0-100 kph run on a warm Dubai spring afternoon.
All that lag-free torque is controlled with an overly sensitive throttle pedal, not helped by the short gearing, so it's a little too jumpy in low-speed traffic and can be a bit fatiguing. This is partially alleviated if you trust one of the electronic nannies to move you along in stop-and-go traffic, but we would've preferred a meatier pedal feel. It's the same story with the somewhat light brake-pedal feel, as the huge brakes lurch the car to a stop rather easily.
The amazing part – as usual for a BMW – is that the big X6 handles flat like a sports car, taking long curvy roads like a car half its size. Of course, it can bend physics only so much, and it runs out of grip far earlier than an actual sports car in tighter corners, obviously due to its 2130-kilo weight. The steering is well-weighted, sharp and offers limited feedback for the kind of speeds this tall BMW is capable of.
Around town, the beefy X6 is easy to park even with the smallish windows thanks to 360-degree cameras, although there was that one time when a computer error caused the rear camera to stop working until the car was restarted.
On the highway, the ride is pretty comfortable given that it's rolling on 21-inch wheels with low-profile tyres. It's also fairly quiet, aside from the occasional growl of the engine played artificially through the speakers. Fuel economy hovered around 15 litres/100 km.
Oh, and it's not suitable for off-roading, unless you have a slush fund just to pay for underbody repairs, in which case, go for it. It has the power and the ground clearance, but not the tyres and the low-range gearing for anything more than flat gravel and sand.
The BMW X6 M50i is everything we've come to expect from BMW. It's a fast car, both in the corners and in a straight line, with luxury oozing out of its numerous vents. Yes, it is expensive and it looks kooky, but it was intentionally designed to provoke.
Price Range:
Dh 430,000-480,000

Current Model Introduced in:
2020

Body Styles:
5-door wagon

Engines:
4.4L 530 hp V8 turbo / 750 Nm

Transmissions:
8-speed automatic

Setup:
Four-wheel-drive

Suspension:
Front: independent
Rear: independent

Brakes:
Front: discs
Rear: discs

Curb Weight:
2130 kg

Length:
4935 mm

Wheelbase:
2975 mm

Top Speed:
250 kph(limited)

Test Acceleration 0-100 kph:
4.5 sec.

Observed Test Fuel Economy:
15.0 litres/100km