2016 Ford Edge V6 AWD
The Good:
– Cabin space and features
– Ride and handling
– Manages a bit of offroading
The Bad:
– Pricey with options
– No third-row seat option
– No low-range gearing
---
The Edge has done pretty well for Ford. While this crossover had its doubters due to its lack of a third row, the 5-seater neatly fills in the niche between a traditional compact SUV and a traditional midsize SUV, both of which Ford also offers in the form of the Escape and the Explorer. Starting off a good-sized crossover about a decade ago with a single V6 engine and a hard-plastic cabin, the Edge has evolved to become an entire line-up of vehicles with three engine choices. But the mid-range V6 model we're testing here is probably still going to be the more popular option.
The all-new Edge is a good-looking vehicle, still retaining the basic profile of the previous two generations, but adding new details such the LED running-light loops on the front bumper and the wraparound LED strip on its tail. Our Titanium model also had nice 20-inch alloys. The hexagon grille and side-window design are a bit generic, and the car surely won't turn many heads, but it is still an inoffensively-attractive design, just as its consumer base prefers.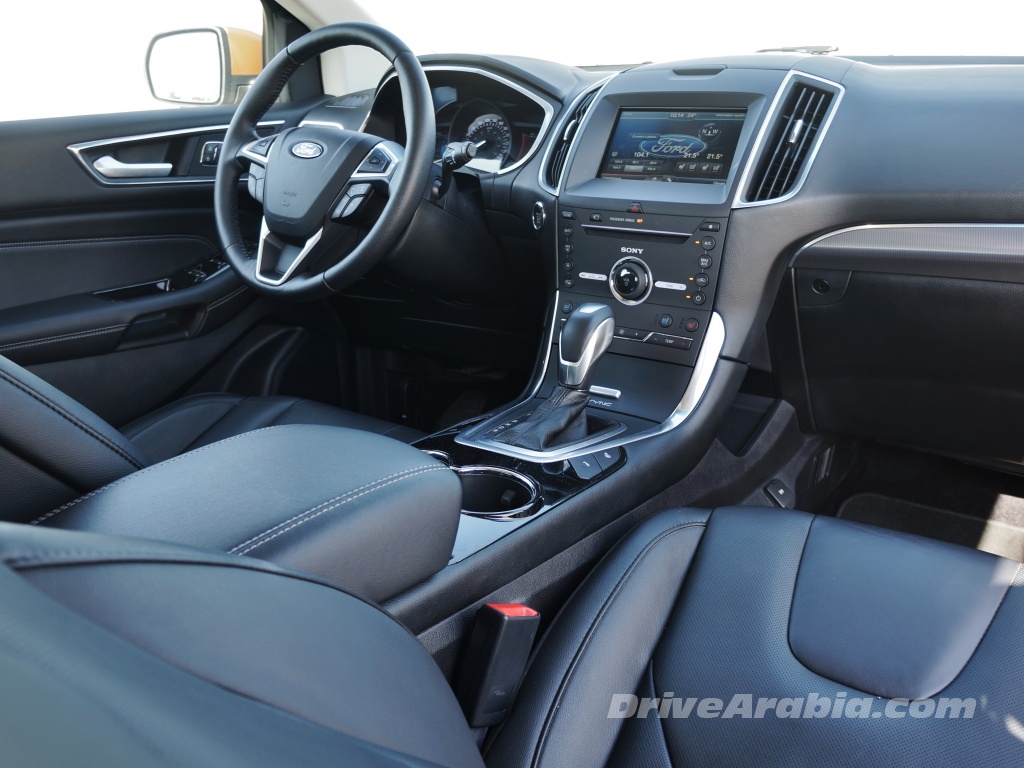 The doors now wrap around along the bottom which reduces the width of the door sill, making it much easier to step in or out of the new model than before. Once inside, you are greeted with a simple layout, but we appreciated the generous use of soft-touch surfaces all over the dash, doors and centre-console. Hard plastics are relegated to the lower half of the cabin. And the Titanium comes trimmed up with leather seats and door inserts. But while the build feels more solid than any Honda, a couple of the cabin panels and trim bits don't quite line up.
The front features mildly-bolstered seats. In the back, there is good legroom and decent headroom. The 60:40-split rear seatbacks recline or fold flat under electric power using buttons in the boot, which also has a power-operated tailgate. The good-sized boot can be had with an optional rubber mat, while there are more storage spaces under the boot floor next to the spare wheel. There are numerous storage options and cup-holders throughout the cabin, including a shelf within the deep centre-armrest cubby up front. There is no third row offered even though there is potentially enough space for a kiddie-sized bench, leaving that option to the much bigger Explorer.
Tech features include the more-responsive MyFord Touch multimedia touchscreen with voice controls and a user-friendly button layout below the screen (instead of touch buttons like in the previous model). Basic functionality is easy, such as radio-station selection and Bluetooth pairing, but on the move, it is easier to use the buttons or the long-winded voice controls. On 2016 models, Ford offered an aftermarket GCC navigation system that uses the same touchscreen but exits the MyFord Touch interface when in use, but 2017 models get the upgraded SYNC3 multimedia system with factory-integrated navigation as well as a new smartphone-like interface.
Further features include dual LCD screens with individual controls on the steering wheel, a strong 12-speaker Sony sound system with subwoofer, a power tailgate with hands-free opening with the wave of a foot, an automated parking system for hands-free steering, seven selectable ambient LED lighting colours, a rear camera, a 180-degree front wide-view camera that can see around corners, smart keyless entry and start, ventilated power-adjustable front seats, power-adjustable steering column and a good dual-zone climate control a/c with rear vents. Of course, it gets quite expensive in fully-optioned Titanium trim, so we believe the lower-spec SE and SEL trims offer better value.
The Ford Edge packs a variety of safety features in their higher-trim models, including Pre-Collision Assist with Pedestrian Detection which applies braking if a collision is imminent, Side Parking Aid for alerts to obstacles around the vehicle, Cross Traffic Alert that warns drivers when reversing out of a parking space, blind-spot monitoring and various lane-keeping assists, as well as a full set of airbags along with two of Ford's unique inflatable seat-belts in the rear outer seats only. Those thick seat-belts are a massive pain when installing certain child seats, so we had to use the rear-centre seat with the regular non-inflatable belt. Alternatively, get a pricier child seat that supports ISOFIX latches.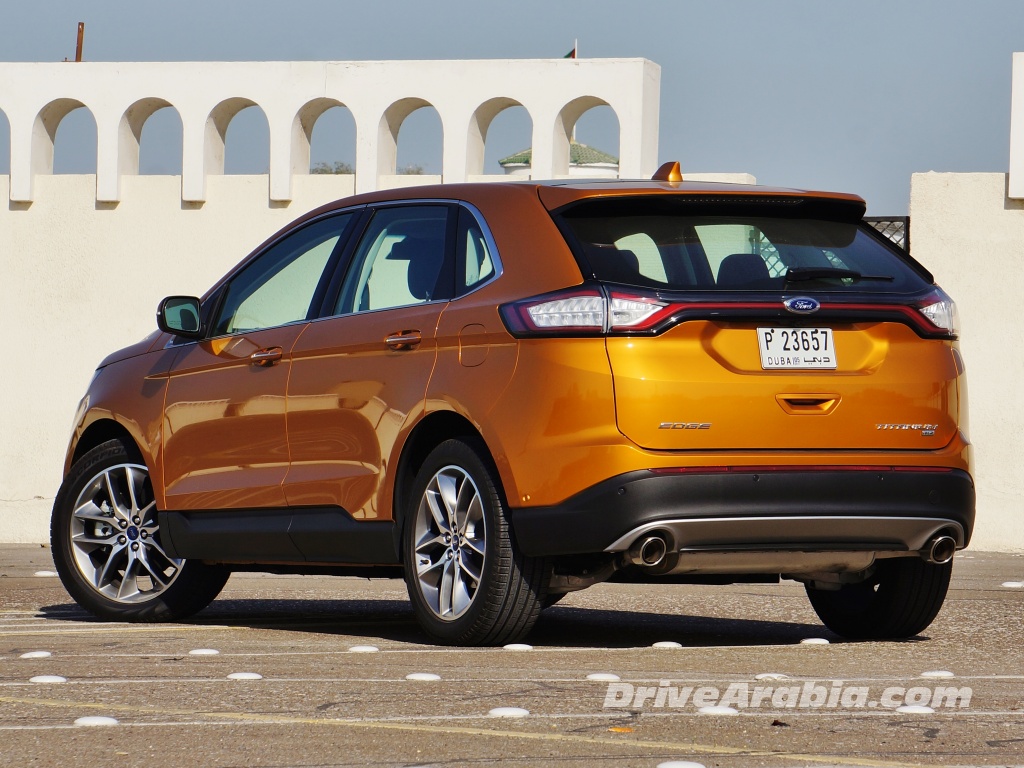 Available in several trim levels, the 3.5-litre V6 is the only naturally-aspirated motor on offer, sitting between two turbocharged engine choices. Also available with front-wheel-drive SEL trim, the top Titanium comes standard with all-wheel-drive. Making 280 hp at 6500 rpm and 343 Nm of torque at 4000 rpm, the engine is mated to a responsive 6-speed automatic transmission. We clocked it in the 0-100 kph run at 8 seconds flat during our January afternoon run. Power builds up linearly so it takes a fair bit of revs to get this 1840-kilo vehicle going quickly, especially when overtaking. However, it's more than enough for the daily drive.
Fuel economy averages out to about 13.5 litres/100 km with a bit of aggressive driving mixed in with mostly casual cruising.
The Ford Edge rides comfortably with a hint of firmness, but it never gets jarring even on imperfect roads. It has well-tuned suspension, a stiffer new body, more sound-deadening materials, and even Active Noise Control technology that works in a similar way to noise-cancelling headphones to minimise engine noise. It is indeed one of the quieter cars in its category.
Driving it around town is made easier with better all-round visibility, cameras, parking sensors and an adaptive steering system which lightens up and reduces the ratio at parking speeds for shorter turns lock-to-lock. At higher speeds in 'Sport' mode, the steering firms up and adapts the ratio so it doesn't feel twitchy.
Even with mild steering feel, the Edge is one of most entertaining crossovers around, with good handling that's aided by a quick-acting all-wheel-drive system. Body roll in corners and floatiness over uneven terrain are both fairly minimal, the steering is well-weighted, the brakes are good with decent pedal feel, and there's tons of grip from the 245/50 tyres on the Titanium's 20-inch alloys.
The new Edge also has better ground clearance than the old model, and with its responsive all-wheel-drive system as well as some skillful driving, it can tackle mildly-inclined sand dunes rather well. It has better ground clearance than before, but no low-range gearing, so getting stuck means waiting for a passing Nissan Patrol to pull you out.
The Ford Edge is quite the all-rounder, and does very little wrong. The V6 version is the ideal version to pick, sitting mid-pack on the price-versus-performance scale. Our Titanium model with all the gadgetry is a bit expensive, but don't go overboard on the options and you can get this car at a decent price. We're sticking it on our recommended list.
Price Range:
Dh 120,000-180,000

Current Model Introduced in:
2016

Body Styles:
5-door wagon

Engines:
3.5L 280 hp V6 / 343 Nm

Transmissions:
6-speed automatic

Setup:
Four-wheel-drive

Suspension:
Front: independent
Rear: independent

Brakes:
Front: discs
Rear: discs

Curb Weight:
1840 kg

Length:
4778 mm

Wheelbase:
2850 mm

Top Speed:
200 kph(limited)

Test Acceleration 0-100 kph:
8.0 sec.

Observed Test Fuel Economy:
13.5 litres/100km