2019 Lexus UX 200
The Good:
– Attractive design details
– Feels premium in driver's seat
– Quiet and comfortable
The Bad:
– Rivals offer more power
– Hard plastic on rear doors
– Smaller boot than expected
---
There is a new crop of cars that are purportedly entry-level luxury SUVs, such as the BMW X2 and the Mercedes-Benz GLA. These cramped little things are neither luxury nor SUV in any way shape or form, while the "entry-level" price for these 2-litre snack packs can get you anything from a Ford Explorer to a Dodge Charger with similar features. They are a joke that lets people know you could not afford a real luxury car, but wanted to go around telling people you own a BMW or Mercedes. The all-new 2019 Lexus UX joins this merry band, but it manages to do things differently enough to actually feel like a premium user experience.
The exterior is borderline conservative, except for the LED elements within the headlights, the LED tail lamps, the stylish mirrors, the "F-Sport" bumpers as well as unique 18-inch alloy wheels, and the massive spindle grille which liven up the look. Otherwise the UX is no taller than a typical car, looking like a hatchback that happens to have black plastic fender flares to make it look more SUV-like.
It even has the ground clearance of a regular car, making it easy to get in and out of, especially since the bottoms of the doors go all the way under the car to make a wide opening, but also making the doors susceptible to scrapes on tall curbs.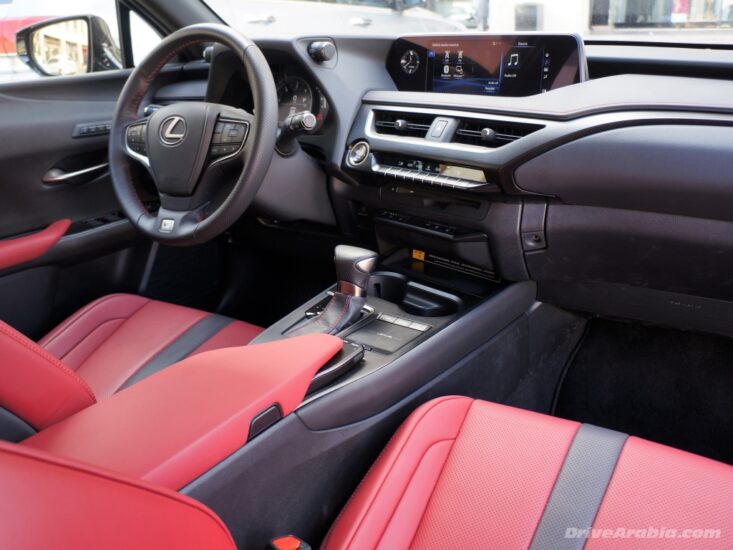 A big win for the Lexus is the very premium feel from the driver's seat, with a dashboard design inspired by high-end Lexus models such as the LC500, with knobs on the gauge-cluster hood and a motorised circle overlayed on the 8-inch LCD gauge display that physically moves as you customise the instrument cluster. The padded leather on the dash, doors and centre-console sides are also generous, thus maintaining the premium vibe, although on closer inspection, you'll find obvious hard plastics on part of the door handles, glovebox cover and large parts of the rear door panels.
Space is good up front, but legroom in the back is severely limited, so don't take in any tall passengers. The boot is small with a very high load floor. Under the boot floor, there is a large amount of storage space. The rear parcel shelf is just a removable piece of cloth. There's enough for lots of groceries, but not for large suitcases or oversized prams. At least the rear seats split-fold if you want to use the UX only as a load hauler.
Our Platinum includes turning LED lighting, a small sunroof, 8-way front seats with a strong cooling feature, unique leather upholstery, good dual zone a/c with rear vents, 10.3-inch multimedia/navi screen with touchpad, a great 8-speaker stereo, 2 USB ports (but surprisingly no Apple Carplay or Android Auto), wireless charger, foot-waving hands-free tailgate operation, a heads-up display, around-view cameras, regular cruise control, blind-spot monitor with cross traffic alert, 8 airbags, ESP, remote start, smart keyless entry with push-button start and more.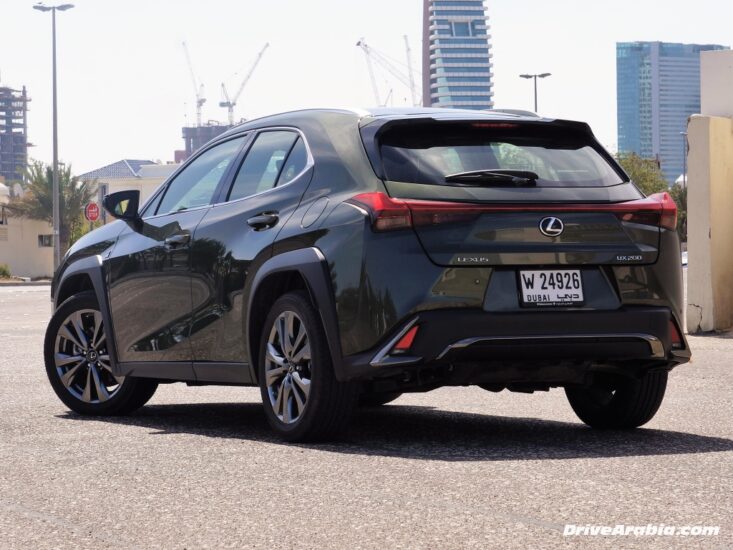 The only engine on offer is a naturally-aspirated 2.0-litre driving the front wheels. It is an advanced unit that makes 169 hp at 6600 rpm and 205 Nm of torque at 4800 rpm out of its small displacement. The transmission is also interesting in that the CVT is paired with an actual first gear, to eliminate the initial rubber-band effect on take-off that afflicts a typical CVT. And there are paddle-shifters to simulate a 10-speed, if needed for acting like you have gears.
Acceleration from zero is responsive, and the car feels spritely in city driving, never feeling like it needed more power. At highway speeds, there is a noticeable delay if you floor it as the engine revs up first and then the car gets moving. The actual 0-100 kph time is 9.5 seconds, while we got a fuel consumption of 8.9 litres/100 km (11.2 km/l). As acceptable as the performance is, many of the UX's rivals offer a turbo motor with better torque and a bit more power in base models at the same price-point, aside from more powerful engine options. However, Lexus says they offer one of the best fuel-economy figures.
The little Lexus UX weighs in at a whopping 1.5 tonnes, but thanks to its responsive controls, it is somewhat entertaining to drive. The steering is well-weighted, lightening up in slow traffic, but otherwise offering no feedback. The brakes are decent with linear pedal feel. The 225/50 run-flat tyres offer good enough grip, yet it is easy to poke around at the limits of adhesion as there is minor understeer, but there is no tail-happy behaviour. And body roll is limited, with no floaty tendencies of note. There is a "sport" mode, but it doesn't do much. And there is a button to make the buzzy engine sound nicer by playing a more grunty engine note through the speakers.
The ride is very smooth for such a short-wheelbase car, and pretty quiet as well. It is properly Lexus-like on the comfort front, unlike harsh-riding rivals from the Germans.
There isn't anything about the Lexus UX that will make you run out and buy one, but it is a competent-enough entry in a segment that has quickly become mainstream. With pricing that overlaps with an IS200t, the UX is for those who have no need for a rear-wheel-drive sports-sedan.
Price Range:
Dh 150,000-180,000

Current Model Introduced in:
2019

Body Styles:
5-door hatchback

Engines:
2.0L 169 hp I4 / 205 Nm

Transmissions:
1-speed+CVT automatic

Setup:
Front-wheel-drive

Suspension:
Front: independent
Rear: independent

Brakes:
Front: discs
Rear: discs

Curb Weight:
1485-1540 kg

Length:
4495 mm

Wheelbase:
2640 mm

Top Speed:
180 kph

Test Acceleration 0-100 kph:
9.5 sec.

Observed Test Fuel Economy:
8.9 litres/100km