2009 Honda Accord 2.0 for East Asia

For customers in East Asian countries such as Malaysia, fuel costs are a priority as petrol prices are rather high. To satisfy those who want a big car without the associated running costs, Honda is now offering a 2.0-litre variant in these countries.
The new Asian-spec 2009 Honda Accord 2.0 VTi-L is actually a fully-optioned car with a 5-speed automatic, leather interior, cruise control, a fully electrically-adjustable 8-way driver's seat with power lumbar support, leather door lining, door mirrors with turn signals, and even an optional GPS tracker for security. An entry-level 2.0 VTi is also available.
Honda actually expects 40% of Accord buyers to opt for the new Accord 2.0 VTi-L in just Malaysia, as the 154 hp 2.0-litre 4-cylinder with 189 Nm of torque is now placed below the 2.4-litre Accord in the East-Asian line-up now.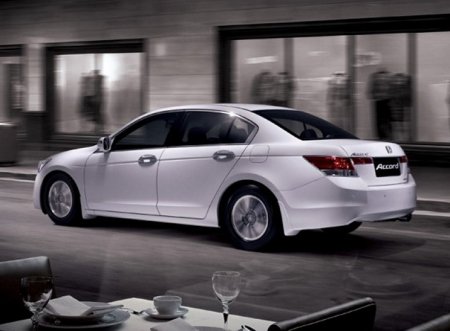 Externally, the only difference between Asian and GCC Accord models seem to be the BMW-style red lighting strips on the rear.
For the foreseeable future, the Honda Accord 2.0 will not be offered in the GCC. For UAE prices and specs on the 2.4-litre and 3.5-litre versions, visit the Honda Accord buyer guide.