McLaren's Hamilton wins 2010 Turkish F1 GP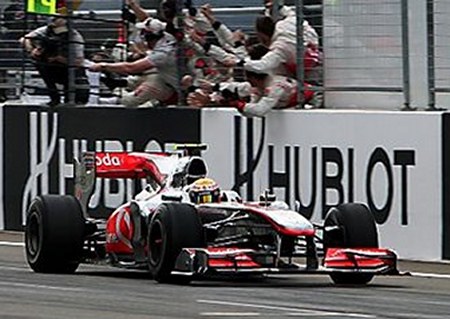 In a Turkish Grand Prix that at one stage seemed destined to yield Red Bull yet another one-two win, the team's two drivers failed spectacularly, running into each other while in the lead, and handing the McLaren cars that one-two instead.
Red Bull's Mark Webber led off the line as team mate Sebastian Vettel boiled through to push slow-starting Hamilton down to third and Mercedes GP's Michael Schumacher edged ahead of McLaren's Jenson Button for fourth. Both McLaren drivers made up a place on that opening tour, however, and until the pit stops Hamilton put Webber under huge pressure.
Then a slight delay for the Englishman, with his right-rear tyre, dropped him to third behind Webber and Vettel, with Button a watchful fourth, and until Lap 40 that was how they ran, nose to tail, each awaiting a mistake from the others. No one else was in the race.
But on Lap 41 Vettel got a run on Webber on the inside going down to Turn 12, and had drawn alongside, but as he tried to move to the right to gain the entry line his right rear wheel clipped Webber's left front. Suddenly Vettel was spinning wildly down the road and into retirement with a punctured right-rear tyre, and as Webber was forced to run wide the two McLarens picked their way gleefully through the debris to snatch the leading positions.
Webber and Vettel each squarely blamed the other for the accident, which left Red Bull technical guru Adrian Newey with his head in his hands.
It seemed the McLaren duo had been handed the race on a plate but the drama wasn't over. There was a small amount of rain, but around this time the McLaren drivers were also told to conserve fuel. Button sliced into Hamilton's lead and got a similar run on him going into Turn 12 on Lap 48. But he was on the outside, and as Hamilton hung tough on the inside they went side by side through that corner. And 13. And 14.
Across the finish line they were officially separated by 0.0s, and Button was credited with the lead, but Hamilton wasn't done yet and they touched wheels lightly as he pushed back through into first place going into Turn One. It was fabulous stuff, and thereafter he was able to open the gap up again to score a timely victory as both he and Button eased off to save fuel.
Button seemed happy enough with second, while Webber was so far ahead of Michael Schumacher's Mercedes that he was able to pit for a new nose and front wing on Lap 42 and still finish on the podium.
As a result he still leads the world championship with 93 points to Button's 88 and Hamilton's 84, while Ferrari's Fernando Alonso is fourth on 79 from Vettel on 78.
Neither Mercedes had the pace to challenge Red Bull or McLaren, but they were much faster than the Ferraris which were having their 800th race. Schumacher was fourth, with team mate Nico Rosberg closing in as the track got greasy, to finish fifth ahead of Renault's Robert Kubica and Ferrari's Felipe Massa who had a race-long battle for sixth.
Alonso was stuck for a long time behind an impressive Vitaly Petrov in the second Renault, but took the place after they brushed wheels at the start of Lap 54. That gave the Renault driver a puncture, which dropped him to 15th after a great performance that ultimately gave him only fastest lap on fresh tyres.
The final points went to Adrian Sutil for Force India from Kamui Kobayashi, who beat BMW Sauber team mate Pedro de la Rosa to the line by two-tenths of a second. They did not collide.
Behind them, Jaime Alguersuari brought his Toro Rosso home 12th, having twice set fastest lap after a late pit stop on Lap 41, Vitantonio Liuzzi's Force India was 13th, then Rubens Barrichello was 14th for Williams after catching and passing team mate Nico Hulkenberg, who'd been forced into a pit stop on the opening lap after a brush with Sebastien Buemi who also needed a new right-rear tyre. He was 16th behind Petrov.
The Virgins won the new team prize, with Timo Glock 18th behind Hulkenberg after both Lotuses had retired, and Lucas di Grassi was 19th. Bruno Senna had a great fight with his fellow countryman, but neither he nor team mate Karun Chandhok were running at the finish.
The controversial yet gripping race moves McLaren back ahead of Red Bull in the constructors' championship, with 172 points to 171, with Ferrari third on 146 and Mercedes fourth on 100. Renault have 73.