Subaru Impreza WRX STI 2011 is fastest 'Ring sedan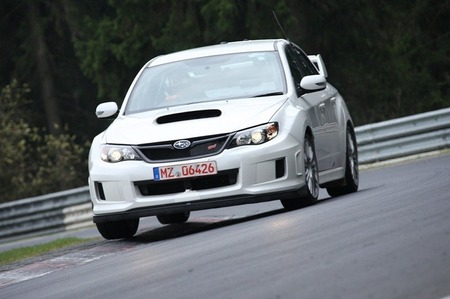 Up until last year, the Cadillac CTS-V was officially the fastest four-door sedan around the German Nurburgring race track, running 7:59 on the benchmark piece of tarmac where every manufacturer seems to tune their cars on. At some point late in 2009, the Porsche Panamera Turbo claimed the title with 7:56, although its credentials as a sedan are dubious at best, while also being twice as expensive. Now Subaru indirectly claims to have shattered the record with a 2011 Subaru Impreza WRX STI sedan, coughing up a time of 7:55, although their "production" car is dubious at best.
Subaru recently sent four-time World Rally Champion Tommi Mäkinen to the Nürburgring Nordschleife course with a 2011 Impreza WRX STI test car. But word on the net is that the test vehicle was equipped with upgrades, including a larger turbocharger from the Japanese R205 limited-edition model and some lightweight aluminium replacement pieces to get that 7:55.00 lap time.
The previous best lap set by an all-wheel-drive Subaru Impreza WRX STI was in 2004 with 7:59.41, slightly more than the rear-wheel-drive 2009 Cadillac CTS-V. Technically, this new STI sedan could be construed as a prototype, as it isn't on sale yet.
For future updates, visit the Subaru Impreza WRX STI buyer guide.