Volkswagen Passat 2011 set to dominate rivals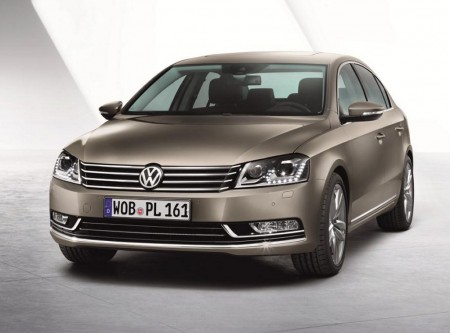 The new 2011 Volkswagen Passat has been revealed at the 2010 Paris Motor Show, in both sedan and wagon variants, with a choice of four petrol engines alongside a couple of Euro-centric diesel motors.
The all-new corporate styling has been applied to the front and rear fascias, preparing the Passat for competition from midsize rivals such as the 1997 Toyota Camry and the 1998 Honda Accord. Dimensions remain the same as the previous model, which means this "7th generation" model is really just a facelift.
Turbocharged "TSI" 4-cylinder engine choices include the powerful 120 hp 1.4-litre, the average 158 hp 1.8-litre and the dull 207 hp 2.0-litre, as well as a naturally-aspirated 296 hp 3.6-litre V6 that used to be in the outgoing "sporty" Passat R36 which will be cancelled due to slow sales. A choice of manual and DSG twin-clutch automanual gearboxes are available, as is the "XDS" electronic diff.
First European deliveries start in January 2011, which means a GCC launch will occur around next summer. Incidentally, this European Passat will not be sold in the United States because it has been deemed too small and too expensive to compete with modern midsize rivals, as it has been for the past couple of decades. America will be getting a slightly larger VW sedan next year. Word is this U.S. version will come to the UAE.
Keep track of UAE updates in the Volkswagen Passat buyer guide.