Long-term update: 2010 BMW 535i GT interior

The BMW 535i Gran Turismo is not with us any more. It was taken away from us in less than a month for "internal use" but after asking for it back numerous times, we've given up on seeing it again. We figured we should give it some proper coverage before closing the chapter on it, so here is a look at this luxury car's luxurious interior.
When you enter the 5-Series GT, the first thing that strikes you is how it makes the 7-Series redundant, because you get the same luxuries here. Indeed, word is a good chunk of 5-Series GT buyers are conservative older folks as well as former 7-Series owners who were happy to get the same luxuries at a lower price. Almost every inch of the cabin is covered in soft-touch materials, aside from the real matte light-wood trim and the piano-black control panels. It is easily a cushier interior than the one in our former 2011 Infiniti QX56 long-termer.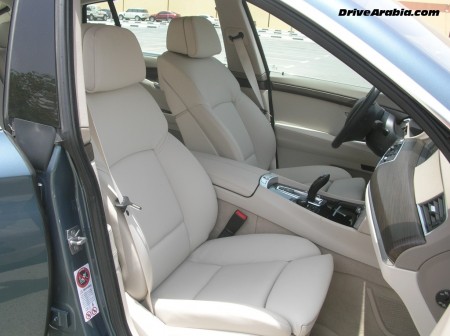 As if to taunt upstart luxury brands further, there are even more unique features, such as the overly-adjustable front seats that has a two-piece power-adjustable back, power-adjustable thigh extension, automatically-readjusting side bolsters, and a power-adjustable headrest that can be reshaped to fit your head like a glove. The only things missing in our tester were the optional ventilation and massage features.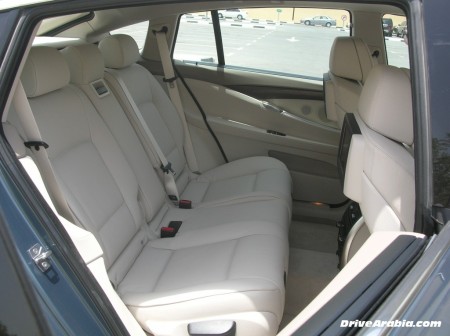 Rear passengers simply enjoy lots of space. Again, our tester did not come with the optional ventilation, massage and leaning features, but it did come with dual DVD screens with a separate remote, a panoramic glass roof, power sun-blinds and individual rear a/c controls.
In terms of gadgets, everything was there, such as the iDrive computer, the auto parking brake, the kick-ass stereo, the Bluetooth phone, the DVD navigation, the adaptive cruise control, the overhead parking-camera view, and the heads-up display. And yet, my finicky friend found out that he couldn't stream music off his iPhone via Bluetooth. Hardly a deal-breaker.
There are some unique touches that seem to be there just for the sake of being there. The frameless doors are one, supposedly to give you a "coupe" feel. And then there is the tailgate that opens in two ways; after a couple of weeks of using one or the other, we still couldn't figure out why it needed to open in two different ways other than to "wow" your friends.
For a test car that has spent nearly 30,000 km in the hands of testers in almost a year, the leather and trim has held up perfectly. This may seem like empty praise to some, but we've driven Audis with worn leather and Infinitis with loose wood trim that shouldn't be so worn out in less than a year. Of course, it wasn't fully perfect, as a couple of a/c fan buttons looked a bit worn. That's about it.
The 5-Series GT may be a hard car to swallow in terms of exterior styling, but once you're cruising in that interior, hardly anything else matters.
Original Mileage When Borrowed: 27,410 km
Latest Mileage To Date: 29,500 km
Latest Average Fuel Economy: 12.7 litres/100 km
Cost of Latest Problems: Dhs 0
Cost of Latest Maintenance: Dhs 0

Total Non-Fuel Running Cost Since Borrowed: Dhs 0