2014 Ford Fusion: We test its Stand-Out handling vs Toyota Camry & Hyundai Sonata
When we drove the 2014 Ford Fusion last year, it was a prototype being used for hot-weather testing. It had a different engine, and it was roughly put together, but we were ready to put it on our recommended list at once whenever it'd hit showrooms in the future. Fast-forward to the summer of 2014, and the Fusion is finally on sale here. So when we had to test some of the Ford Fusion's best virtues against rivals from the top two biggest brands in the region, we had no qualms about giving it a go, especially when it came to handling.
Toyota is the top-selling brand in the GCC overall, followed unsurprisingly by value-conscious Hyundai. Ford is directly pitching their all-new Fusion against those brands' midsize offerings, which are the Toyota Camry and the Hyundai Sonata.
The three cars are very similar in a lot of aspects, in terms of engine size, transmission type and general build quality. Aside from the styling, you'd have to actually drive the three cars to see what truly separates them.
We acquired low-mileage examples of a Toyota Camry Limited and a Hyundai Sonata for the purposes of this driving comparison.
Taking the three cars out around a variety of roads in Dubai, it was clear which carmakers put in the extra effort in suspension tuning, even if they were just "family" sedans.
In terms of drive, the Hyundai Sonata is the most unenthusiastic of the lot. The stylish value-packed sedan has everything going for it, from looks to features, and is also a smooth-riding car, but falls woefully short in actual driving feel.
When its rather low limits are explored, body roll is kept to a moderate level, but the car understeers a fair bit early. More annoyingly, it has a tendency to switch into oversteer on dusty road surfaces, which can catch you off-guard if you don't pay attention. The stability-control system eventually catches it, but only the top models come with the ESP option, with base models not even getting ABS. The light steering offers no feel whatsoever, and the brake feel is mushy, though they both do the job in casual commutes.
The current-generation Toyota Camry is a huge improvement over the versions that came before it, with more emphasis on handling than ever before. It corners well enough, with well-controlled body motions, never feeling bouncy like the old ones did, and body roll never goes beyond moderate levels in the sharpest corners.
However, get aggressive with the steering inputs at speed and the handling becomes a bit loose, with the tail stepping out, though it never gets out of control, and clearly has a bit higher cornering limits than the Sonata. The light steering offers some feedback, the brake-pedal feel is light and the ride quality is smooth for the most part. Not a bad effort at all, when seen in isolation.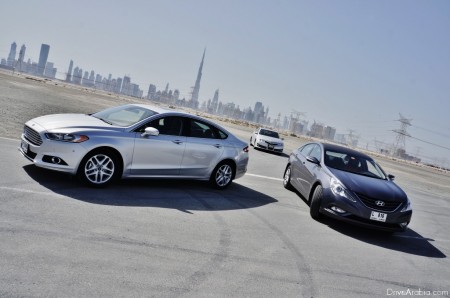 But then there is the all-new Ford Fusion. It is easily among the best-handling cars in its class, if not the best. It turns in sharper, resists understeer longer than the other two, and displays no tail-happy antics whatsoever. Its electric power-steering feel is better than most, while the brakes offer progressive stopping power. It is easy to take this car to its limits without feeling threatened.
Such neutral handling is an asset, but the fact that Ford accomplished it while still maintaining good ride comfort is a testament to the extensive suspension tuning that Ford has done, with even inputs from the Middle East taken into consideration by a permanent Dubai-based engineering team.
Now some may bring up that there is no point in a family sedan with good handling. Well, a good-handling sedan will save your life without ever reaching its limits and without the drama of squealing tyres or exploding airbags. If there's a sudden obstacle on your path, you can quickly swerve away without the front plowing forward or the tail sliding out. It's a bonus that those who enjoy driving will get some pleasure out of a tighter-handling car as well.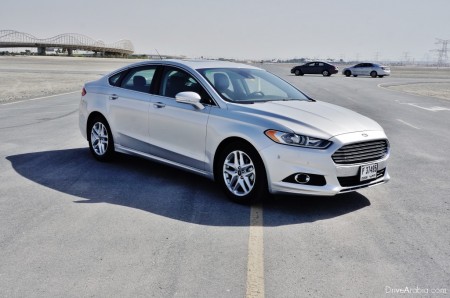 For a sedan that drives like something from the premium segment, the Fusion is rather competitively priced against its common rivals, starting at just AED 80,000 for a car that comes standard with ABS, ESP, Bluetooth, eight airbags, free service and a 5-year warranty, while our top-spec model comes with all sorts of upscale driving aids, multimedia gadgets and more.