Long-term intro: Vivek's 2014 Renault Megane 2.0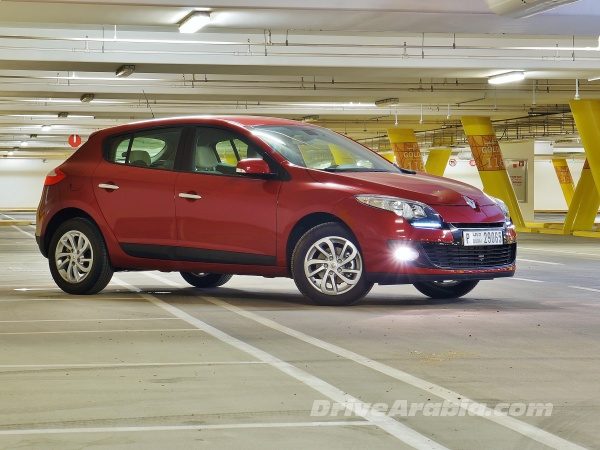 So we had settled ourselves with a used Ford Mondeo for over a year now, since selling our Mitsubishi Pajero. However, when the situation dictated the need of a second car primarily for my wife, we went on the hunt for one. After a couple of months of visiting several dealerships and test-driving a lot of cars, we settled on the 2014 Renault Megane 2.0 hatchback, of all things.
Not being even remotely as rich as the CEO of DriveArabia, our hunt centered on rather affordable sub-compact and compact hatchbacks and CUVs from budget brands. Although we started off looking for a used hatchback, the search soon shifted towards a brand new car, as almost every other used car we came across were overpriced junk. The wife's utmost preference for safety features meant that all the usual Japanese and Korean offerings were out of the question, although the Nissan Juke was in consideration for a while, and leaving us with a few cars from Chrysler, Ford, Chevrolet, Renault and Peugeot to consider.
The Ford Fiesta, Ford Focus, and Peugeot 208 were all surprisingly overpriced. The particular trim and colour of the well-priced Ford Ecosport that we liked was sold out for at least 3 months. The Chevrolet Cruze seemed like okay value for money, but the Renault Megane offered more value for even lesser money, alongside the significant offers and discounts from the Renault dealer. The basic non-turbo Nissan Juke was a gutless joke. Chrysler's Dart showed up way too late in the showrooms for us to consider buying one. And finally, the Megane's own stablemate, the Renault Duster, was earlier considered and later disregarded for the same reason –- because it is incredibly cheap.
Our Megane is the entry-level 2.0-litre variant, which is equal in features to the top-spec 1.6-litre variant. Costing only about the same as a basic 1.6-litre Ford Focus at Dhs 64,900, it comes decently decked up to modern standards, and lacks only the 8-inch touchscreen nav system, leatherette interior and sunroof options. It comes with a free service and maintenance package for 2 years or 40,000 km. The warranty period is 3 years or 100,000 km, although it could be extended to 5 years or unlimited km by paying Dhs 1,250, which we opted to do at some point later this year. Insurance was offered for free too, for the first year.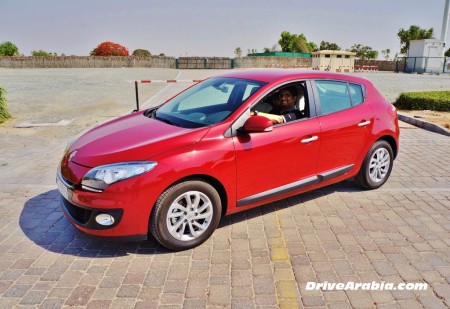 After doing my bit to get the car past the official break-in period, the Megane has racked up well over 2,000 km on the odometer in less than a couple of weeks before going into the hands of its intended owner, thanks to me and my fairly long office drives. There was an inspection service done by the dealer at 1,000 km, just a week after we had bought the car. The service interval is at every 10,000 km or 6 months, whichever comes first.
The Renault Megane was a rather spontaneous and experimental choice, quite reminiscent to how we bought our first ever brand-new Ford Mondeo eight years ago, which later led to two further Mondeo purchases. But much more worse is the brand reputation that Renault enjoys in this part of the world, as on seeing our car, everyone, including a few strangers, had only one question to ask – "Why this Renault?". Nevertheless, whether the Megane will live up to our expectations just like the Ford did, or not, is what we will find out as time goes on. Watch out for our long-term updates on this one.
Photos by Mashfique Hussain Chowdhury.
Keep track of updates in the Long-Term Reports section.