2022 Jeep Grand Wagoneer previewed in concept form
The Jeep Wagoneer is a completely unknown entity in the Middle East, but to baby boomers in the United States, it is a name as well-known as the Wrangler. It was a classic 5-door SUV that debuted in 1962 and somehow carried on largely unchanged till 1991! It was replaced by the modern-at-the-time 1993 Jeep Grand Cherokee, and while the current Grand Cherokee itself is stagnating with minor updates for the past decade, there is an all-new Wagoneer range of models on the way, as previewed by the full-size Jeep Grand Wagoneer concept that debuted today. 
The concept looks nearly production-ready, but the styling elements and material choices are so reminiscent of the Mercedes-Benz S-Class that they are unlikely to make it to the 2022 model that will appear in showrooms sometime next year. It's a bulky design with body-coloured pillars and too few horizontal lines to break up the expanse of tall body panels in profile view, almost van-like in its attempt to outshine other big SUVs such as the Chevy Tahoe and the Ford Expedition (or maybe the BMW X7 and the Lincoln Navigator, if the Mercedes-like trim is retained).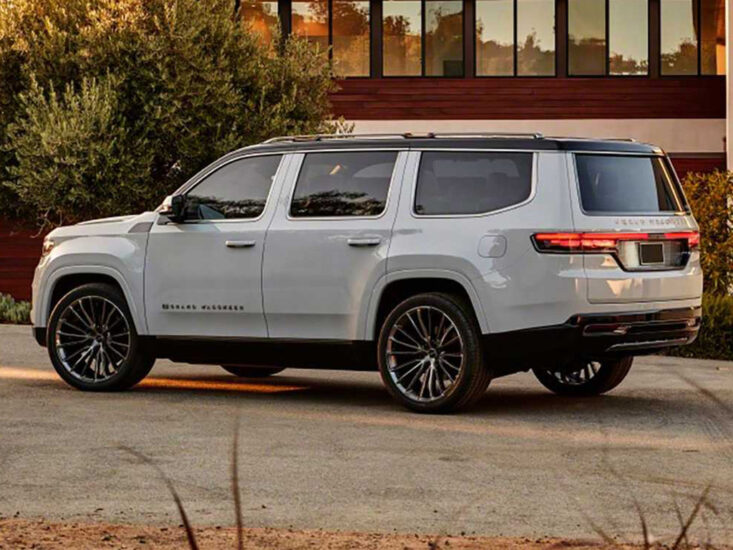 The interior features a ridiculous seven screens, as the driver sits behind a 12.3-inch reconfigurable display, while the front passenger gets their own 10.3-inch touchscreen infotainment system on the dashboard. A split-screen layout similar to the Range Rover appears in the centre stack, with a 12.1-inch upper display serving as the primary infotainment system and the lower 10.3-inch touchscreen offers controls for various functions, although a few physical buttons do exist for basic essential functions. In the back, rear-seat passengers get their own 10.3-inch centre console display, and a 10.1-inch touchscreen display appears on each front seatback for the rear-seat entertainment system.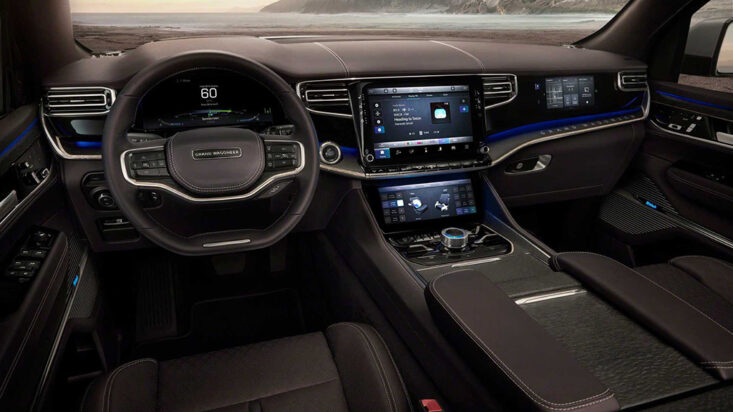 The lavish interior uses sustainable materials such as "PUR" synthetic upholstery instead of leather. Recyclable "Dinamica" suede covers the headliner, while the premium carpets are made of recycled-content Thrive fibre. The dashboard's wing shape uses structural aluminium and inlaid with 3D-surfaced lacewood which also appears on the door panels and centre console. That bit of wood is the only hint at the original Wagoneer's exterior wood panelling.
The Grand Wagoneer Concept features a plug-in hybrid electric vehicle powertrain system, in line with the Jeep brand's plans to offer electrification options on all models in the next few years. No other engine details or offroading hardware info have been provided.
Expect the production version to hit UAE and GCC showrooms by late 2021, as the choice of white paint for the concept seems to hint at high hopes for the Middle East market.