Pagani Huayra Tricolore costs more than a Bugatti
Pagani had been quite off the news for a while now but the flamboyant Italian supercar manufacturer has come back into the limelight now with Huayra Tricolore, an ultra-exclusive variant of their already-exclusive supercar. The unveiling of the Pagani Huayra Tricolore is to mark the 60th anniversary of Frecce Tricolori, an aerobatic demonstration unit of the Italian Air Force.
The Tricolore name is not new for Pagani. About 11 years ago, they launched the Zonda Cinque-based Zonda Tricolore, also another celebration of Frecce Tricolori. The styling of the Huayra Tricolore is similar to that of the Zonda, both carrying a bespoke livery with the Italian flag motif as the centre point. The Huayra Tricolore also gets an updated front bumper and beefier air intakes. A new air scoop feeds more air into the engine bay. To improve aerodynamics, there is a new diffuser and wing.
The interior gets exclusive touches in the form of a gear knob made from a single block of aluminium as well as carbon-fibre. The interior also wears a white and blue theme, similar to that of the Zonda Tricolore.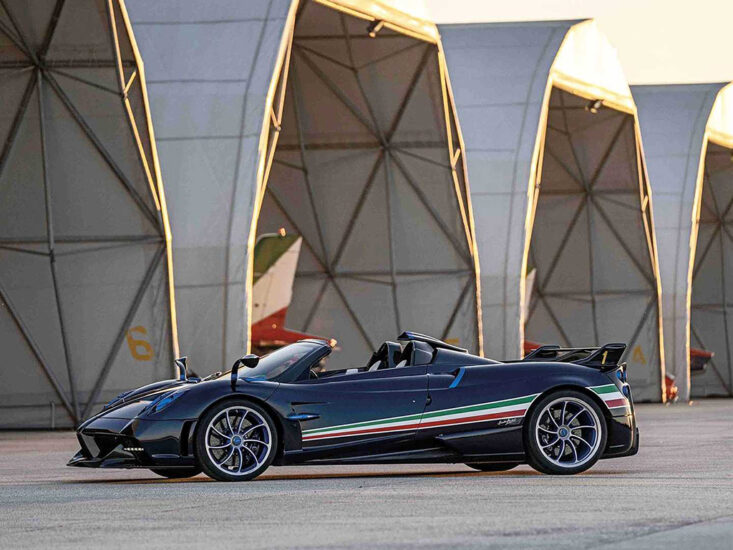 The Huayra Tricolore is not just a cosmetic job. The changes go deeper than the skin. The Mercedes-AMG-developed twin-turbo 6.0-litre V12 engine is in its most powerful guise yet. It churns out 829 hp of power, while accompanied by a colossal 1,100 Nm of torque. A seven-speed sequential gearbox drives this power to the rear wheels. With its low dry weight of 1,270 kg, the Huayra Tricolore should be as exciting as the original to drive, if not better.
The Pagani Huayra Tricolore, being a Pagani, does not want to be common or cheap. Only three examples of the Tricolore will be built and each of them will set you back by US$ 6.7 million (Dhs 24.6 million). For comparison's sake, a Bugatti Chiron costs less than half that.