2022 Porsche 911 GT3 debuts, faster than ever
The 911 GT3 for Porsche enthusiasts is the ultimate holy grail of flat-six naturally-aspirated motoring. And since the 992-generation 911 debuted at the 2018 Los Angeles Motor Show, the GT3 version was on the cards. It is here now, the 2022 Porsche 911 GT3, topping off the range with a stratospheric 9,000 rpm redline.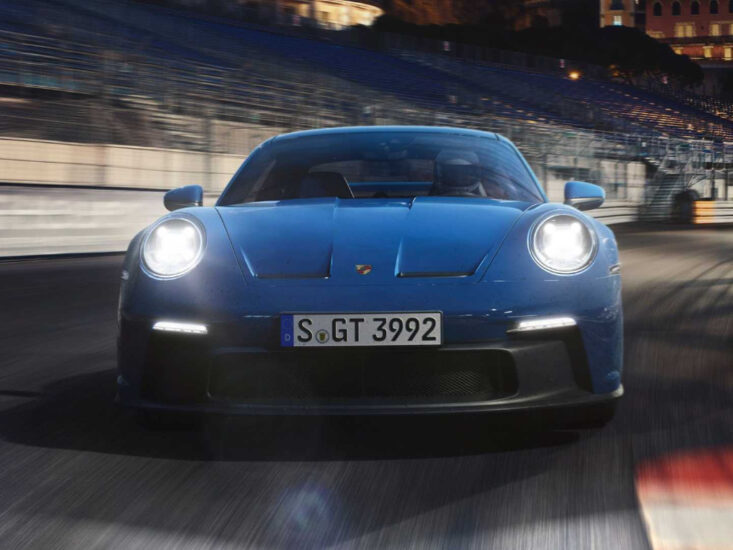 Let us jump straight into the business end. Sitting inside the 2022 GT3 is a naturally aspirated 4.0-litre flat-six engine that churns out 502 hp and 469 Nm of torque. It gets six independent throttle bodies and an impressively high redline of 9,000 rpm. Hooked up to this powerplant is the seven-speed PDK transmission, but customers are also given the chance to get a six-speed manual instead.
The performance numbers are impressive, with the 0-100 kph sprint taking just over 3.4 seconds. The run can go on to a top speed of 317 kph. While the last-gen GT3 lapped the Nürburgring Nordschleife circuit in 7 minutes and 12.7 seconds, the new one did the same job in 6 minutes and 59.927 seconds. For contrast, the hardcore last-gen GT3 RS did it in 6:56.4 minutes, making the regular 2022 GT3 just 3.5 seconds slower.
The 2022 911 GT3 swapped the regular Carrera's MacPherson strut suspension at the front in favour of a double-wishbone setup. The track is also widened by 48 mm. The front brakes are larger than the old GT3, while Porsche Ceramic Composite brakes are offered as an option.
Visually, the 2022 Porsche 911 GT3 gets new cooling intakes up front, along with an adjustable front lip spoiler and diffuser.
A massive manually-adjustable wing sits at the rear. The rear is also marked by the massive diffuser and the twin exhaust pipes jutting out of it.
The hood, wing, and spoiler are all made out of carbon-fibre reinforced plastic for shedding some weight. Wheels are 20-inch units up front and 21-inch units at the rear and they can be fitted with an optional set of road-legal track tyres.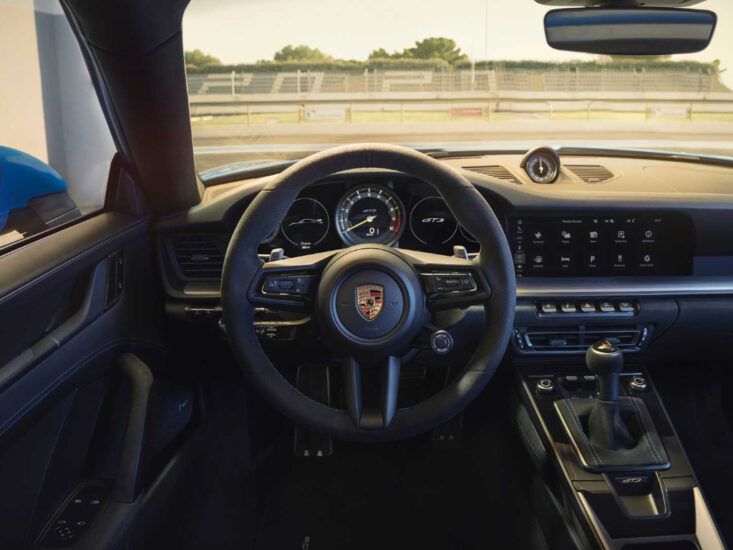 Inside the 2022 Porsche 911 GT3, there are a few updates too. The gear selector is a proper stick now, instead of the blocky one on other 992-gen 911s. There is a new drive mode button sticking out of the steering wheel. Customers can opt for Sports Seats Plus that offers 18-way adjustments instead of the 4-way adjustable standard seats. If shedding weight is your motto, there is an option for carbon-fibre seats that cut off 11.79 kg.
Expect the new model to be available for UAE and GCC ordering this winter itself.
Keep track of updates in the Porsche buyer guide.