Ferrari unveils extreme F430 Scuderia
As if the F430 wasn't enough, Ferrari has gone ahead and released the F430 Scuderia, essentially a successor to the F360 Challenge Stradale.
The new Ferrari 430 Scuderia will join the road-going V8 line-up alongside the F430 coupé and the F430 Spider. Development focused on light weight, minimum trimmings and innovative technology.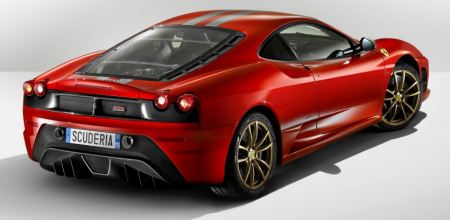 The new car can count on an extremely low weight-to-power ratio of just 2.45 kg per hp thanks to a low dry weight of just 1250 kg – 100 kg less than the standard F430 – and to the naturally-aspirated 4.3-litre V8's 510 hp at 8500 rpm.
Their latest F1 software, unimaginatively named "Superfast," reduces gearchange times to just 60 milliseconds, and the new traction control, for the first time, combines the E-Diff electronic differential and the F1-Trac traction and stability control in a single integrated system.
The 430 Scuderia will be officially unveiled by Michael Schumacher on September 11 2007 at the IAA Motor Show in Frankfurt. I doubt the date was chosen consciously.