Powerful 2008 BMW M3 sedan unveiled
Already revealed as a coupe, the BMW M3 was known to have a sedan and convertible bodystyle in the works too. And now, the 414 hp M3 sedan has just been unveiled.
On the outside, the M3 sedan gets front and rear fascias similar to the coupe, leaving everything in between similar to the base 3-Series sedan. There is a carbon-fibre roof for the coupe, but not the sedan. The front end is a complete carryover from the M3 coupe, with wide fenders, a sculpted front clip, bulging hood and side vents. At the back, a small lip spoiler sits on top of the trunk, while quad exhaust tips are tucked underneath.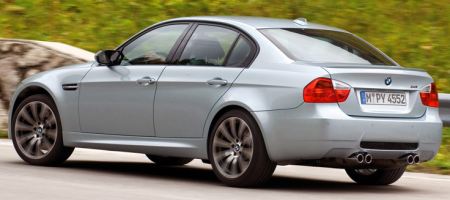 The M3 sedan gets BMW's 414 hp 4.0-litre V8, with 400 Nm of torque coming on at 3900 rpm, allowing the 1605 kg sedan to reach 96 kph (60 mph) in 4.9 seconds and on to an electronically limited top speed of 250 kph. BMW will only be offering a six-speed manual version at launch. Some say BMW's dual-clutch M-DCT gearbox should be available at a later date.
Standard M-style light-alloy spoked wheels measure 18 x 8.5 inches with 245/40 tyres at the front and 18 x 9.5 with 265/40 tyres at the rear, but can be replaced by optional 19-inch versions in comparable widths and design.
No word on Middle East release.