So we got a new Toyota Corolla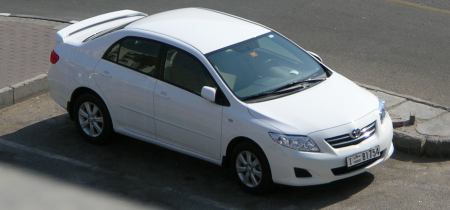 The highlight of my day today was watching a tiny woman in a Toyota Prado ram into the side of some guy's Chevy Optra for no apparent reason, reinforcing the unfortunate stereotype that most women are poor drivers, as much as I hate to mention this. Maybe she couldn't see over the steering wheel. Of course this region has its share of men with poor driving skills too. And oh yeah, and I picked up a 2008 Toyota Corolla. A 1.6-litre version no less. It's been a while since I drove a car this slow. But I'd like to thank Toyota's PR-lady-of-the-year Marwa for keeping us at the top of the test-drive list. A lot of people are anxiously waiting for our review of this car.
The little Corolla that I grew up in has also grown. Really grown. In fact, from far away, most folks will think it's a Camry. It also rides like a luxury car, although it needs to keep out more of the outside noise to really be a luxury car.
We got a top-spec 1.6-litre version, so performance figures are dismal. We'd recommend the 1.8-litre engine, but we believe most Corolla buyers will opt for the 1.6-litre anyway.
My, my, it really has grown.