New Dodge Challenger officially revealed
The not-so-prominent 2008 Chicago Auto Show is on its way, and their main exhibit seems to be the new Dodge Challenger SRT-8, dubbed as a limited-edition 2008 model. Official specs and performance figures have finally been revealed.
Dodge will offer the Challenger SRT-8 in three colours, namely orange, silver and black. Each two-door, rear-wheel-drive coupe will be produced with a numbered dash plaque, carbon fibre-like hood stripes and will be powered by SRT's 6.1-litre HEMI V8 engine that boasts 425 hp and 569 Nm of torque, with an automatic gearbox.
Cabin features include GPS navigation, 'Keyless Go' entry, a MyGIGâ"¢ infotainment system and UConnect hands-free communication. Highlights include race-inspired leather seats with added bolstering and an exclusive orange accent stripe, exclusive stitched accents on the seats and steering wheel, four-bomb gauges, and an SRT-exclusive Reconfigurable Display (RCD) with Performances Pages that provide drivers instant feedback on 0–96 kph time, 96–0 kph braking, g-forces and ¼-mile time.
With an official U.S. pricetag of $37,995, plus dealer mark-ups, the all-new 2008 Dodge Challenger SRT8 arrives in Dodge showrooms this spring.
The car can reportedly do 0-96 kph in 4.9 seconds and a 272 kph top speed. The quarter-mile is finished in 13.9 seconds. The 4-pot Brembo brakes, sized 14.2-inch rotors up front and 13.8-inch rotors in the back, can stop the car in as little distance as a Porsche Boxster. The 0-160-0 run, which involves accelerating to 160 kph and braking again to zero, is done in 16.5 seconds. On the handling front, a skidpad number of 0.9 g is respectable.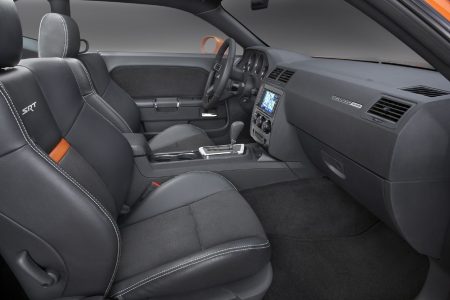 For information and prices about the GCC-spec 2009 model, read the Dodge Challenger buyer guide.