So we got a 450 hp Bentley Arnage R
This car is seriously crazy. Built like a limousine inside and out, the Bentley Arnage R drives like a muscle car from two decades ago. It is also the most expensive car we've ever tested.
It is easy to show off like an ego-maniac in this massive car, but we were left wishing our tester was another colour besides taxi-beige.
The attention to detail is awesome on the outside. The big chrome grille is finely crafted, and we really liked the flying "B" on the hood, which we never really noticed before in photos.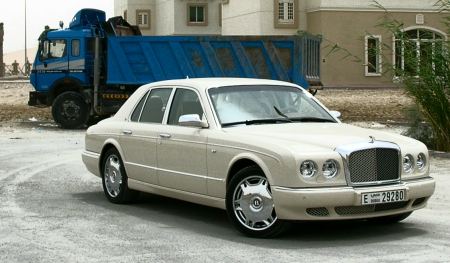 The big Bentley dwarfs most other cars on the road, thanks to its classic trademark length. This car is simply an update of the platform that used to serve Rolls Royce too, back in the day.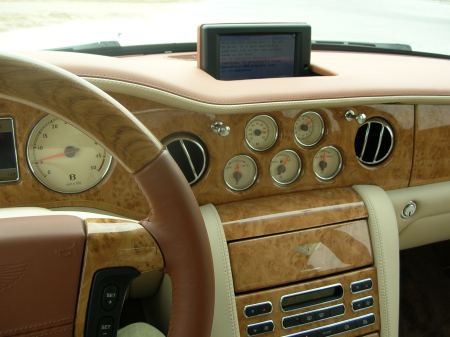 The interior also boasts ergonomics straight out of the 1980s. Few buttons are actually labelled, so one has to guess what each one does. We appreciated the wood covers for everything, including the stereo, the seat-adjustment buttons and part of the a/c controls, although it made simple tasks longer, because there are no stereo buttons on the wheel. I couldn't even find any controls for the navigation screen, which popped up after pressing a button mounted on the ceiling next to the sunroof controls! Reading the manual, it says the screen is controlled by a remote. I'm going to search for the remote later.
Notice the barrage of buttons. The stereo and the lower a/c controls have a cover. Buttons for the windows and mirrors are next to the shifter, all unmarked to preserve a clean look.
The rear passengers get good legroom, wooden trays, metal a/c vents and heated seats. Heated seats?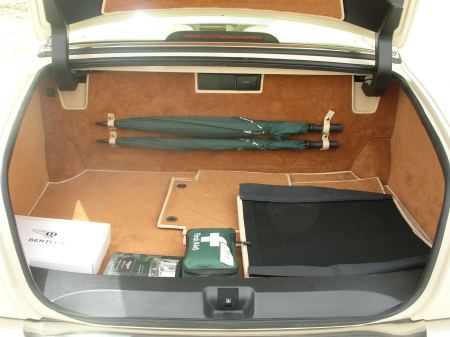 Rounding out the classic luxury experience, the luggage trunk is huge, but we wish all the extra junk, such as the first-aid kit, were tied down somehow. Notice the two Bentley-branded umbrellas mounted on the rear wall below the CD changer!
Needless to say, I'll write about the drive in the actual review. The car is a monster.