Swiss Weber builds world's fastest alien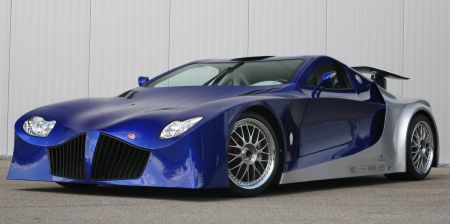 Just when poor old VW thought they held the crown for world's fastest car after a decade of near-bankruptcy-causing development, a whole host of smaller companies outdid them to the title. Joining the ranks of Saleen, SSC, Koenigsegg and Ultima is an unknown Swiss manufacturer called Weber Sportcars, claiming to have built the world's fastest street-legal car. It is called the "WEBER SPORTCARS faster one," if you can believe that.
The two-seater "faster one" weighs in at just 1,100 kg and is powered by a 900 hp V8 supercharged engine. With a power-to-weight ratio of 1.22 kg per hp, "intelligent" all-wheel-drive and sophisticated aerodynamics, the mid-engine racer sprints to 300 kph in just 16.2 seconds and reaches a top speed of more than 420 kph. Retail European prices start at 1,620,000 Swiss Francs, which come to a little over Dhs 5.6 million (US$ 1.533 million).
The 1.15-metre high car body is made entirely from ultra-light yet super-strong carbon-fibre. The headlamps with integrated LED turn signals and the LED taillights were both designed in-house by WEBER SPORTCARS. There are no external door handles, but there is a roof-mounted airbox, numerous air intakes and streamlined side-mirrors. The high-tech airfoil not only creates downforce but also serves as an air brake, so depending on current speed and driver-applied braking force, the wing deploys into fully vertical position in 50 milliseconds, creating additional braking force. Apparently everything was tested in a wind-tunnel, so that loveable front-end is actually functional aerodynamically.
The supercharged 7.0-litre V8 is based on the Corvette LS7 engine, but of the original engine only the cylinder block and the basic design using one central camshaft and rockers for valve activation remain. The twin-supercharger engine delivers 900 hp at 7000 rpm and produces a peak torque of 1050 Nm at 3900 rpm.
The transmission is a custom semi-automatic sequential six-speed gearbox, operated via shift paddles on the steering wheel, with a short shift time of just 50 milliseconds between gears.
The "intelligent" all-wheel drive system with dynamic power distribution to all four wheels is also a proprietary development. Electronically-controlled differentials ensure maximum traction under all road conditions and thus always the best-possible acceleration. Up to 36 percent of the engine's power is transferred to the front wheels when needed.
The two-seater sprints from rest to 100 kph in just 2.5 seconds and reaches 200 kph after just 6.6 seconds. Thanks to its favorable power-to-weight ratio and exceptionally low drag it passes the 300 kph mark after just 16.2 seconds. Top speed is more than 400 kph.
Light custom wheels were manufactured for the ultra-wide track. The front axle features size 10Jx20 rims shod with size 285/25 ZR 20 tyres. They transfer steering wheel inputs and up to 36 percent of the engine's power to the road. The rear axle is fitted with size 13Jx20 wheels and size 325/25 ZR 20 tyres.
In addition to the high-tech air brake, Weber produced its own 12-piston fixed calipers that "viciously grab" vented ceramic disc brakes measuring 380 x 34 millimeters on front and rear axle. These brakes can bring the two-seater to a stop from 100 kph in short 30 metres or so.
The two-seater cockpit of the WEBER SPORTCARS faster one with integrated safety cell combines purebred carbon-fibre and leather racing looks with the creature comforts nowadays associated with a super sports car. Customers can freely choose their favorite colour combination. The Formula 1 style steering wheel is another in-house development. It incorporates controls for engine mapping and traction control system as well as shift paddles for the sequential gearbox. Among the comfort features present are power steering, climate control system, power windows and a sound system with integrated navigation system, along with a rearview camera. As an alternative, WEBER SPORTCARS offers an uncompromising racing interior with carbon-fibre competition seats and six-point seatbelts.