Brabus tunes new Mercedes-Benz SL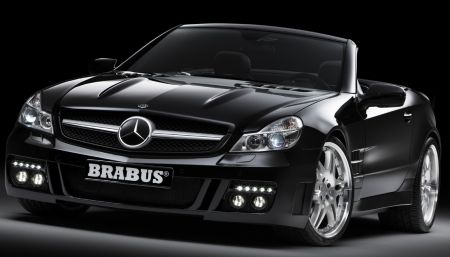 The updated 2009 Mercedes SL has been touched by Brabus. The upgraded cars get upgraded engines, a dressed-up exterior, new light-alloy wheels with diameters of up to 20 inches, suspension tuning and custom interior design.
The top Brabus power source for the SL 600 is the BRABUS SV12 S Biturbo engine. It gets 720 hp and a peak torque of 1320 Nm, electronically limited in the car to 1100 Nm. During the displacement increase from 5.5 to 6.3 litres the engine's interior is completely reworked. Power is transferred via a reinforced five-speed automatic transmission and a special limited-slip differential that is available for all SL models. A sprint time of 4.0 seconds from rest to 100 kph, 10.5 seconds to 200 kph and an electronically-limited top speed of 350 kph are possible.
Brabus also tuned the SL 65 with the BRABUS T 12 S performance kit, increasing power output by 40 hp to 705 hp, and peak torque to 1100 Nm.
The SL 63 AMG also receives some added power with BRABUS B63 S tuning. Sport air filter, high-performance metal catalysts and newly programmed engine electronics add 40 hp, and increase top speed to 320 kph.
The SL 500 with the available BRABUS 6.1 S engine upgrade produces 456 hp and peak torque of 615 Nm.
For the SL 280 and the SL 350, the BRABUS 4.0 engine, with 332 hp and 420 Nm, is available.
The stainless-steel Brabus sport exhaust system with four chrome-plated tailpipes is available for all models. The front of the SL receives a front apron that replaces the production bumper. It features LED daytime running lights as well as auxiliary high beams and fog lamps, and reduces lift on the front axle at high speeds. The rocker panels each have three entrance lights integrated into their underside. LED lights illuminate the ground on either side of the vehicle. The custom rims can be had at anywhere from 17-inch to 20-inch sizes.
For the base models with conventional suspension, Brabus offers its sport springs. For all SL models with ABC active suspension BRABUS has developed an electronic module that lowers the ride height by some 25 millimeters, while sport sway bars reduce body roll. Brakes are also upgraded, with the largest option featuring vented and cross-drilled front discs measuring 14.8 by 1.4 inches, and adding 12-piston fixed calipers. The rear discs measure 14.0 by 1.1 inches, and come with six-piston fixed calipers.
Brabus also customizes the interior of the two-seater by upping the level of luxury. The list of products includes scuff plates with illuminated BRABUS-logo, an ergonomically shaped sport steering wheel with shift paddles, and an exclusive custom interior crafted from with leather and alcantara.