2009-2010 Porsche Panamera official reveal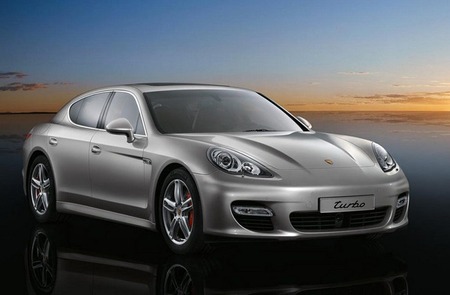 As more information of the Porsche Panamera GT trickles out, it is now known that the car will hit European showrooms by the summer of 2009, likely badged as a 2010 model in most markets. The initial launch will only include the Panamera S and the Panamera Turbo models, with a V6 and a hybrid joining the range later. Expect a GCC launch sometime later next year.
As announced, the Panamera S (shown in brown), the Panamera 4S (shown in blue) and the Panamera Turbo (shown in silver) will be launched first. The Panamera S features a 400 hp 4.8-litre V8 and rear-wheel-drive, while the Panamera 4S uses the same engine with all-wheel-drive. The Panamera Turbo uses a 500 hp 4.8-litre turbocharged V8 with all-wheel-drive. All cars come with the choice of a 6-speed manual or 7-speed PDK dual-clutch automanual gearbox.
Options will include ceramic brakes, roof racks and fitted luggage. For more information and other photos, check out the earlier report.